Mesa-Mountain Pointe in McClintock Shootout final
December 28, 2017 by Les Willsey, AZPreps365
---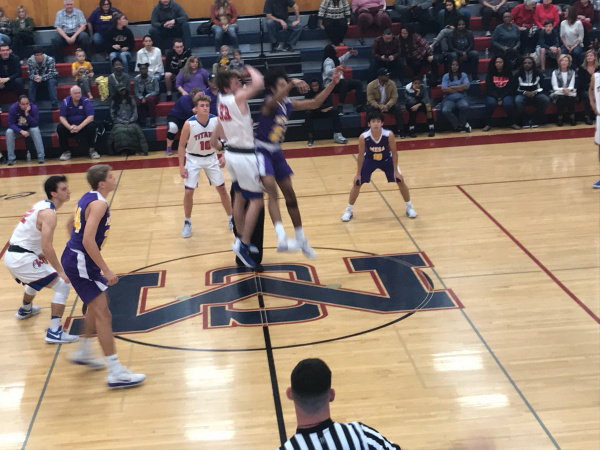 Arcadia's Aiden Weber (33) and Mesa's Xavier Fuller battle for opening tip of their semifinal. (AzPreps365 photo)
Routs were the order of the evening Thursday at the semifinals of the McClintock Holiday Shootout. Mountain Pointe and Mesa High did the routing.
Mountain Pointe pulled away after a back-and-forth first quarter with McClintock and went on to bury the host Chargers, 92-64. The later semifinal saw Mesa take about a quarter longer to distance itself from Arcadia in posting a 60-40 triumph over the Titans. Mountain Pointe (14-1) and Mesa (13-3) meet for the tournament crown Friday night at 7 at Doc Zinke Gym.
Mountain Pointe's guard tandem of Khalid Price and Amarion Cash continued their torrid play in the tournament. Price notched a game-high 20 points and Cash added 19. Mountain Pointe traded five-point leads with McClintock (11-3) in the first period before setting for a 21-17 advantage after eight minutes. The deeper Pride shuffled 10 players in and out and their constant pressure wore down McClintock. Mountain Pointe extended its lead to 50-35 at halftime and the margin grew from there. Mountain Pointe had to rally to beat its first tournament foes -- Mesquite in the final seconds of regulation and Gilbert in overtime.
Mountain Pointe, in the midst of a 10-game winning streak, got its first action of the tournament from 6-foot-9 forward Jalen Graham, who came off the bench and notched 10 points with a few blocked shots for good measure. Junior post DeAndre Henry checked in with 10 points for Mountain Pointe and Noah Simmons chipped in with nine. McClintock, which plays Arcadia for third place at 5:30 on Friday, got a quiet 16 points from Josh Baker - just four in the second half.
Mesa High has endured little trouble in reaching the final. The Jackrabbits dispatched Marcos de Niza and Chandler and opened the game with Arcadia with a 15-3 lead after the first period. Neither team shot well much of the game and Mesa's transistion game that got them off to a fast start dried up in the second period. Arcadia closed to within 20-18 at halftime thanks to 10 points from Jaylin Fleming.
Mesa senior guard Mark Hatch was the impetus for Mesa pulling away in the third period. Mesa's cold perimeter shooting continued early in the period so the Jackrabbits and primarily Hatch began taking the ball to the basket. Hatch netted 11 of his game-high 26 point in the third period with a trip of layups and then penetrated and pulled up for two medium-range jumpers. Mesa led 36-25 heading to the final quarter.
Arcadia (10-5) couldn't get much going from anyone other than Fleming. Leading scorer Aiden Weber finished with nine points, just more than half his average. Mesa made sure Arcadia had no chance at a comeback with shooting guard Zach Hobbs finally heating up from the periimeter in the final period. Hobbs didn't score in the first half, but tallied 12 in the second half. Ten of those in the final quarter.
---