Girls hoops: Xavier cements lead in 6A Premier Region lead
January 9, 2018 by Les Willsey, AZPreps365
---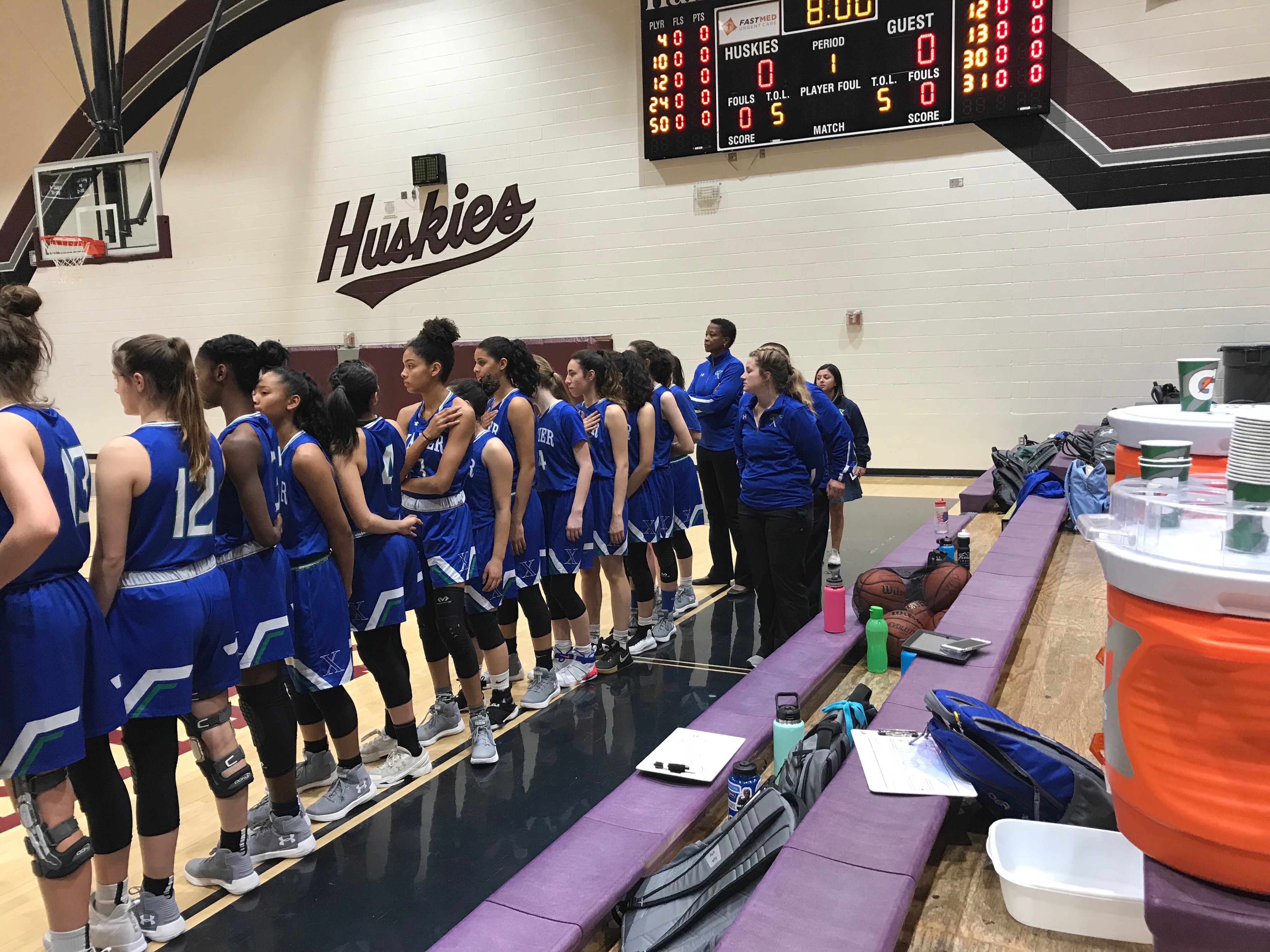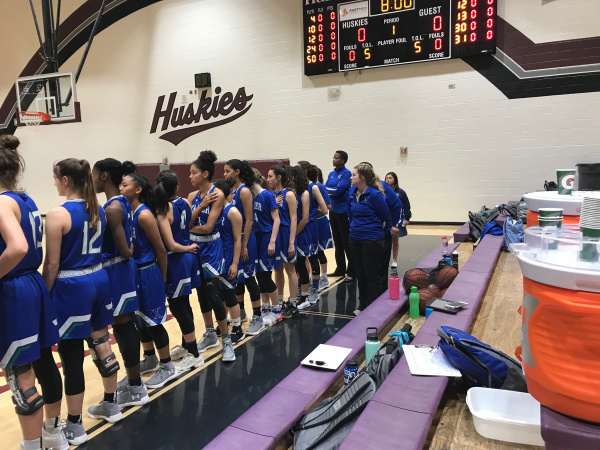 XCP players, flanked by coach Jennifer Gillom, prior to 66-30 win over Hamilton (AzPreps365 photo
An experienced Xavier Prep hoops squad continued to roll Tuesday night and offered further evidence it's going to be in the thick of the 6A state championship chase next month.
Xavier racked up its 13th victory in a row with a stifling 66-30 triumph over Hamilton at Hamilton High.
"These girls play hard and do everything I ask," Xavier coach Jennifer Gillom said. "We are a well-balanced team. For the most part we've talken care of business."
Xavier improved to 15-3 overall. It's losses all came in the first week of the season at the Highland Thanksgiving Tournament. The Gators fell to 5A defending champ Mesquite, 4A title contender Pueblo and 6A Highland. Xavier is 4-0 in the Premier Region having gone around once in double-round-robin vs. Perry, Chandler, Basha and Hamiton. The Gators are an unscathed 9-0 in power-ranking games and ranked No. 6 in the latest power-rankings.
The balance Gillom spoke of was evident as the Gators' starters tallied between 7 and 18 points. Senior forward Montana Oltrogge led the way with 18 points and center Katie Hassett was right behind with 14. All of their points were in the paint.
Point guard Leilani McIntosh had a busy night dishing and hitting in double figures in points with 13. Paris Moore flashed her quickness often (eight points) and Addy Putnam showed she must be respected from the perimeter. along with McIntosh if the Xavier's inside game is stymied.
Xavier bolted to 16-5 lead after the first quarter and increased it to 37-13 at halftime. A running clock was forecast for the final period as the Gators lead reached 31 with 5:10 left in the third and 40 heading to the fourth period.
Hamilton has had to adjust with its youngest and most inexperienced team in years. Trevor Neider's Huskies started three freshmen, a sophomore and junior. Five freshmen are on the roster and only one senior.. Junior Raelin Denning and sophomore Tori Davis, who started, are the most experienced varsity players.
Hamilton is 11-7 overall and 4-5 in power-ranking games. They rested at No. 14 in those rankings prior to Tuesday's game.
Xavier is looking forward to a road game and rematch Friday with Mesquite. Mesquite prevailed in the Highland tourney, 60-52, over Xavier seven weeks ago. Hamilton plays host to North on Thursday in its next game. North is No. 9 in the current power rankings.
---