WRESTLING: Sunnyside leads Flowing Wells Invitational heading into semifinals
January 12, 2018 by Andy Morales, AZPreps365
---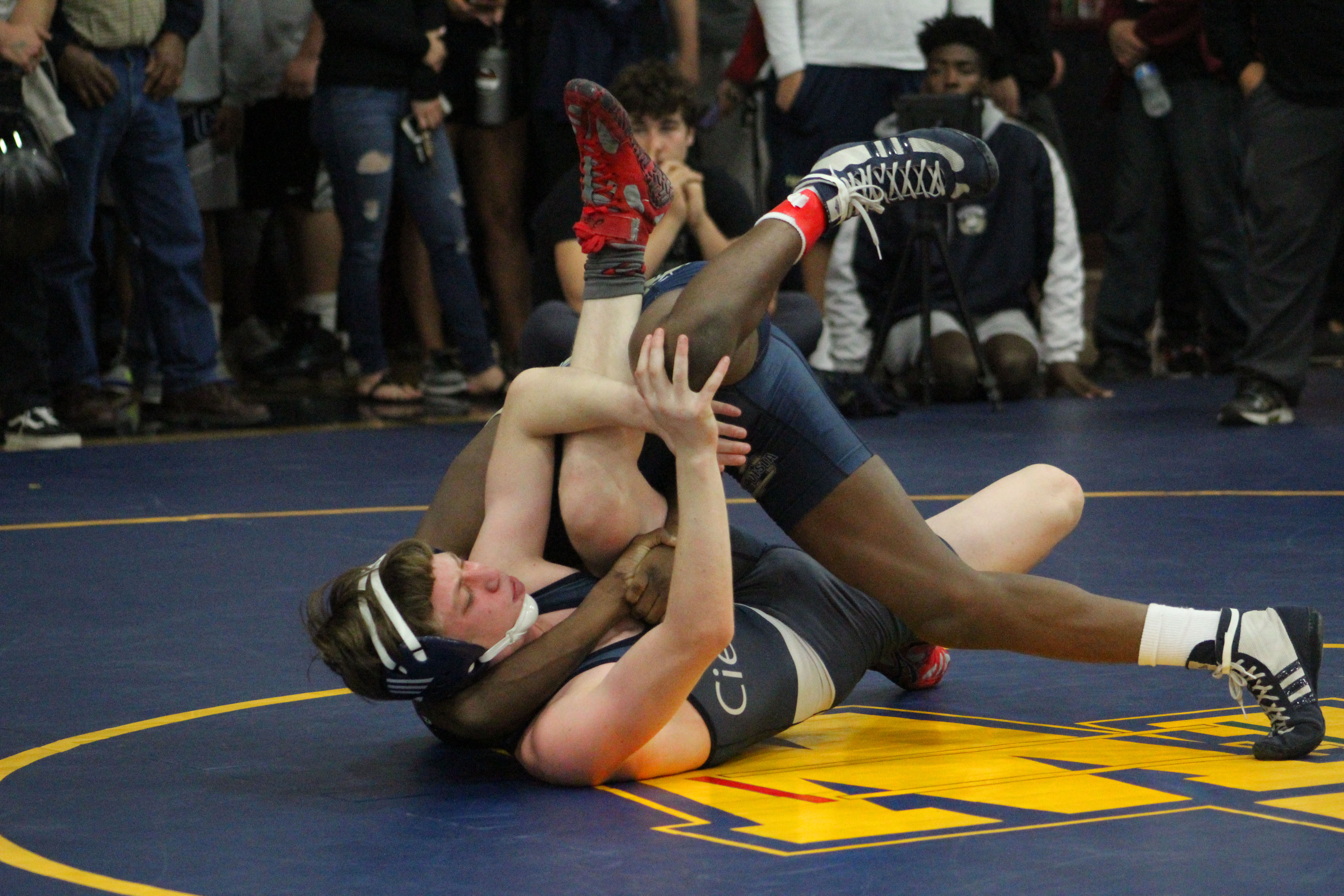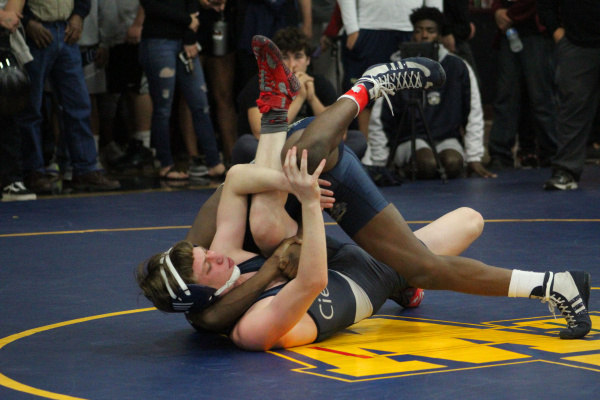 Action continues at 10 a.m. on Saturday morning. (Andy Morales/AZPreps365.com)
Sunnyside has a commanding lead heading into the semifinal round of the 52nd Flowing Wells Invitational. The Blue Devils lead Boulder Creek 170 to 112.5 with ten wrestlers still alive in the 14 weight classes. Walden Grove is in third place with 104 points.
The semifinal round is set for Saturday, Jan. 13 at 10 a.m. in the main gym on the Flowing Wells campus and the finals will start at 6 p.m. There will also be a "mini tournament" to be held outside starting at 10 a.m.
Sunnyside has won the tournament a record 28 times but the last championship for the Blue Devils was in 2013.

Roman Bravo-Young is 33-0 on the year (Andy Morales/AZPreps365.com)
SEMIFINALS
108
James Brown of Sunnyside
Chris Lopez of Walden Grove
Noah Kasprowicz of Boulder Creek
Isaiah Trujillo of Cleveland
115
Guaranteed Places
Jesse Ybarra of Sunnyside
Alex Dieball of Desert Mountain
Tristan Mascarenas of Cleveland
Aaron Valenzuela of Kofa
122
Manny Garcia of Sunnyside
Diego Guerrero of Walden Grove
Tariq Hornbuckle of Desert Vista
Marco Rivera of Tucson
128
Vicente Loaiza of Sunnyside
Jarett Christofferson of Boulder Creek
Zeke Marquez of Silver
Santiago Marquez of Cleveland
134
Roman Bravo-young of Sunnyside
Mckade Finch of Safford
Seth Fernandez of Queen Creek
Davan Gillespie of Camelback
140
Sal Silva of Walden Grove
Aaron Rodriguez of Sunnyside
Tanner Waite of Highland
Angelo Pool of Tucson
147
Denen Fernandez of Queen Creek
Zane Mckissick of Canyon Del Oro
Evan Killgore of Walden Grove
Justice Smith of Desert Vista
154
Dawon Andrews of Safford
Sheldon Cole of Boulder Creek
Jose Aguilar of Queen Creek
Carlos Urias of Kofa
162
Alex Torres of Marcos de Niza
Luke Jacobs of Brophy
Elijah Wyatt of Sunnyside
Preston Cameau of Desert Vista
172
Andrew Torres of Marcos de Niza
Sebastian Mordecai of Sunnyside
Vince Vega of Silver
Jack Kollings of Boulder Creek
184
Kashawn Crump-Valencia of Tucson
Gabe Garcia of Cleveland
Sam Tietjen of Marana
Gabe De la Rocha of Brophy
197
Eric Mickelson of Thunderbird
Matt Rees of Sunnyside
Omar Ibanez of Pueblo Magnet
Armando Delgado of Desert Vista
222
Chase Umphres of Safford
Hamza Manassra of Marcos de Niza
Jonathan Matuzak of Queen Creek
Ryan Cazares of Boulder Creek
287
Dale Banning of Queen Creek
Adrian Monreal of Sunnyside
Dominic Dallago of Brophy
Caleb Allen of Highland
TEAM SCORES
1 Sunnyside 170
2 Boulder Creek 112.5
3 Walden Grove 104
4 Queen Creek 95.5
5 Cienega 88.5
6 Cleveland, NM 84
7 Safford 80
8 Marcos de Niza 78
9 Silver, NM 77
10 Kofa 76.5
11 Desert Vista 76
12 Brophy 73.5
12 Highland 73.5
14 Ironwood Ridge 68.5
15 Tucson 62
16 Pueblo 60.5
17 Canyon Del Oro 59
18 Hamilton 57
19 Centennial 55
20 Sahuaro 51
21 Mountain Pointe 49.5
22 Desert Mountain 44
23 Thunderbird 41
24 Willcox 38
25 Deming, NM 37.5
26 Sahuarita 37
27 El Paso Americas 36
28 Camelback 30.5
29 Marana 30
30 Catalina Foothills 25
31 Desert View 24
32 Flowing Wells 21
33 Douglas 20
34 Paradise Valley 16
34 Rio Rico 16
36 Socorro 15
37 Amphitheater 14
38 El Paso El Dorado 10
39 San Luis 7
---