6A BOYS SOCCER: Corona del Sol over Rincon in OT
January 31, 2018 by Andy Morales, AZPreps365
---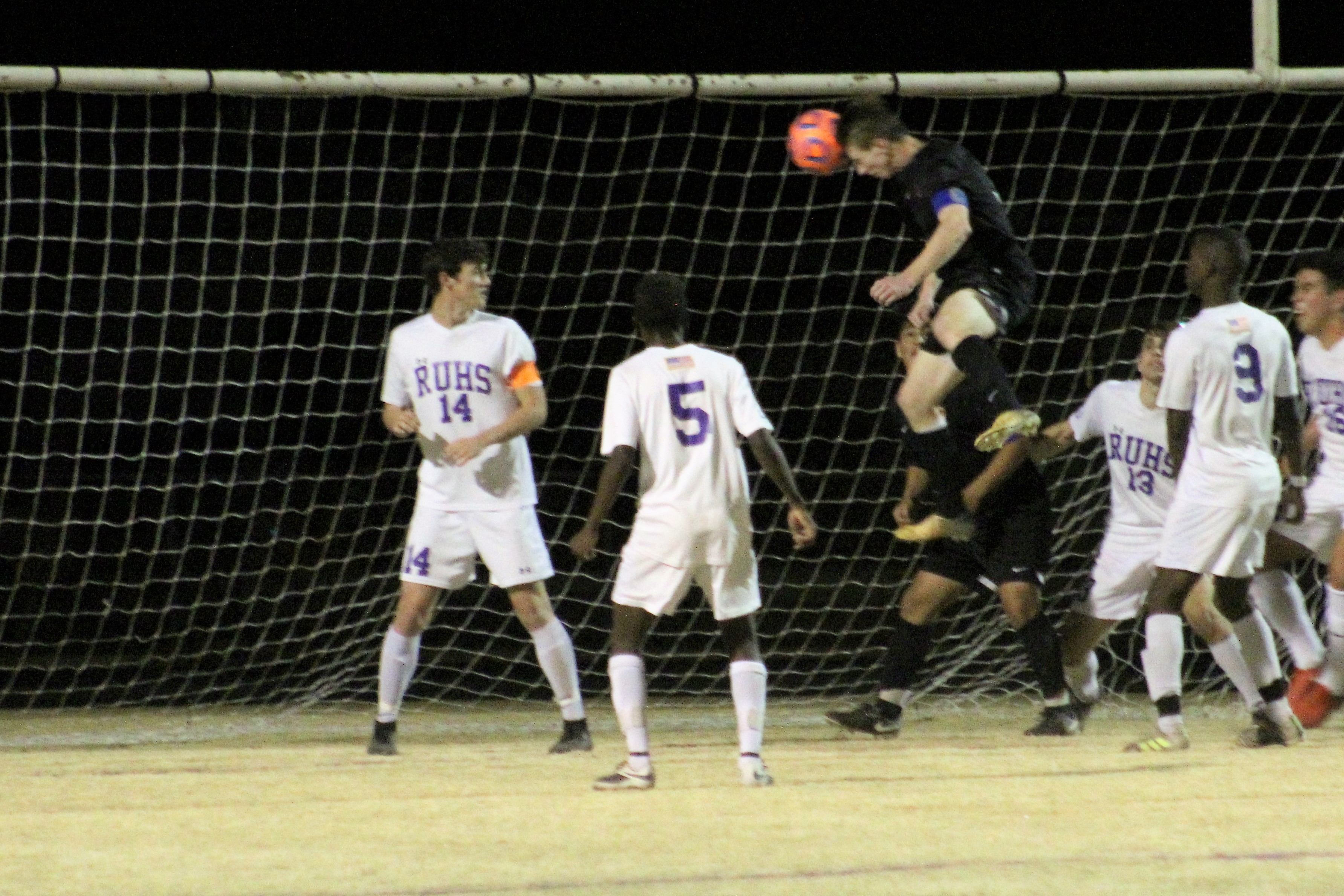 Mitchell Carpenter sent the game to overtime on this header in the 79th minute. (Andy Morales/AZPreps365.com)
No. 4 Rincon scored two early but No. 13 Corona del Sol scored two late - but no too late.
Down 2-1 in the 79th minute, a perfectly placed corner kick resulted in a perfectly timed header to force overtime where the Aztecs scored once more for the 3-2 win and a trip to the 6A quarterfinal round.
As mentioned before, Rincon (13-5-2) led early thanks to a goal from Jesse Gill (Biniyam Leta) in the third minute and another from Abdullahi Mohamed in the 10th but Josh Allison found the net in the 23rd minute to cut the lead in half.
Both squads played pretty even from there but Corona del Sol (10-8-2) started to take control of the pace in the final few minutes of regulation to extend the shooting advantage to 13-9. The 13th shot came in the final minute of play and it turned out the be huge because it resulted in a corner kick from Preston Grayson to Mitchell Carpenter for the equalizer.
Nikhil Chagam took a throw in from Juan Uribe in the 83rd minute of play and he found the net to put the Aztecs up 3-2. The Rangers had several opportunities from there but the magic of the first few minutes was elusive.
Corona del Sol will play at No. 5 Pinnacle (15-5-1) in the 6A quarterfinal round on Saturday, Feb. 3 at 2 p.m.
In other 6A action from Southern Arizona, No. 6 Sunnyside beat No. 11 Desert Mountain 1-0 at home and the Blue Devils will travel to No. 3 Chandler on Saturday.
In 5A play, No. 13 Flowing Wells came up with the upset and beat No. 4 Cienega 2-0. The Caballeros will travel to No. 5 Chaparral. No. 10 Desert View beat No. 7 Verrado 5-4 in shots from the mark and the Jaguars will visit No. 2 Independence.
No. 4 Douglas beat No. 13 Metro Tech 2-0 in 4A action and the Bulldogs will host No. 5 Gila Ridge. No. 10 Salpointe took care of No. 7 Coronado 5-2 and the Lancers will go to No. 2 Greenway.
No. 12 Sabino upset No. 5 American Leadership 5-0 in the 3A bracket and the Sabercats will play at No. 4 Safford.
---