GIRLS TENNIS: Catalina Foothills over Ironwood Ridge 9-0; ready for another state run
March 5, 2018 by Andy Morales, AZPreps365
---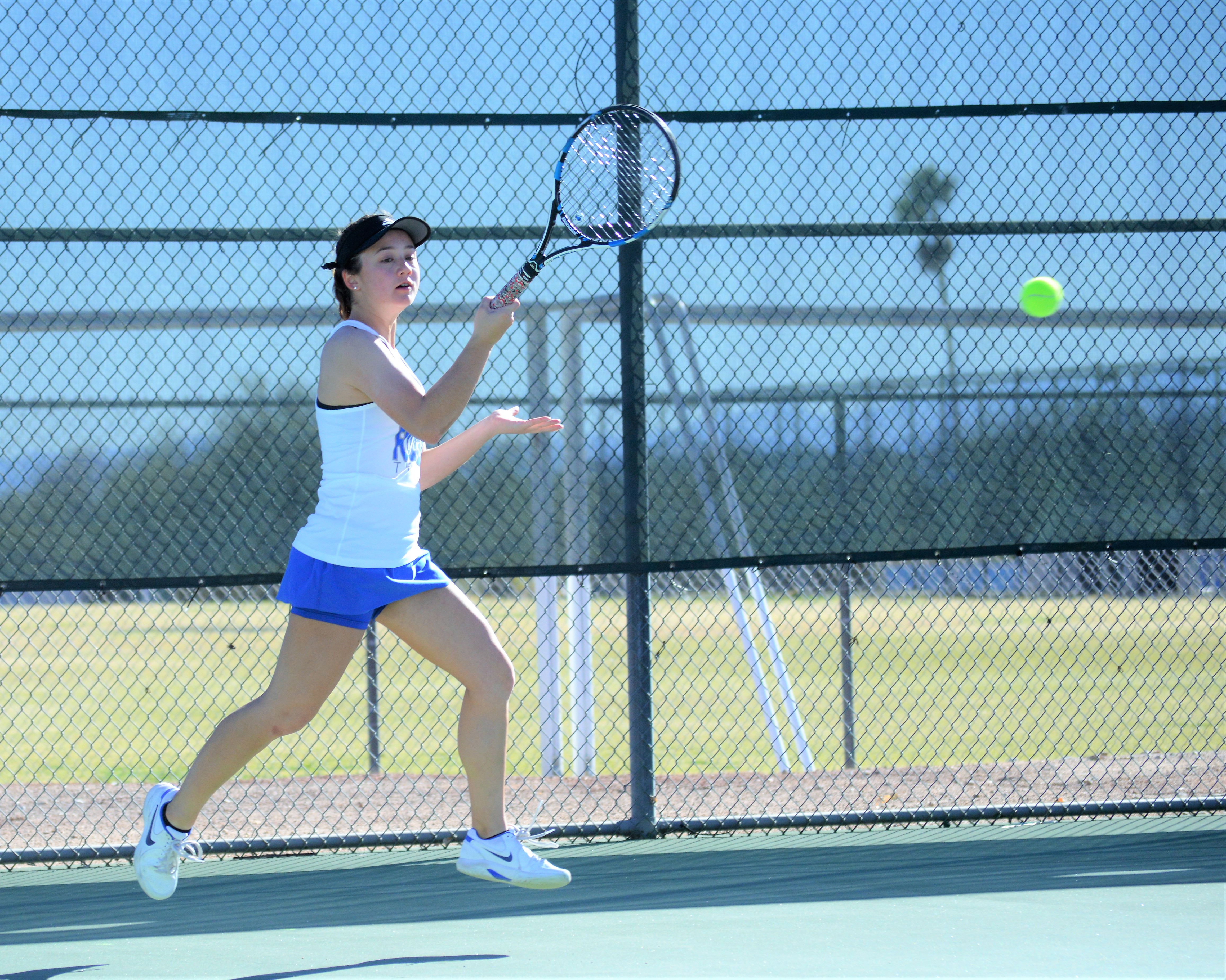 Catalina Foothills No. 1 Chloe Gavino. (Andy Morales/AZPreps365.com)
Catalina Foothills beat Ironwood Ridge 9-0 on Monday to improve to 2-0 on the year and 1-0 in section play, setting the tone for another deep run towards a state championship. The power program has 13 state titles, five runner-up finishes, 10 doubles championships and nine singles titles since the school opened in 1993 and it all started by chance.
THE BIRTH OF A PROGRAM
With the main campus still under construction, Kristie Stevens visited the temporary buildings set aside for Catalina Foothills High School on the grounds of Esperero Canyon Middle School. The tennis season was all set to start the next day and Stevens was seeking an opportunity to volunteer, having been told the school already had a tennis coach in place.
As luck would have it, the school had hired someone, but that coach was released of his duties before the season started and the program was scrambling to get someone else in place.
References?
Her sister Meredith Geiger (Walton) was a two-time All-Pac 10 Player of the Year at ASU (1994 and 1995) before becoming an assistant coach at Texas. Her brother, Bryan Geiger, was a standout tennis player at Oklahoma and ASU. Not to be outdone, Stevens turned her individual high school title into a position on the Scripps College team where she received the Athletic Alumnae Award for outstanding achievements in women's athletics.
Now, some 26 years later, Stevens has her name forever attached to the 13 state championships, including eight in a row from 2000 to 2007.
"We barely broke even that first year," Stevens said. "The other sports played JV because we didn't have seniors yet, but tennis played varsity right away and Melissa Hale won the state singles championship as a freshman. It was the very first championship for Catalina Foothills."
Hale won another title her sophomore year and the program was on its way. Catalina Foothills took runner-up in 1994 and the tennis community took notice.
NATIONAL COACH OF THE YEAR
Stevens was named the National Coach of the Year in 2005 by the National Association of High School Coaches and the National Federation of State High School Associations (NFHS) Coaches Association gave her that honor once more last year.
The Falcons earned the top seed in the Division II state playoffs in 2017 and finished in the semifinal round.
"I believe it was an award for the culmination of 25 years not just for a particular year," Stevens said. "It was a testament to all the players and everything they brought to the program."
One of the new faces on her roster is former Rincon/University standout Chloe Gavino. Gavino took third place in singles competition for the Rangers in 2015 and then helped lead the team to quarterfinal finish where Catalina Foothills advanced on a 5-3 victory.
Gavino took two years off from high school competition and has a verbal commitment to play for New Mexico State. "I'm looking to have some fun this year playing with a team," Gavino said.
"There are a lot of nice girls on this team and I think we will do well."
IRONWOOD RIDGE LEGACY
Ironwood Ridge was built in 2001 and the girl's tennis program has been one of the many success stories for the Nighthawks: One state title, three runner-up finishes, two doubles titles and three singles championships.
Torrie Browning won the school's first championship in 2004 and she won it all again in 2005. Browning went on to play for Wichita State where she was a four-time Missouri Valley All-Conference standout. She coached the men's and the women's teams at George Washington from 2014 to 2016, earning Atlantic 10 Coach of the Year honors in 2016.
Browning took over the women's program in 2016, dropping her men's duties.
Marissa Baca combined with Sara Brown to win the program's first state doubles title in 2010. Baca went on to play for Northern Colorado where she was named to the Big Sky All-Academic Team twice and she is now an assistant coach for the Bears. Brown went on to play for Boise State and NAU.
Ironwood Ridge (1-2) opened up with a loss to Nogales before beating Desert View (9-0). The Nighthawks will visit Walden Grove (1-1) on Tuesday. Catalina Foothills will host Sabino (0-2) on Monday, March. 12.
CATALINA FOOTHILLS 9, IRONWOOD RIDGE 0
Chole Gavino over Liza Pullen 6-1, 6-0
Abby Watson over Olivia Manheimer 6-0, 6-0
Annabelle Mulick over Ella Wilson 6-1, 6-0
Camila Rezetko over Lauren Anthony 6-0, 6-3
Talya Rezetko over Lydia Di Paola 6-1, 6-1
Peris Lopez over Madelyn Stephens 6-1, 6-1
Gavino/Watson over Pullen Manheimer 8-5
Mulick/C. Rezetko over Wilson/Di Paola 8-0
T. Rezetko/Lopez over Stephens/Russell 8-3
Liza Pullen. (Andy Morales/AZPreps365.com)
---