CHRIS MOON INVITATIONAL: Tucson honors an American Hero
March 27, 2018 by Andy Morales, AZPreps365
---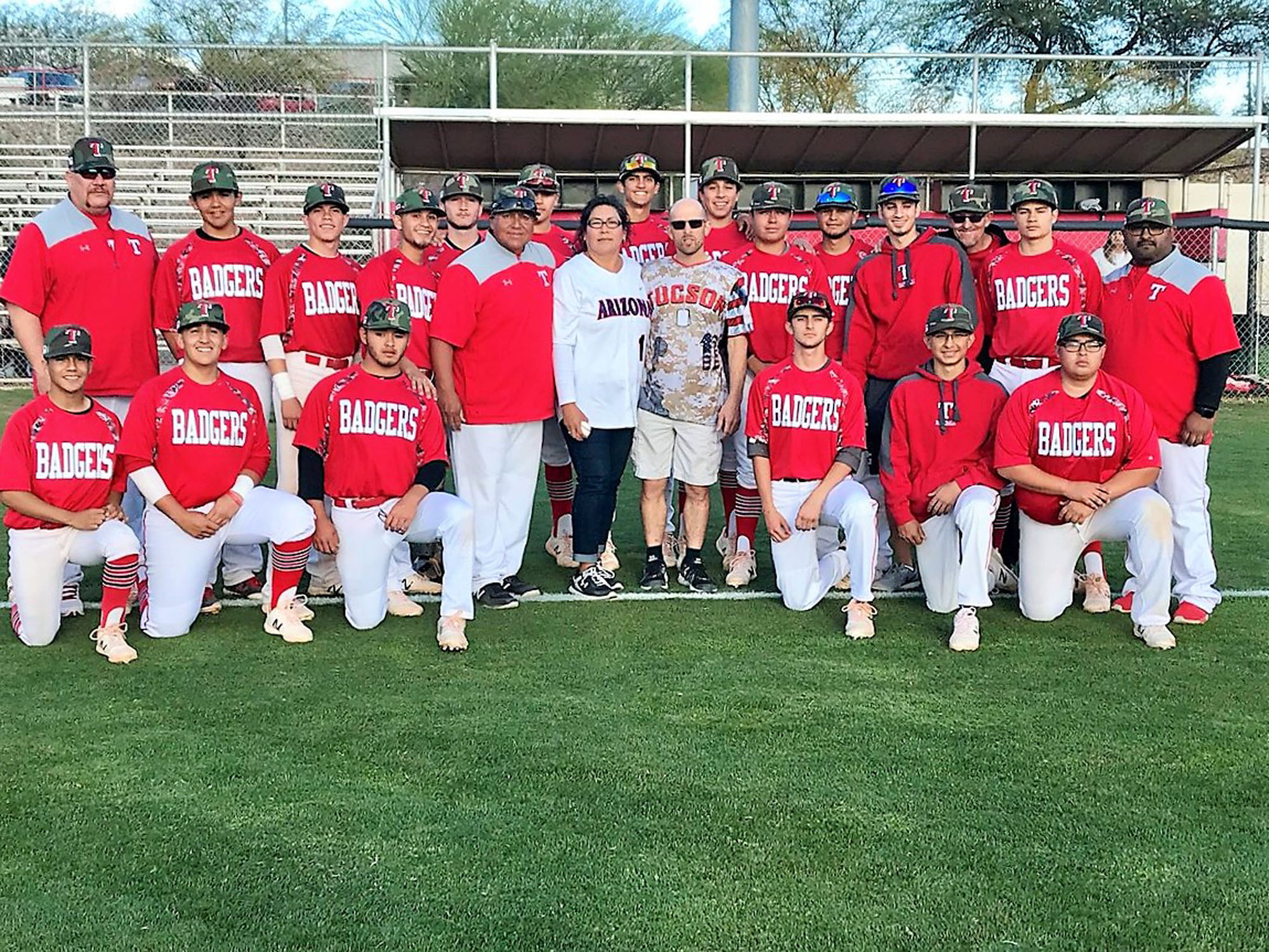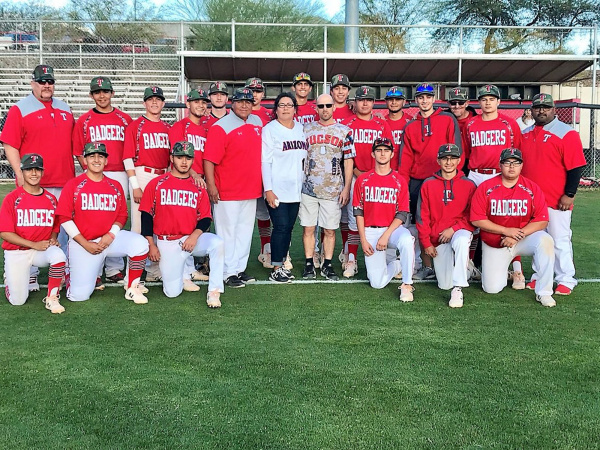 Marsha and Brian Moon with the Tucson High baseball team. (Andy Morales/AZPreps365.com)
The first day of the Chris Moon National Baseball Tournament is in the books but the scores, batting averages and home runs are but a footnote to the larger story: Chris Moon was an All-State pitcher from Tucson High who ignored the Atlanta Braves, stepped away from the University of Arizona as a freshman and then died in battle, serving our country as a sniper in Afghanistan. Who does that?
Heroes do. Pat Tillman did.
Moon was part of a recruiting class that eventually went on to win a national title with the Wildcats in 2012, but he wasn't there in person to take in all the glory. He was there in spirit. As a highly-rated sniper, Moon was targeted by the enemy in a place called the Devil's Playground.
A description of what Moon and his platoon had to go through can be found HERE.
Moon was targeted because he was the "last man," a position taken by a soldier who followed his platoon to insure their safety. His position, and his rifle, tipped off the enemy to who he was, and they detonated an improvised explosive device under him remotely, from their cowardly position in the shadows. Moon died several days later, while his parents Marsha and Brain were inflight, on their way to see him in a military hospital in Germany.
The sacrifice Marsha and Brian made cannot be understated. It's a sacrifice that can never, ever be repaid. Instead of watching their boy pitch for the Braves or kiss a trophy with the Wildcats, the Moon's have graciously allowed us to share in his memory.
The Badgers honor their son every March in a tournament that bears his name, but they also honored him by erecting a life-sized statue of him, overlooking the field where he once dominated. They honor him, and other former high school athletes, by welcoming Gold Star families to celebrate the sacrifice they made.
Honor and Remember flag handed to the Justin Gallegos family at the Chris Moon Classic #azpreps365 pic.twitter.com/KkSMD4k7p2

— Andy Morales (@AZPreps365Andy) March 28, 2018
The sister and brother of former Badger football standout Justin T. Gallegos were on hand Tuesday night to accept an Honor and Remember flag in his name. A plaque depicting his selfless service and death in 2009 was added to monument that holds the statue of Chris Moon.
Again, there are debts family members of fallen soldiers make that can never be repaid but we try. We must.
As mentioned before, the Moon statue overlooks the diamonds of Cherry Field, the host site of the tournament that bears his name. One small way to repay the Moon family for their sacrifice is to recognize the young athletes who play the game that he once mastered.
Eight teams from Southern Arizona, Colorado, Illinois and California are battling it out this week in the Chris Moon National Tournament with the championship scheduled for Friday at noon.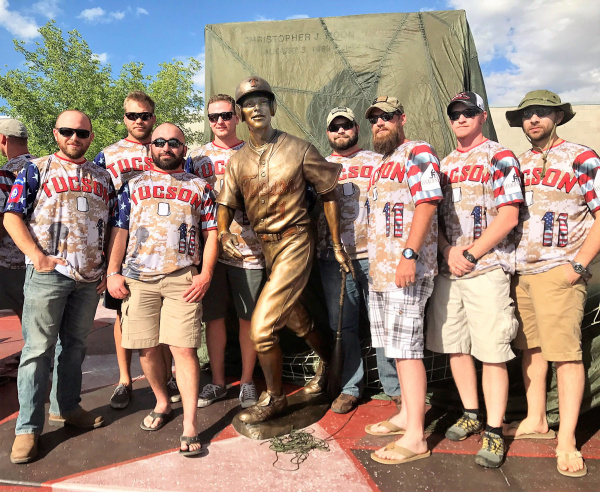 Chris Moon's platoon with his statue overlooking the field at Cherry Field. (Andy Morales/AZPreps365.com)
Pool A
Tucson
Pomona (CO)
San Marcos (CA)
Sahuaro
Pool B
Flowing Wells
Rio Rico
Arvada West (CO)
St. Laurence (IL)
Tuesday, March 27
Rio Rico 9, Pomona 8
Rio Rico 11, Flowing Wells 4
St. Laurence 24, Arvada West 3
Tucson 5, Pomona 2
Sahuaro 4, San Marcos 3
Wednesday, March 28
San Marcos vs. Pomona, 8:30 a.m.
Rio Rico vs. Arvada West, 11:30 a.m.
Pomona vs. Sahuaro, 2:30 p.m.
Tucson vs. Arvada West, 2:30 p.m.
Tucson vs. Sahuaro, 5:30 p.m.
Flowing Wells vs. St. Laurence, 5:30 p.m.
Thursday, March 29
Flowing Wells vs. Arvada West, 3 p.m.
Tucson vs. San Marcos, 6 p.m.
Rio Rico vs. St. Laurence, 6 p.m.
Friday, March 30
Bracket Play
9 a.m. and Noon
---