Sahuaro wins The View Volleyball Invitational
April 1, 2018 by Andy Morales, AZPreps365
---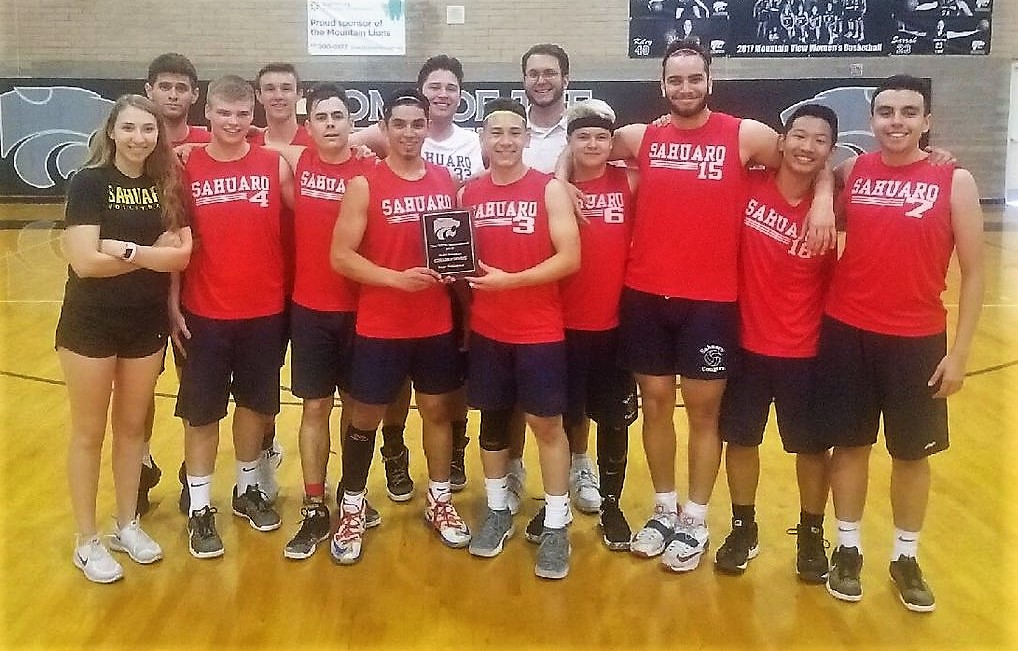 (Sahuaro team photo)
The View Volleyball Invitational
March 29-30: Mountain View
Top-ranked Mountain View hosted some of the highest-ranked 5A teams in the state this past Friday and Saturday at The View Volleyball Invitational including No. 6 Ironwood Ridge, No. 7 Salpointe, No.8 Sahuaro and No. 11 Pueblo.
Mountain View knocked off Pueblo and Salpointe in bracket play on Saturday to set up a championship match against Sahuaro. The Cougars took care of Casteel and Ironwood Ridge on their side of the bracket.
Sahuaro came out on top with a 2-1 (25-22, 18-25, 15-11) victory over Mountain View while Salpointe beat Ironwood Ridge to claim third place. 6A power Rincon/University outlasted Buena to claim the championship of the Silver Bracket.
Former Sahuaro basketball standout Chris Wharam was picked to replace longtime coach Sandy Novak after Novak retired last spring with the most combined wins in Southern Arizona with 673. Novak retired with a state championship and three runner-up finishes.
Wharam played basketball for another legend in former head coach Dick McConnell.
The Salpointe Lancer Volleyball Invitational is scheduled to take place from April 13-14. This will be the last sanctioned volleyball invitational from Southern Arizona of the season.
GOLD BRACKET
Mountain View over Pueblo
Salpointe over Canyon del Oro
Ironwood Ridge over Marana
Sahuaro over Casteel
Canyon del Oro over Pueblo
Casteel over Marana
Casteel over Canyon del Oro
Salpointe over Ironwood Ridge
Marana over Pueblo
Mountain View over Salpointe
Sahuaro over Ironwood Ridge
CHAMPIONSHIP
Sahuaro over Mountain View, 25-22, 18-25, 15-11
SILVER BRACKET
Rincon/UHS over Flowing Wells
Buena over Desert Edge
Flowing Wells over Desert Edge
Rincon/UHS over Buena
---