Horizon Honors stays alive for boys volleyball playoffs
April 30, 2018 by Tyler Dare, Arizona State University
---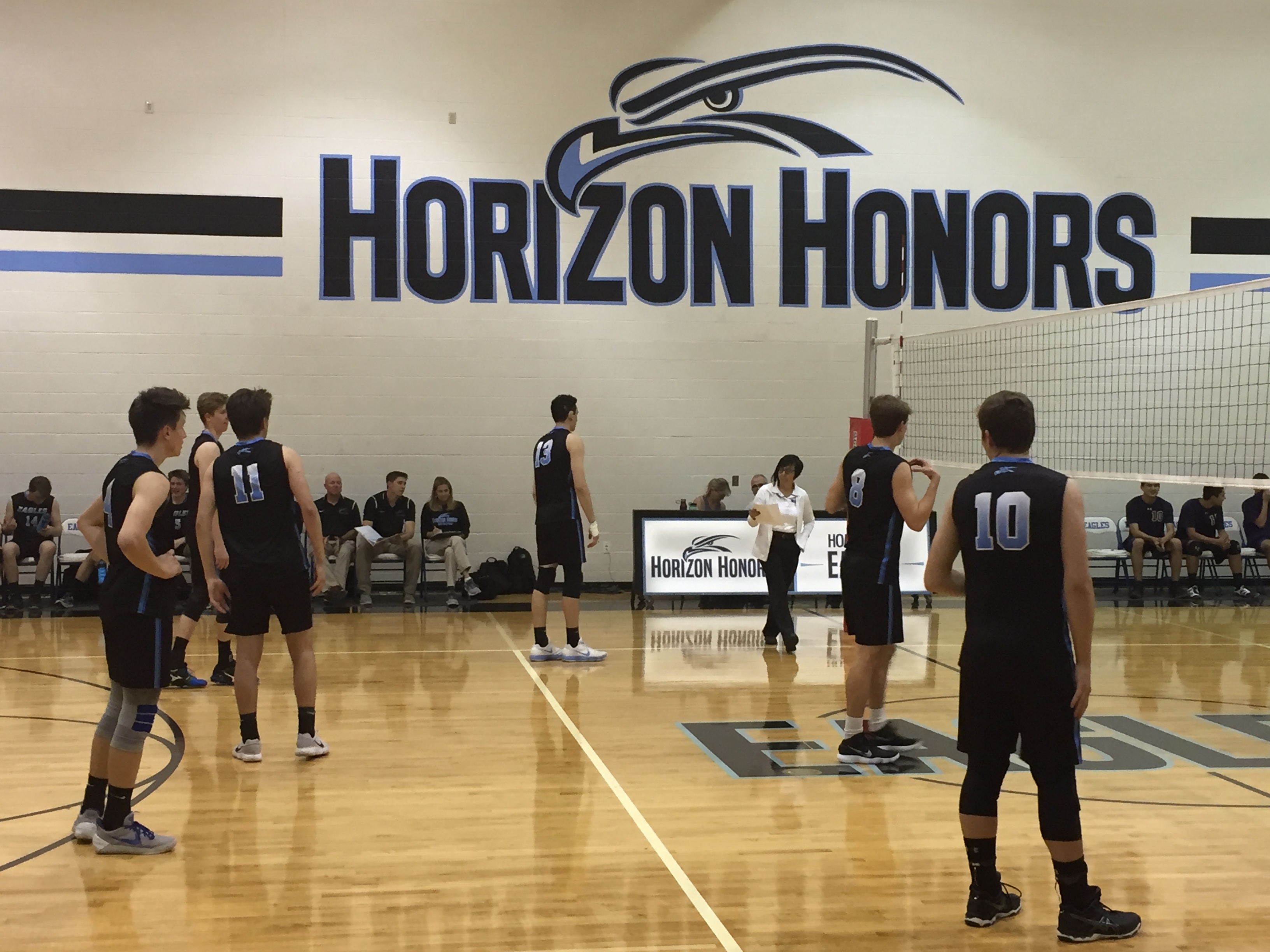 PHOENIX — The Horizon Honors boys volleyball team defeated McClintock 3-0 Monday to hold onto its playoff hopes.
Going into the game, Horizon Honors coach Lisa Barlow said that this was a must-win game for the Eagles, who have to win out in order to make it into the upcoming conference play-in game.
"These are have-to-win games for us to make it into the playoffs, we're ready to play our very best because we're hoping to get into conference play-in tournament this Thursday," Barlow said.
The Eagles proved dominant in all three series, giving up no more than 14 points per set. Although some McClintock players were out due to injuries, they still couldn't keep up with the Eagles' offense as the Chargers ended their season with a loss.
"These guys are tough," McClintock head coach Jeff Dunn said. "They're a very good team, but our starting middle wasn't here, which was why we were struggling. We're expecting way better things next season when everyone returns."
Throughout the night, Horizon Honors played with an attitude to try and survive to make it to the postseason. The team looks to carry that momentum into the final regular-season game against Mountain Pointe Tuesday night, knowing that it could be their last.
Last season, the Horizon Honors team was runner-up in the state championship. However, due to most of their team graduating, the Eagles have focused on "reloading" their team this year with several juniors learning from the veteran players.
"We have reloaded and it's taken us about up until two weeks ago where our team started to click, the team's coming together and we are ready to roll," Barlow said. "A couple of our hitters stepped up outside of our regular two, which is what we need to go far in state."
Being one of only four seniors on the team, Jeremy Kollman has been the star player and one of the main leaders of the Eagles. Kollman is the middle-blocker and commanded the center of the court tonight, communicating to his other teammates to set one another up for blocks, saves and spikes.
Although Kollman and his team know that having last year's star players graduate left a hole in their championship-seeking team last year, Kollman has done his best to lead the team and pass down what he's learned to the younger players.
"I take what I learned from the seniors last year and just keep it going." Kollman said, "We're still good enough to compete for that top spot, we just have to keep working hard."
Despite starting off the year with a 6-6 record, the team found a rhythm and started to click in the back-half of the season, according to junior Matt Murphy.
Murphy has been Horizon Honors' team captain throughout the season and one of the few returning players from last year's team. Murphy's motivation comes from his brother, who played on the team last year before graduating. Matt said that he learned most of what he knows from him and has carried it on to his teammates.
"I've learned a lot from him, not only from a leadership position but from the position he played," Murphy said. "I've been able to push my teammates and we've seen a lot of improvement over the last couple of weeks."
The team continues to be optimistic and plans to learn from whatever happens in the next couple of games to apply it to next year.
"I don't want to be that one team that didn't go as far as they should've," Kollman said. "If we go down early, I want to go down swinging."
---