6A softball: Pinnacle nabs 1st title, blanks defending champ Hamilton
May 14, 2018 by Les Willsey, AZPreps365
---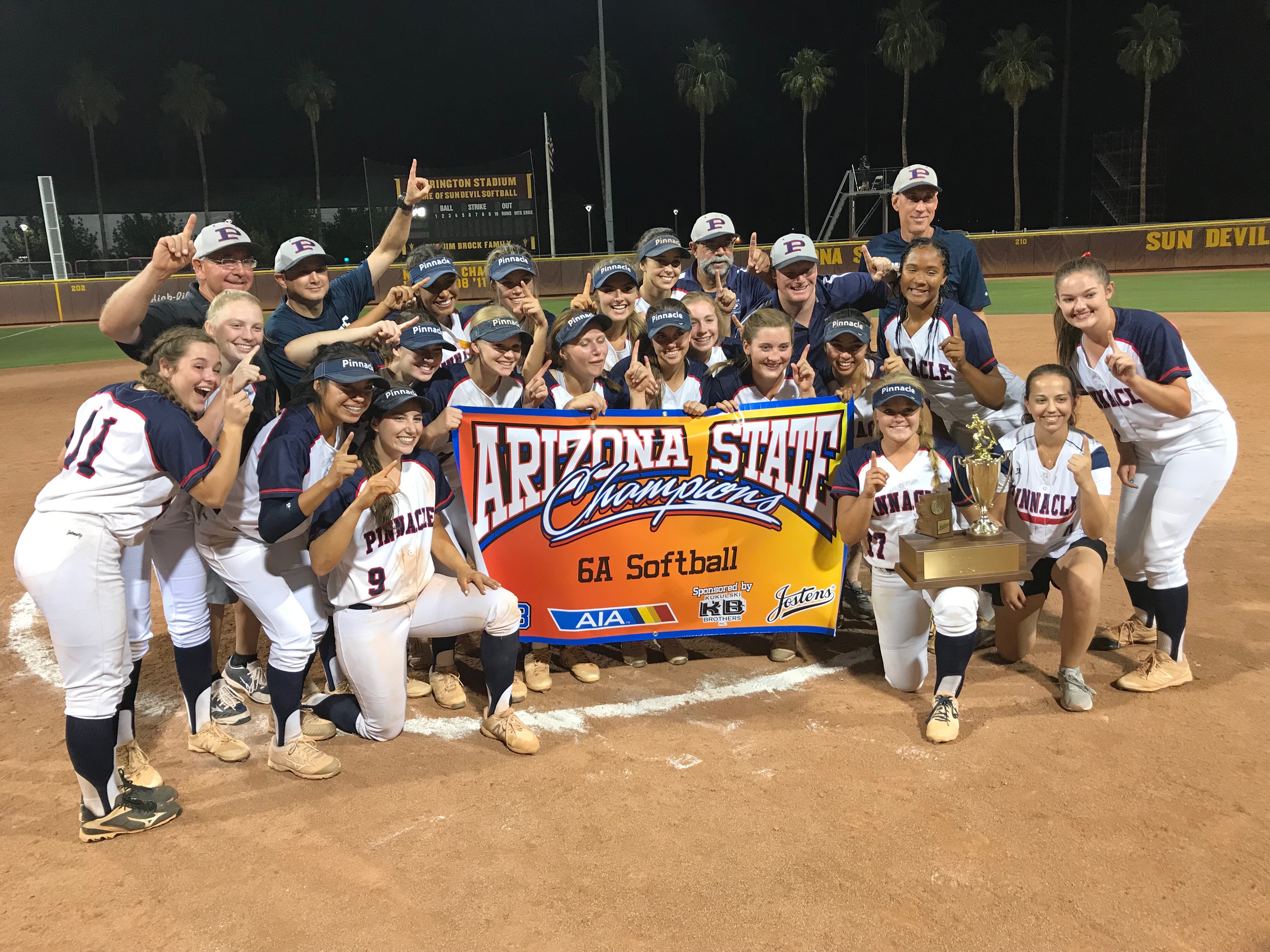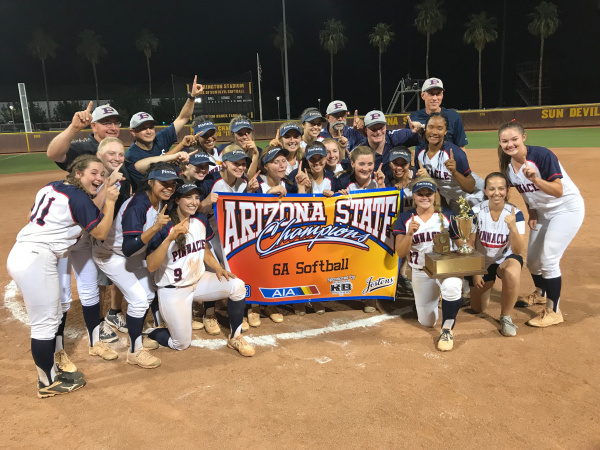 Pinnacle displays school's first title banner in softball after blanking Hamilton. (AzPreps365 photo)
#2 Pinnacle ended two years of title-game frustration Monday night. The Pioneers did so by silencing two-time defending champion #1 Hamilton like no other team did this season in their third championship game matchup in as many years.
Senior Marissa Schuld fired a two-hit shutout and blasted a home run along with teammate Morgan Smith as the Pioneers took down Hamilton, 4-0, at ASU's Farrington Stadium.
Pinnacle (30-6) captured its first title in the sport after runner-up finishes in 2016 and 2017 to Hamilton (33-2). Schuld flirted with a no-hitter and perfect game into the fifth inning befor yielding two singles in the inning to Lorena Vazquez-Inzunza and Danielle Cole. She struck out the side to escape the jam. Schuld finiished with 14 strikeouts, including the side in the seventh.
Pinnacle was the only Arizona team to beat Hamilton this season and the only one to blank the Huskies. The loss also ended a 26-game winning streak for Hamilton.
Schuld, who is headed to the Unviersity of Arizona in the fall, didn't pitch in Pinnacle's previous playoff win over Perry. Her troublesome hip and some sickness kept her from the circle. She came out determined with rest from the weekend and pitched as well as she can, which is very good most of the time. Schuld started both prior title games, coming out on the short end of 3-0 and 7-2 games.
"I didn't pitch against them this year until tonight,' Schuld said. "The game we lost 19-0 (mid-March), I didnt play, but watched their hitters and saw some how I might pitch against some of them. We knew at some pointe we could beat them. We just had to put it all into action."
Pinnacle was 1-7 the last three season in games against Hamilton. But Schuld said they were still confident "we could beat them if we put our minds to it."
Sophomore Morgan Smith, who pitched the 7-1 win over Perry last Friday that got Pinnacle to the final, began the game's scoring with a titanic home run to right-center off Hamilton starter Abby Andersen in the second inning.
The next inning, Schuld ignited a two-out rally for what proved to be the game's final three runs. Schuld picked on a 3-2 change up and hit a tape-measure shot of her own to left to make it 2-0. Jessica Mabrey followed with a single and Smith doulbled putting runners at second and thrid. Taylor Fawcett cashed in both runners with a single to left to improve the lead to 4-0.
Hamilton relieved Andersen with freshman Loganne Stepp in the fourth and Stepp shutout Pinnacle on two hits over the final four innings. The only hits were the second of the game for Schuld and Smith's third hit.
"It feels so good, unbelieveable," Pinnacle coach Bobby Pena said of finally winning the big one against Hamilton. At some point I knew we were capable of beating them. Marissa and I talked about how to face their hitters. Shethrew a lot of change-ups that kept them off balance. I told her before the game they haven't seen you, a Division I pitcher. She was outstanding."
---