4A SOFTBALL: Salpointe beats Cactus 2-0 to capture 4A crown
May 16, 2018 by Andy Morales, AZPreps365
---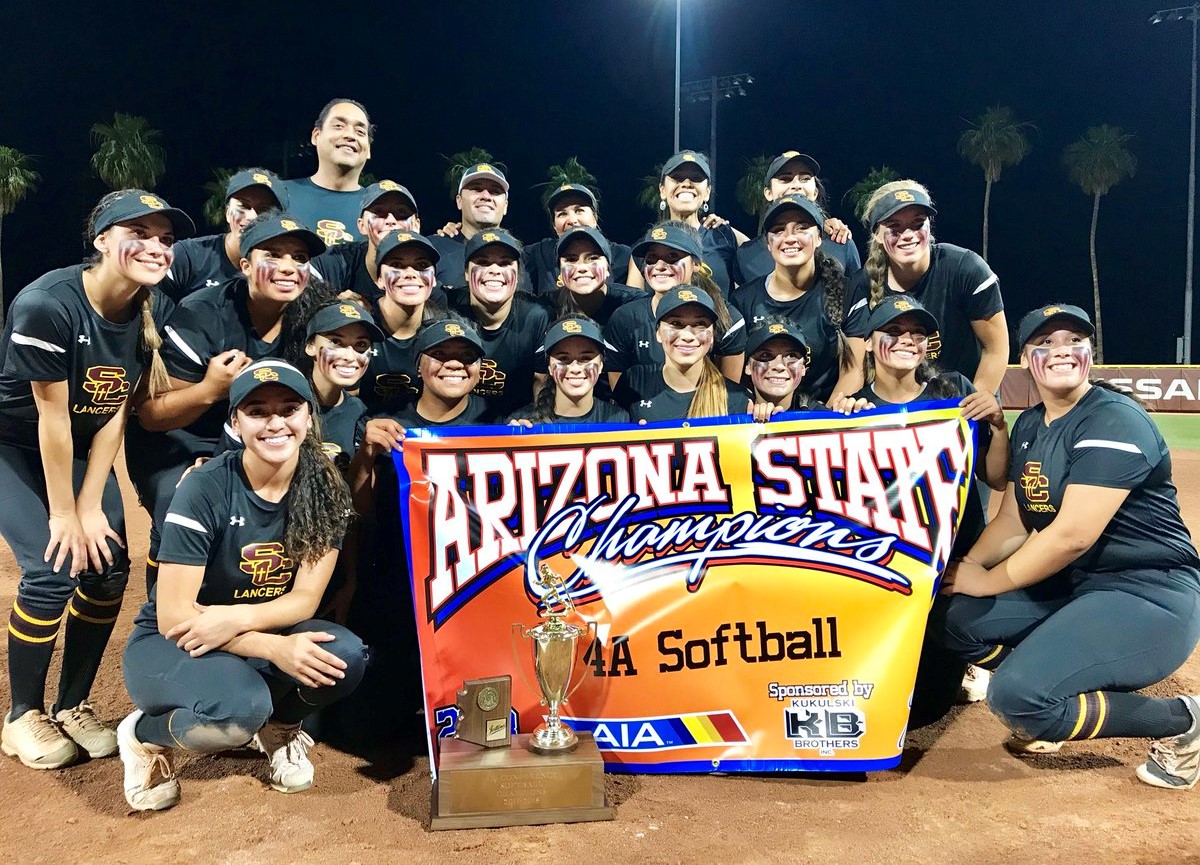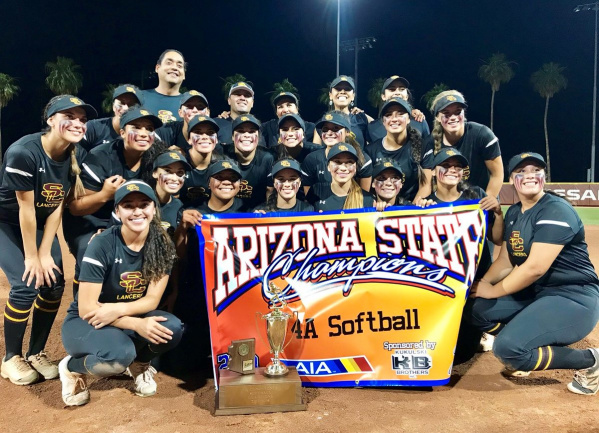 Salpointe (Andy Morales/AZPreps365.com)
Softball is a game of second chances, sometimes third chances. It's a game of redemption. It's a generational game, meant to be played at a much quicker pace than baseball. If you blink, it's gone, just like our youth.
Salpointe turned to everything the sport had to offer to beat Cactus 2-0 Tuesday night to win the 4A state championship played on the campus of Arizona State. It was the third title for the program, and each championship touched upon the next, even through the distance of time. No, especially through the distance of time.
The first championship in program history came in 1993 under the guidance of Stacy Hill, who would later be known as Stacy Iveson. Iveson was already a Tucson legend, having played both baseball and softball at Catalina before earning All-Pac-10 honors as a catcher at the University of Arizona.
Iveson used her expertise as a catcher to become one of the most successful pitching coaches in the history of Arizona by earning three NCAA titles from 1995 to 2001. One of the catchers at Iveson's disposal was a young Amy Baray, who would later be known as Amy Baray Rocha.
Like Iveson, Rocha had already built up an impressive list of accomplishments before suiting up for the Wildcats. She earned two state championships as a catcher at Salpointe, the first with Iveson in 1993, and the second with current Salpointe athletic director Phil Gruensfelder in 1996.
Rocha moved over to Central Arizona where she became an All-American while winning a national title in 1997. Iveson came calling once again.
"Stacy taught me everything I needed to know," Rocha told AZPreps365.com in 2015. "She taught me how to lead a team, the proper way to play my position and she helped me get to the next level. I have patterned my coaching style after her."
2015 was the year Gruensfelder came calling and the result has been 106 wins with the biggest win coming under the bright lights of her former collegiate rival, ASU. Her final request, while the players took photos with the championship trophy, was to take a photo with Gruensfelder.
"I need to have a photo with my high school coach," Rocha said. "He's the reason I'm here."
Coming into the state playoffs seeded fifth, Salpointe (33-4) had to get past No. 1 Canyon del Oro twice in the playoffs, including a 2-0 semifinal victory last Thursday, while No. 3 Cactus (30-5) survived No. 6 Mohave 4-3 in the other semifinal game.
Bartt Underwood coached Centennial to a state championship in 2010 and the Arizona Hall of Fame coach moved over to Glendale two years later to take over at Cactus. He led the Cobras to a runner-up finish in 2016 and four of his players from that squad are seniors on his current runner-up team.
"We've been in the championship games two of the last three years and they know it's not easy to win a championship," Underwood said. "I've ran out of runner-up speeches so I'm not going to give one. We need to keep knocking on the door and I'm proud of what they accomplished."
One has to believe that door will be answered soon.
Underwood loses four standouts to graduation but he returns ASU commit Alynah Torres and freshman sensation Mckenna Feringa. Feringa (14-2) collected six strikeouts against the Lancers while retiring the first 10 batters she faced. She gave up her first hit on an infield single from Malaea Rocha but she retired five of the next six batters to keep the Lancers scoreless through five innings.
Meanwhile, Salpointe took the circle with their freshman, Alyssa Aguilar (14-1).
Aguilar matched Feringa pitch for pitch, scattering three hits along the way. Aguilar came close to faltering in the third inning after Kaiulani Nowell singled and Torres doubled two outs later to put two runners in scoring position. A contact pitcher, Aguilar was able to pick up one of her three strikeouts to end the threat.
Aguilar erased the last 13 batters she faced but she needed some help on the offensive side.
"I wanted this for my seniors and it's crazy I was able to do this at my young age," Aguilar said. "I was so happy when we got the runs we needed," she added. "I just ran out of the dugout."
Alyssa Ortiz reached on a bunt to start off the top of the sixth and Yannira Acuña followed that up with an RBI triple that was misplayed, allowing Acuña to score on the play.
Salpointe @SalpointeLancer standout Yannira Acuna is @ASUSoftball bound. pic.twitter.com/mXaPmQTCYI

— Andy Morales (@AZPreps365Andy) May 16, 2018
Acuña will be changing one set of maroon and gold uniforms for another next year and the Sun Devil commit made a season-long case for All-State consideration, punctuated by power and speed on the biggest stage.
Malaea Rocha and Kim McDaniels both finished 2-for-3.
"I'm just ecstatic for my players," Baray Rocha said. "I'm very blessed to be in this moment and to be a part of the Salpointe family. That's what this is all about. And it's tough to be a mom when you coach but I am the proudest mom. I am the proudest mom I could ever be."
Baray Rocha pulled off the most difficult of triple crowns Tuesday night. She led Salpointe to championships as a player, won as a coach and celebrated as a mom. Her daughter, Malaea, will be playing for Utah State in a couple of years but, for now, the young Lancer is savoring her moment in time.
If you blink, it might soon be over. The memories will remain.
(photos of this game will be available at MaxPreps.com)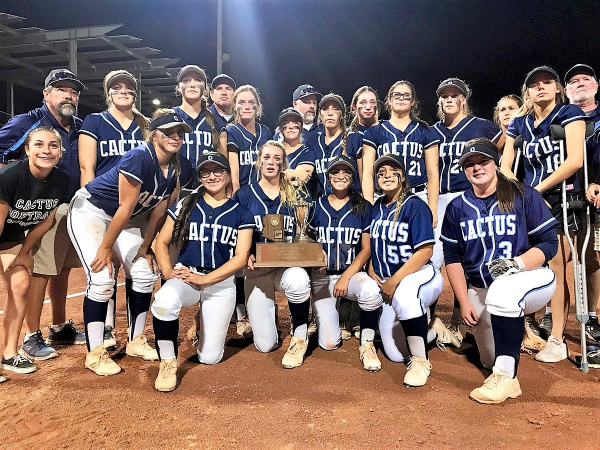 Cactus (AZPreps365.com)
---