Team Arizona goes 9-0 to win Junior Sunbelt championship
June 14, 2018 by Andy Morales, AZPreps365
---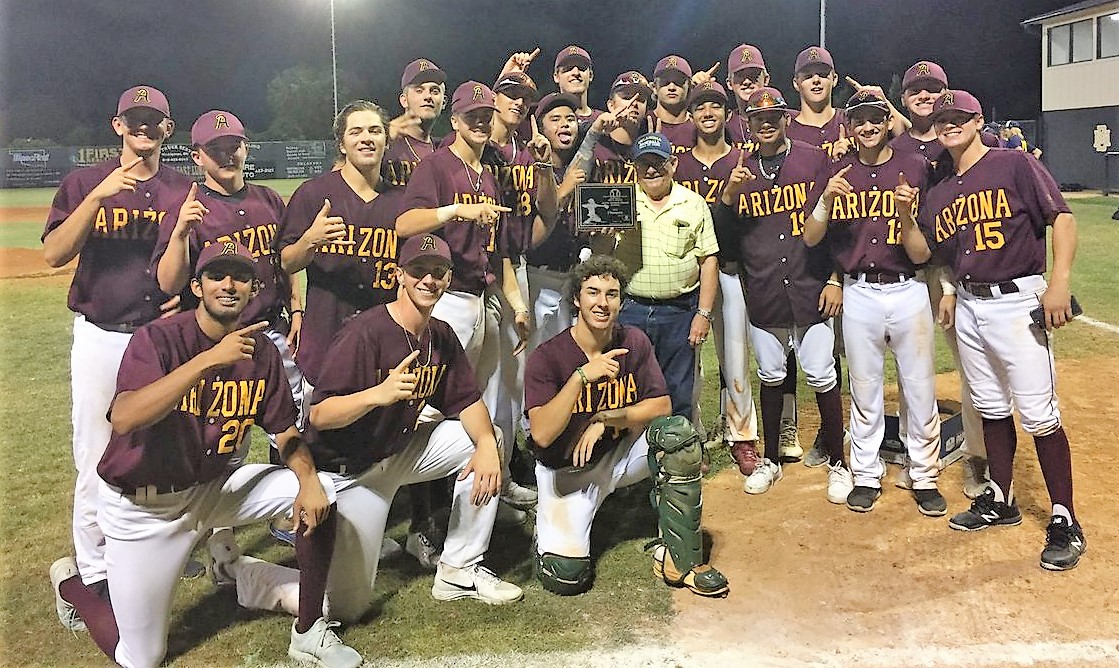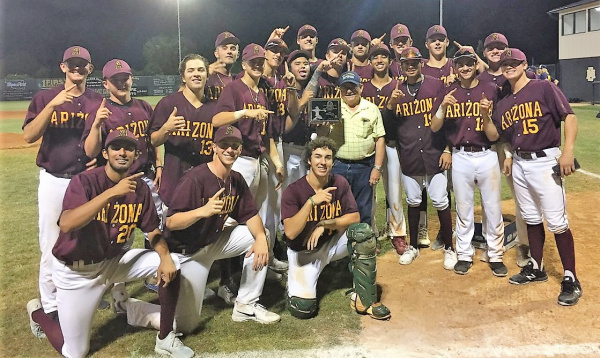 (COREY STOLZENBACH McAlester News-Capital)
McAlester, Oklahoma: June 8-13
Team Arizona went undefeated to win the Junior Sunbelt championship. Mesquite standout T.J. Clarkson was named MVP and Red Mountain junior Kai Murphy earned Outstanding Pitcher status. Clarkson has committed to play for San Diego and Murphy is headed to Oregon State.
Eli Ankeney (Desert Vista), Carson Tucker Mountain Pointe), Michael Brueser Hamilton) and Sean Rimmer (Mesa Mountain View) were also named to the All-Tournament Team.
SUNBELT CHAMPIONSHIP FINAL: Arizona 8, Colorado 3. pic.twitter.com/MjA6sBlzxt

— McAlester News (@McAlesterNews) June 14, 2018
ALL-TOURNAMENT TEAM
T.J. Clarkson, MVP
Kai Murphy, Outstanding Pitcher
Eli Ankeney
Carson Tucker
Michael Brueser
Sean Rimmer
Clarkson batted .440 with four doubles, two home runs and 10 RBI; Rimmer hit .458 with three doubles, a triple and a home run along with 10 RBI; Tucker hit .387 with two triples, a home run and 12 RBI; Brueser went .433 with four doubles, a home run and 10 RBI; Ankeney won one game and collected five strikeouts and gave up one hit and Murphy picked up six strikeouts in his victory.
Tolleson head coach Scott Richardson managed Team Arizona.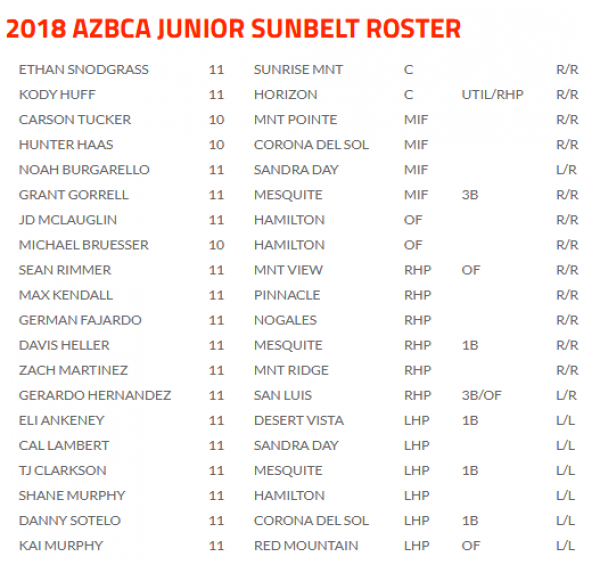 RESULTS
Friday, June 8
Team Arizona 12, Oklahoma Gold 2
(Zach Martinez with the win. Tucker home run. Noah Burgarello 4 RBI. Tucker 4 RBI)
Friday, June 8
Team Arizona 10, Texas 4
(Kai Murphy with the win. Brueser and Clarkson home runs. Clarkson 3 RBI and Brueser 2 RBI)
Saturday, June 9
Team Arizona 8, Canada 6
(Max Kendall with the win. Gerardo Hernandez with the save. Tucker 2 triples. Hunter Haas 3 RBI. Brueser 2 RBI. Tucker 2 RBI)
Saturday, June 9
Team Arizona 8, Colorado 5
(Davis Heller with the win. Clarkson home run. Rimmer home run. Rimmer 2 RBI)
Sunday, June 10
Team Arizona 8, Missouri 0
(Ankeney with the win. Clarkson 2 RBI. Tucker 2 RBI)
Sunday, June 10
Team Arizona 16, Oklahoma Blue 0
(German Fajardo with the win. Grant Gorrell home run. Rimmer 4 RBI. Hernandez 3 RBI. Haas 2 RBI)
Monday, June 11
Team Arizona 10, Mississippi 8
(Hernandez with the win. Brueser 2 doubles. Brueser 2 RBI. Clarkson 2 RBI)
Tuesday, June 12
Team Arizona 6, Georgia 4
(Daniel Sotelo with the win. Clarkson with the save. Kody Huff triple. Tucker 2 RBI)
Wednesday, June 13
Team Arizona 8, Colorado 0
(Cal Lambert with the win. JD McLaughlin home run. Burgarello 2 RBI. Rimmer 2 RBI)
---