FOOTBALL: Flowing Wells 38, CDO 37
August 18, 2018 by Andy Morales, AZPreps365
---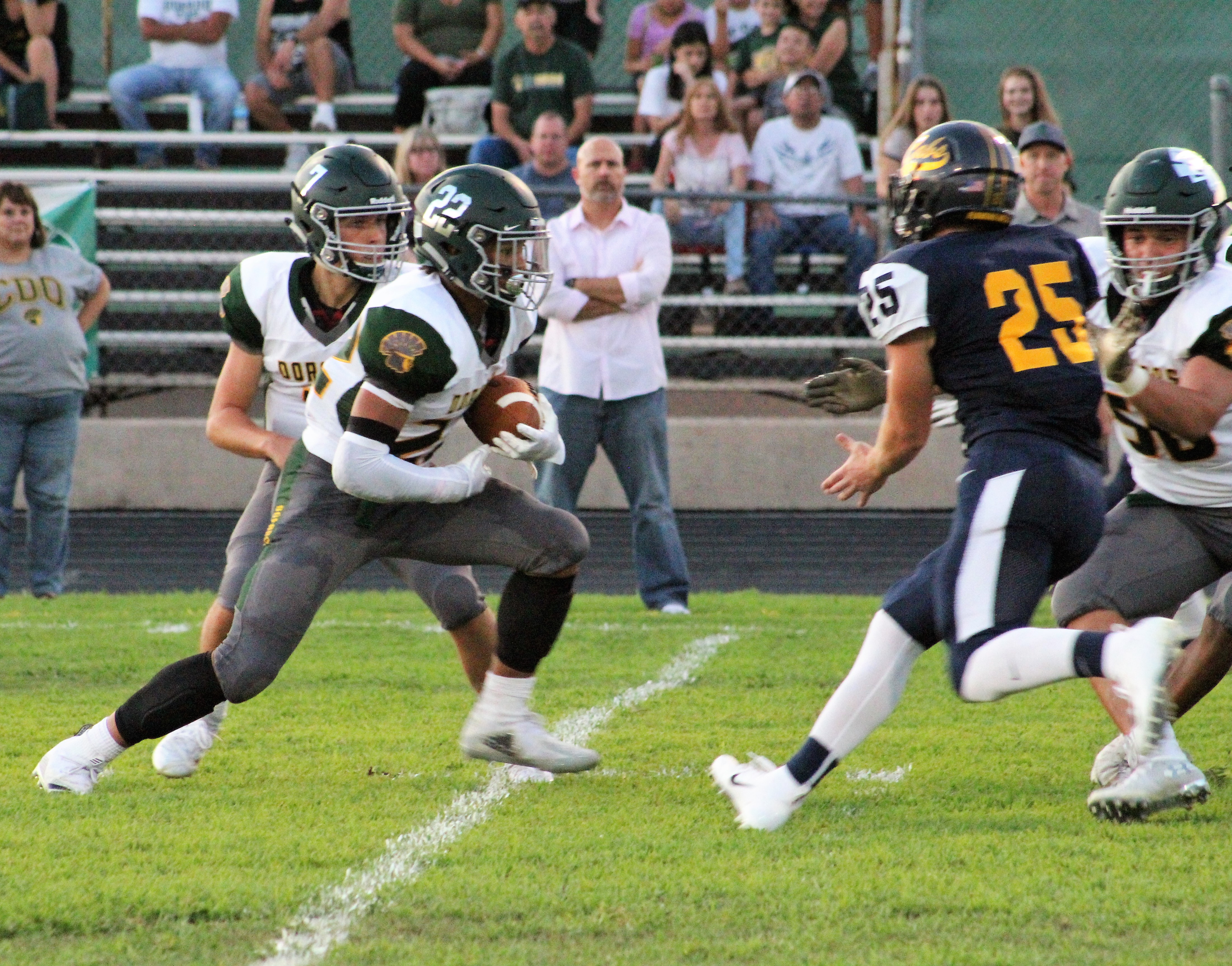 (23) Raashad Henderson, (25) Blake Bishop & (12) Zachary Jurado. (Andy Morales/AZPreps365.com)
Often overlooked, the extra point is a vital part of the game. In all, Canyon del Oro was unable to connect on five chances Friday night and Flowing Wells saw that opening, took advantage and held on for a 38-37 win at home. It was the first win against the Dorados since 2003, an 0-7 streak that was punctuated by six straight losses to former Caballero standout, and current Canyon del Oro head coach, Dusty Peace.
The Caballeros took a 38-31 lead with 6:08 left in the game on a 37-yard dash from Raashad Henderson but that lead was far from safe, not in a game where the lead seemingly changed hands on almost every drive. Six minutes felt like an eternity.
Henderson finished with 117 yards rushing and two touchdowns but the Dorados also had a workhorse in Stevie Rocker. Rocker had 119 yards and two TDs to his name heading into the next drive but an incomplete pass and back-to-back 4-yard runs put the Dorados in one of several critical fourth-down situations. Cory Bonstrom kept the drive alive with a 6-yard run and then Rocker exploded for 46 yards down the right side to cut the Flowing Wells lead down to 38-37 with 3:58 left.
The Dorados had already missed on four 2-point conversions so a kick was called for and that came up short also. Still, the game felt far from over even though Flowing Wells was clinging to a 38-37 lead with the ball, with 3:58 left in the game.
The Dorado defense held and forced a punt with 1:55 left. The Dorados took the ball at their own 42 but a penalty on the first play added five more yards the task. An incomplete pass followed and Dorado quarterback Zachary Eidenschink put his team back in business with an 8-yard run and a 4-yard run but the penalty meant the team still needed three more yards on fourth down and the Caballero defense came up big and took the ball over on downs.
The Caballeros had the ball at midfield with 1:05 left and the ensuing victory formation let the crowd know it was finally safe to breathe again.
It was the first full exhale for the home crowd in a game that started out with fumble on the opening kick, giving the Dorados the ball with a short field. Tiki Garcia put Canyon del Oro up 6-0 on a 4-yard run with 9:30 left in the first but Flowing Wells recovered and took the lead four minutes later on a short run from Henderson after Zachary Jurado hit Blake Bishop for 53 yards and Michael Ogas for 13 more.
Rocker scored from 14 yards out on the next drive and Canyon del Oro led 12-7 with 1:01 left after another failed 2-point attempt. Bishop put Flowing Wells up 14-12 on a 3-yard run with 9:23 left in the first half but the Dorados came right back, fueled by a 41-yard bomb from Eidenschink to Jose Cruz. Garcia took the ball in from 1-yard out a couple plays later and the Dorados led 18-14 after another failed 2-point conversion.
Flowing Wells got the ball back with 3:49 left and Jurado gave the Caballeros life thanks to a 28-yard pass to Ogas to help set up a 38-yard field goal from Andres Castro as time expired.
The Dorados led 18-17 at the half and Bonstrom gave Canyon del Oro a 25-17 lead on an 8-yard run in the opening moments of the third quarter. Raymond Duarte hit on the extra kick and it looked like the Dorados were on the verge of taking control of the game but Austin Spivey replaced Jurado in the third quarter and he hit Ogas on a 10-yard strike to cut the lead down to 25-23 lead with 7:02 left in the third. Flowing Wells failed on a 2-point conversion of their own.
The Dorados followed with a 16-play drive that ended with Rocker running the ball in from 3-yards out. Another failed attempt kept the game within reach at 31-23 with nine seconds left in the third.
Jurado came back in and he found Mitchell Effing from 17 yards out to cut the Dorado lead down to 31-29 and he came right back and hit Effing on a 2-point try to make it 31-31. Canyon del Oro was forced to punt and Henderson came through on his 37-yard game-winning dash.
As mentioned before, Henderson had his 117 yards rushing and Bishop added 44 more. Jurado threw for 141 yards, Ogas had 81 yards receiving and Bishop added 53. Spivey threw for 27 yards in the third quarter while Jurado was nursing an injured thumb.
"This is the biggest win for me and it showed everyone how much fight we have," Jurado said. "I knew it was going to be difficult before the game and the fumble to start the game was scary but our defense came through and stopped them every time they scored and at the end. We don't have a JV and we don't have a lot of bodies but this showed an underdog like us can come out and win."
Rocker finished with 173 yards rushing and three TDs, Eidenschink added 85 yards rushing and Bonstrom had 31. Eidenschink threw for 93 yards with Cruz pulling down 49 and Jayden Bracy collecting 36 receiving yards.
Unlike the 6A and 5A conferences, the region finishes in the 4A Conference still carries the weight of an automatic playoff berth regardless of ranking so the loss is a bit more easily absorbed by the Dorados but the 4A Kino Region also includes Salpointe, Sahuaro, Catalina Foothills and Casa Grande. A minefield like that needs a leader and Eidenschink is that guy.
Eidenschink threw for 1,106 yards last year and he was voted team captain heading into his senior year.
"It's matter of keeping our heads up after a loss like this," Eidenschink said. "We have nine games left and we call that nine seconds because it goes so fast and it will go by just like that. We need to get ready for Prescott next week and I need to be a true leader and not think about next year but lead my brothers through each game and that's what our focus will be."
Flowing Wells got a needed boost in 5A action with the win and, suddenly, the schedule ahead is very manageable with a winning record within reach. The Caballeros open with three games at home with Walden Grove visiting next Friday and Palm Desert (CA) scheduled the following week.
Zachary Eidenschink hands off to Stevie Rocker. (Andy Morales/AZPreps365.com)