Buena beat Marana 41-28 to shake up the 5A rankings
September 29, 2018 by Andy Morales, AZPreps365
---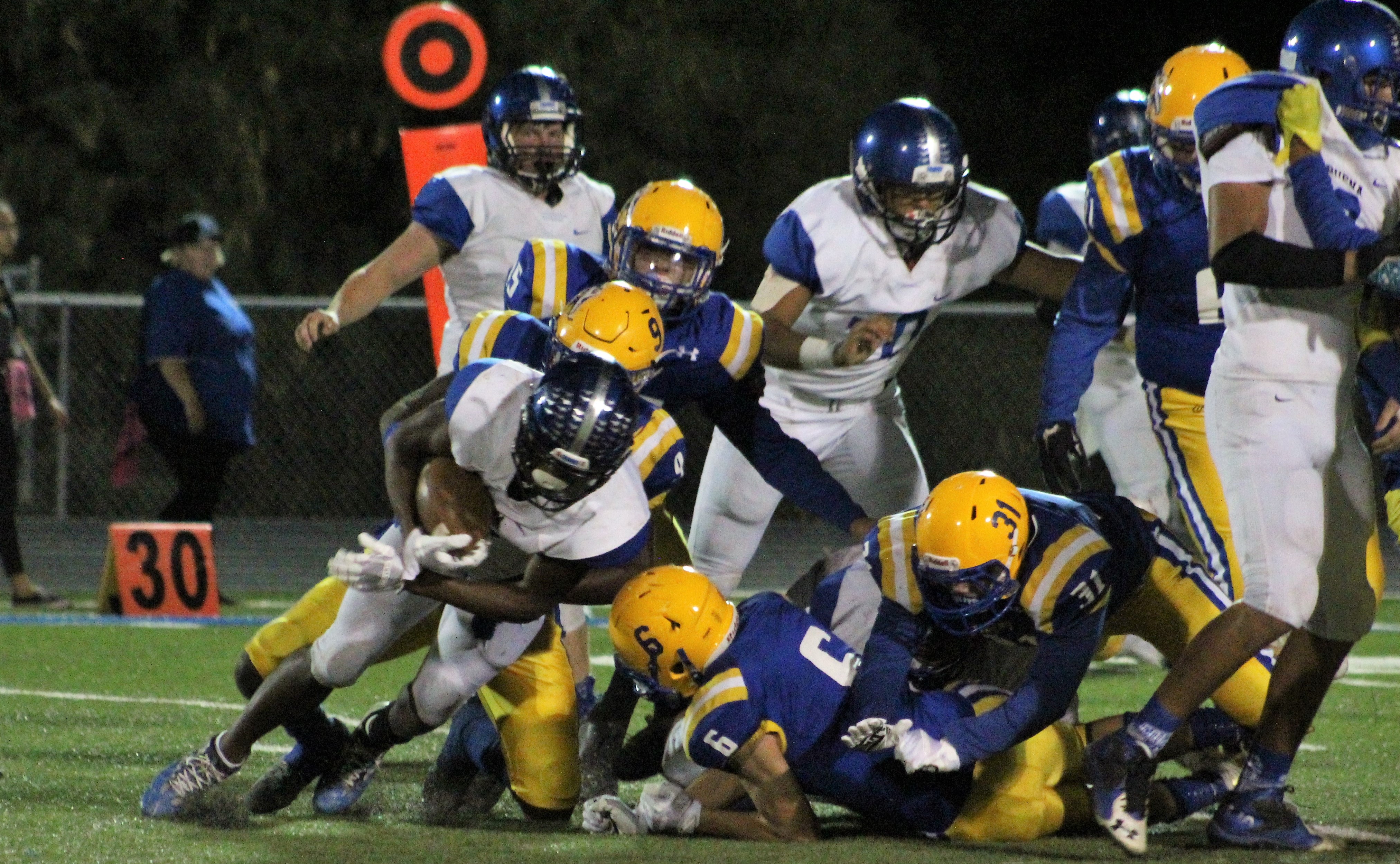 Buena took advantage of an early injury to Marana QB Trenton Bourguet and four turnovers to get past Marana 41-28 Friday night to move to 4-2 on the year. The win over the highly-ranked Tigers should reflect on the official rankings come Tuesday morning. Currently ranked No. 18, Buena is likely to move into the top 16 while No. 7 Marana (4-2) is expected to drop a bit.
Bourguet threw for 37 yards before he left the game as a precaution from a difficult tackle he suffered in the first quarter and his younger brother, freshman Treyson Bourguet, took over. Treyson Bourguet finished with 255 yards passing and three TDs but a couple of costly interceptions tempered his performance a bit, as one would expect of a freshman thrown into an emergency situation.
"It was time to flip the switch," Treyson said. "We knew it was going to be difficult but we will get better because of this. I'm going to learn from my mistakes and we will be better."
Down 21-14, senior CB Nazir Riddle stepped in front of a pass and ran it back 25 yards to tie the game up 21-21 with 4:18 left in the third. Treyson hit Diego Miranda on a 71-yard score down the sidelines to get Marana to a 28-21 lead but Riddle picked off another offering with 10:13 left in the game and Buena marched down the field and scored on a 1-yard plunge from Timothy Jones to square things up 28-28.
Buena forced Marana into a punt situation but a fumbled attempt on the kick gave the Colts the ball at the 3-yard line. Jones took the ball in from there and the Colts went up 35-28 with 6:25 left. Buena DE Ruben Alvarez pounced on another fumble with 5:10 left and Kaleb Bryant cashed in on the fourth turnover on a 1-yard run to give Buena the 41-28 final.
Bryant was nearly unstoppable on the ground and he finished with 215 yards at over 10 yards a pop. Coupled with the 99 yards gained by Jones, the Colts finished with over 300 yards on the ground.
"I'm in pain," Bryant explained. "I'm in pain but grateful for the win. We made plays and we left everything on the field."
Buena standout QB Jovani Borbon only had five yards passing for most of the first half but he started to click to compliment the running game and he finished with 144 yards, including a 43-yard TD throw to senior Mandrell Garrick. Garrick collected 109 yard through the air.
Jones put Buena up 7-0 on a short run with 2.8 seconds left in the first but Xoeius Ratliffe answered with an 8-yard scoring run with 4:44 left in the first half and then Treyson Bourguet hit Tariq Jordan from 14 yards out to give the Tigers a 14-7 lead at the half. Borbon made it 14-14 on his long throw to Garrick in the opening moments of the third quarter but Treyson Bourguet found Jordan on another 14-yard play to make it 21-14. Then the turnovers started to come.
Ratliffe finished with 114 yards rushing, Coben Bourguet had 87 yards receiving, Sebastian Borsini added 73 yards receiving and Jordan had 71 yards, as did Miranda.
Trenton Bourguet is sitting at 6,410 career passing yards which puts him fourth all-time from Southern Arizona, 696 yards behind former Sahuaro great Reggie Robertson (7,106 yards from 1996-99). His prognosis is day-by-day but things will not get any easier with a trip to Ironwood Ridge (3-3) scheduled for next Friday.
Buena will also have a difficult time with Cienega (5-1) coming to Sierra Vista next Friday but don't count the Colts out.
"Marana had the bye week and we came out hungry," Buena head coach Joe Thomas told his team. "We have a clean slate and you are scary because you could be 6-0. There is no time to step back. No desire to step back now."
---