St. Mary's Dominates Moon Valley in Regular Season Finale
October 23, 2018 by Cole Bailey, Arizona State University
---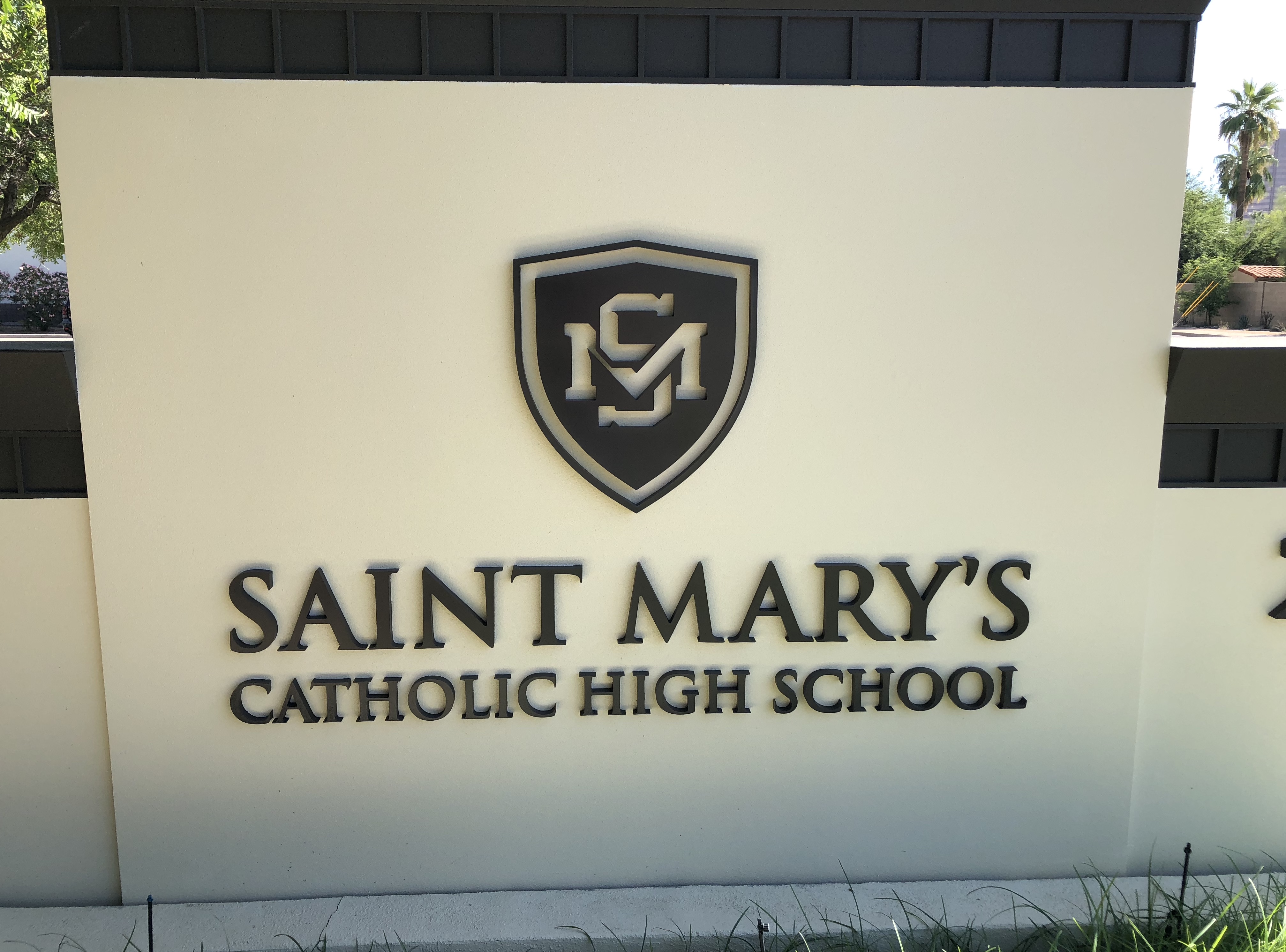 In their final game of the regular season, the St. Mary's volleyball team was looking to build some momentum heading into the playoffs. They did that and then some, convincingly beating Moon Valley on Tuesday in straight sets, 25-10, 25-10, 25-11.
St. Mary's came out of the gates strong, forcing Moon Valley to take a timeout early in the first set after they jumped out to a quick 7-2 lead. The Knights didn't let up from there, as they rode some strong hitting from outside hitters Leilani Clark and Karla Ramirez to a quick 25-10 victory in the opening set.
"It was mainly just my team supporting me and cheering for me, that really hyped me up," Clark said about what propelled her to a double-digit kill performance.
"We were focusing on execution, and I think they did a good job executing," St. Mary's head coach September Lopez said after her team's win. "Holding them under 10 points was the goal, and it ended up being 10, 10 and 11, so we executed our game plan tonight."
It was more of the same in the second set, as the Knights again jumped out to a big lead (this one being 10-3) on their way to another 25-10 set win.
"I thought we played pretty well overall," said St. Mary's senior setter Gracie Brittain. "We left it all on the court. We could have played better, but I think as a whole we played really well as a team, and we got the job done."
The third set looked like it was going to be different at first, as Moon Valley kept pace with St. Mary's for a little bit at the beginning. The Rockets could not continue this level of play throughout the rest of the set though, as they allowed the Knights to go on a nine-point run that extended their lead from 5-3 to 14-3. They showed some improvement after this rough stretch, but still dropped the final set by a score of 25-11.
"We communicated really well, and we practiced execution really well," Brittain said about the win. "That was our biggest goal coming into today, practicing executing. I think we did that really well, and we're pretty proud of how we worked today."
With the win, St. Mary's finishes the regular season with a 21-6 record overall and a 7-3 record in league play. They will now head into the 4A playoffs for the first time in five years, with Tuesday's win being a potential building block to a strong showing there.
"[Tuesday's win] gives us a lot of confidence," Clark said. "We haven't been to playoffs in a long time, so we're really excited and ready to get there.
"Going into the playoffs with a win, it's a momentum builder," Lopez said. "You never want to have a loss and worry about the mistakes that you made in that game going into a big game. We're just going to try to ride the momentum out from this one into postseason."
"I think we can go all the way as long as we're working together," Brittan said about the Knights' chances in the playoffs. "We've seen how we can play when we're really on, and if we play like that, I think we can go all the way."
Despite the great showing, Lopez still sees some things that her team can improve on going into the biggest games of their season.
"We need to work on being consistent," Lopez said. "We started off at a fast pace today, but we tend to slack away from that as the game goes on, so just being consistent with that fast pace of play is going to be key for us in postseason."
---