Perry caps quest for a badminton repeat by beating Corona del Sol, 5-2
October 25, 2018 by Les Willsey, AZPreps365
---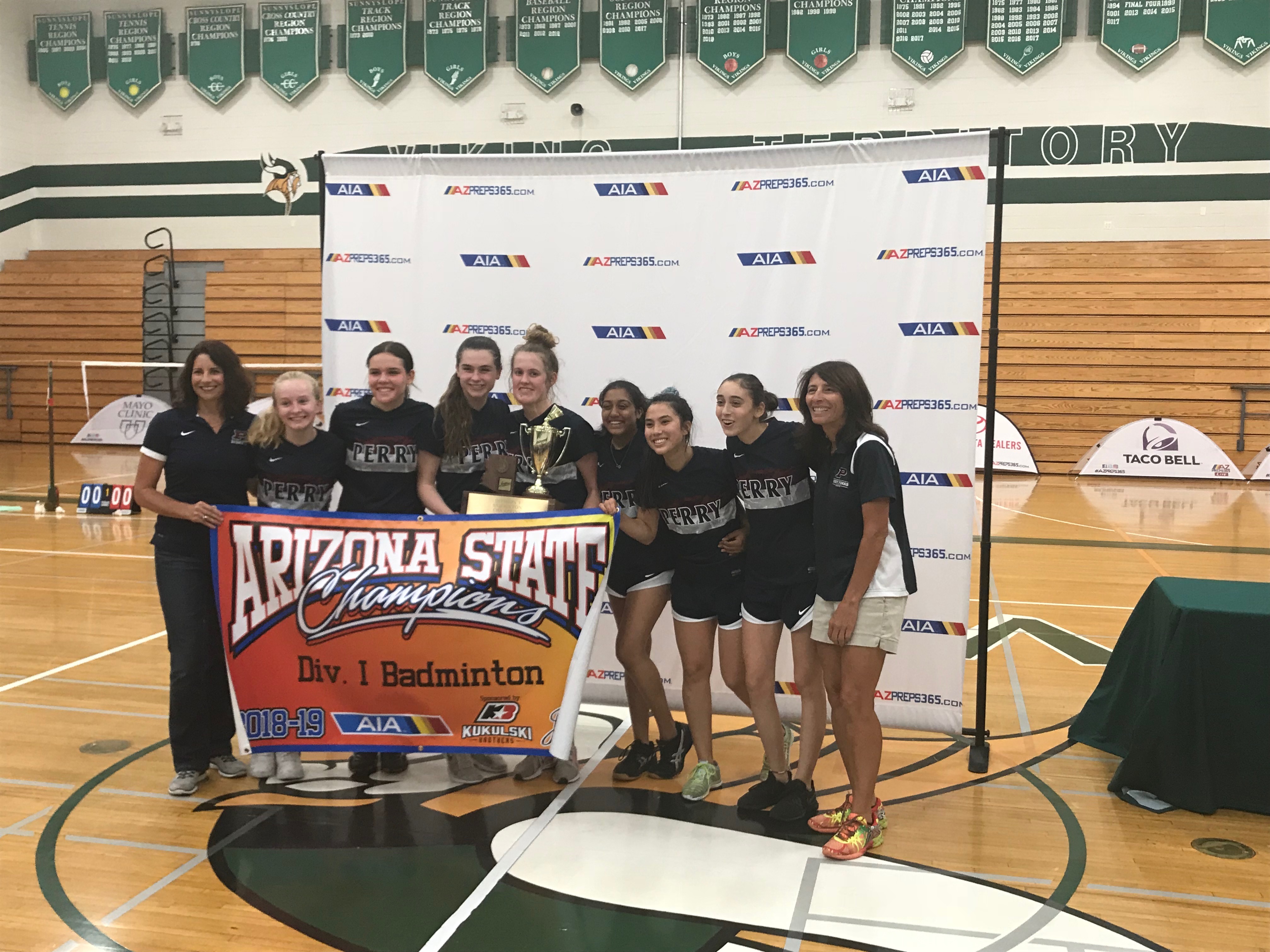 Perry badminton coach Lerina Johnson was asked prior to the season what kind of year it would be for the defending D-I champions.
"I told people it was a rebuilding year, which it was," Johnson said. "But I also said we'd compete."
Compete the Pumas did posting a 17-0 record in dual matches capped by Thursday's 5-2 victory over Corona del Sol for the D-I championship at Sunnyslope High School. Perry was No. 1 and Corona No. 2 in the seeding for the tournament.
The title was the second in a row for Perry and the fourth year in the last five they've taken home a trophy. Corona del Sol finished 15-2 with both its losses to Perry. The earlier defeat was 5-4 back in early September. The trophy was the first for Corona since 2008 when it won a title. The Aztecs were also runner-up in 2007.
The evening began with three great singles matches from the teams' No. 1, No. 2 and No. 3 singles players. All three went to three sets and Corona won the first two.
Corona's No. 1 Brennan Agnew edged Perry's Julia Mumme in three sets and No. 3 Katie Carroll did the same to Perry's Abigail Heckel. The Aztecs were on the verge of making it 3-0 as No. 2 player Eileen Li was up 10-6 in the third set. Her opponent, Perry's Sophie Jex, summoned resolve and rallied to post a 13-10 victory. Jex's win set off an avalanche as Perry won the other three singles matches to go ahead 4-2.
Perry's No. 3 doubles team of Evelyn Nielsen and Amanda McLaughlin made the wait for the fifth and deciding point a short one, topping Corona's Anna Morrow and Hannah McCarley, 15-1, 15-4. Th Pumas other two doubles teams were ahead when the match was stopped with the fifth point.
Johnson didn't hesitate to give credit to Jex for her moxie in netting Perry a win in those tight first three matches.
"What she did was huge," Johnson said. "We noticed Li looked a little tired and we wanted Sophie to keep her running. Sophie gave us a lift."
Jex was motivated before the match.
"I just kept remembering I lost to her the first time and I wanted to beat her this time," Jex said. "I didn't want to lose."
Perry won the title last year with five seniors and then junior Julia Mumme. The septet of Mumme, Jex, Heckel, Nielsen, McLauglin, Nikhita Jayaraj and Ashley Rodarte were the group on court in this year's run to a trophy. Three will return next year -- Jex, Rodarte and Jayaraj - junior, sophomore and freshman, respectively.
Heckel, who sprained an ankle near the end of her three-set loss in a singles match, won't be back as her family will be moving to South Carolina. Heckel got a going-away present for her trouble.
Johnson had a little pep talk on the bus coming over to Sunnyslope with each of the seven players she used Thursday.
"I asked them why they thought we are No. 1," Johnson said. "The answer essentially from each of them was we work hard at practice and outwork every team. Their hard work paid off."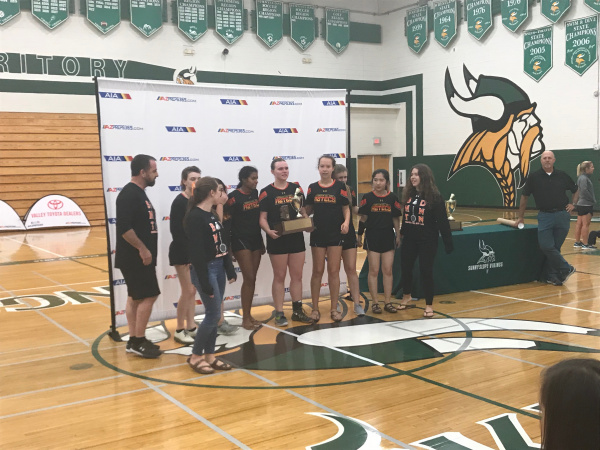 Corona coach Darren Ridge figured prior to the match the Aztecs needed to split the six singles matches to have the best shot at winning.
"I thought we needed to be 3-3, but when we were down 4-2 our margin of error was very small," Ridge said. "Based on how deep and talented they are, that was my feeling."
---