4A state volleyball tourney: news and notes
October 30, 2018 by Jose Garcia, AZPreps365
---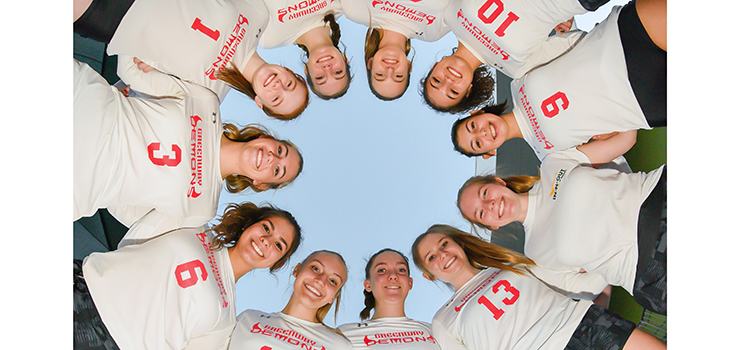 The 4A Conference state volleyball tournament begins Oct. 30 and concludes Nov. 5 at McClintock High School.
No. 6 seed Deer Valley (24-14): The program defended its region title, going undefeated in region this year. "I feel that we are successful due to most of my team playing at a very high level of club volleyball and that they play selflessly," 13-year head coach Jackie Wallace said. "They want to win for each other. Yes, my team is young, but they have a lot of experience in playing against big teams." The team's leaders are junior middle Savannah Davis, sophomore setter/hitter Bailey Fuches, senior setter/defensive specialist Lanae Gonzales and senior defensive specialist Daiya Jovel. "Savannah is our main leader as one of three juniors on the team," Wallace said. "She's our top hitter and blocker and really gets our team focused and pumped with her energy. Bailey is one our setters, which of course makes her the quarterback on the court. She was Region Player of the Year last year and continues to be a force on offense and defense. Lanae brings the team together and the senior leadership into play. Daiya is one of our senior leaders on the court because she brings the skill, energy and vocal presence in our defense." Deer Valley has reached the state quarterfinals the past two years.
No. 8 Estrella Foothills: Estrella Foothills won the program's first region title this year and won its regular season tournament. It placed second at another tournament. "The biggest reasons for our success this year is all the work the girls put in," coach Jennifer Gonzales said. "They were in the gym and the weight room all summer. We also continued on in the weight room during the season. They are also a very close group of girls. They know that success will only come if they work as a team and not worry about their individual stats." The team's leaders are sophomore setter Nayeli Mancilla, junior middle blocker Makayla Hurles, and outside hitter Emma Barber. "(Mancilla) was converted into a setter her freshman year," Gonzales said. "She embraced the position, never gets rattled and is very calm. (Hurles) gets better all the time. She has become a very smart hitter and is a very enthusiastic vocal leader on the team. (Barber) is a six rotation player with good ball control and lots of experience playing at a high level."
No. 4 Flagstaff: Coach Elizabeth Haglin has coached at Flagstaff for 30-plus years, missing the playoffs just once during her career. "A lot of our players have played together for quite a few years, therefore I feel they are a very cohesive team," Haglin said. "It seems like when one member is not playing well someone else steps up. I feel like we recover from being down fairly well, and we never give up during a match." Senior setter Brooklyn Quick is a natural leader on the court, Haglin said. "What (Quick) brings most to the team is a solid foundation," coach said. "She really grounds the team and helps them remain calm on the court." Senior Hutton Hagerman, a libero, is another leader. "In the past she would get upset with her mistakes," Haglin said. "She is a teammate that the team looks to now for trust, confidence and control."
No. 1 Greenway: The team went undefeated in region play. The team split a match vs. the No. 1 seed in 6A, Perry. "Our motto this year is All In, and we have been doing what it takes to accomplish that," coach Sarah Peterson said. "We accept our roles and play as a team. We also do a lot of team bonding and have fun on the court. The team's leader is Mykenna Nelson, a senior outside hitter who committed to Oregon State as a sophomore libero. But Greenway has also needed her offense this season. Nelson was a starter on Greenway's state championship team as a freshman. "After (Nelson), everyone has their individual roles that all contribute to the team," Peterson said. "I wouldn't say any one is better than the other. It is just a well-rounded team." Two years ago the team was the runner-up. Last year the team exited in the first round, a finish that didn't sit well with the team. Peterson is in her 16th season as the program's coach. "I have three seniors (Nelson, Meghan Greenslade, Halle Gordon) that were on the team when we won state three years ago," Peterson said. "They are itching to start and end at the same place - state champs."
No. 7 Marcos de Niza: The team returned four seniors and two sophomores from last year's state quarterfinal team. It took first place in the Bronze Division of the Westwood Tournament of Champions and second in the Platinum Division of the Chandler Prep Invitational. Senior setter Jenifer Lauer was in the top-10 in hitting percentage, assists, digs, kills and aces in region. Sophomore middle blocker Hailey White was leading the Desert Sky Region in kills, was third in hitting percentage and fifth in blocks.
No. 3 Salpointe: The team placed second in the Silver Division (10th overall) in the California La Jolla and Mountain View tournaments. The team's three seniors, libero Jenna Johnson, opposite Madison Sundholm and outside Alex Parkhurst, have emerged as the leaders, coach Heather Moore said. "Seniors and past history in the state tournament have helped us succeed this season," Moore said. "They have come a long way in terms of there ability to selflessly lead our team. Each brings a unique perspective to the role. Jenna is all out all the time. Leading us with her enthusiasm and passion for competition. Madison is our vocal leader and encourages us to work hard for each point. While Alex leads us by example as a steady force. All of them are striving to become better people and captains. These seniors lost in the state semifinals their freshman year and then won back to back state championships their sophomore and junior years. Madison and Alex have been on varsity since their freshman year." Sundholm will play beach at California, and Parkhurst will play at University of Arizona.
No. 2 Seton Catholic (29-7): "Our success derives from a very unselfish team," coach Patti Schoenhardt said. "They play for the good of the team and work hard each time they hit the court. Our captains have stepped up, but we have position players in all areas that make us better each time we step on the court in practice and in a match." The eligibility rate was currently at 100 percent for the entire Seton Catholic volleyball program. Senior Nikki Fulmer and Emily Mangone each have tallied a team-high 181 kills. Katie Bannon is the team leader in blocks with 43. Mangone and senior Riley Johnson are collecting more than three digs per set.
(Seton Catholic's Nikki Fulmer. Photo by Jim Willittes/maxpreps.com)
Notes: No. 16 Dysart coach Rich Ebersole helped the program record three double-digit win seasons so far. This year Dysart is 23-11 and posted its first winning season in more than a decade. Senior Tionna Hood is averaging 3.7 kills per game. … No. 9 Youngker (27-11) has posted nine consecutive winning season. Coach Troy Sherman was at the helm in eight of those seasons. Kenzie Cumbie is averaging 7.4 assists per set, Sienna Cumbie is averaging 3.9 sets per game and Gabby Belcher is second in 4A with 316 kills … Joi Harvey's 4.6 kills per game leads No. 12 seed Desert Edge. … No. 13 St. Mary's won eight matches in each of the past two seasons but is 22-6 this year. Leilani Clark and Karia Ramirez are each averaging more than three kills per game. … No. 14 Cactus and defending champ Salpointe met in the semifinals last year, and will meet again in the playoffs again this year but in the first round. Cactus is making its sixth straight postseason trip under coach Anthony Puglisi. … No. 11 Bradshaw Mountain totaled 11 wins last season but won 23 this year. … Sixth-year coach Carlos Fly's No. 10 Mesquite program has won at least 20 matches every year he's been there. Mesquite's first round opponent, Desert Sky Region foe, defeated Mesquite in five sets two times this season. … No. 15 Prescott's digs per set leaders are Sabina Dimaan-Simmons and Angelina Jennison.
---