Tuba City Lady Warriors junior Jayda Chee voted 3A North Player of the Year
November 1, 2018 by Oree Foster, AZPreps365
---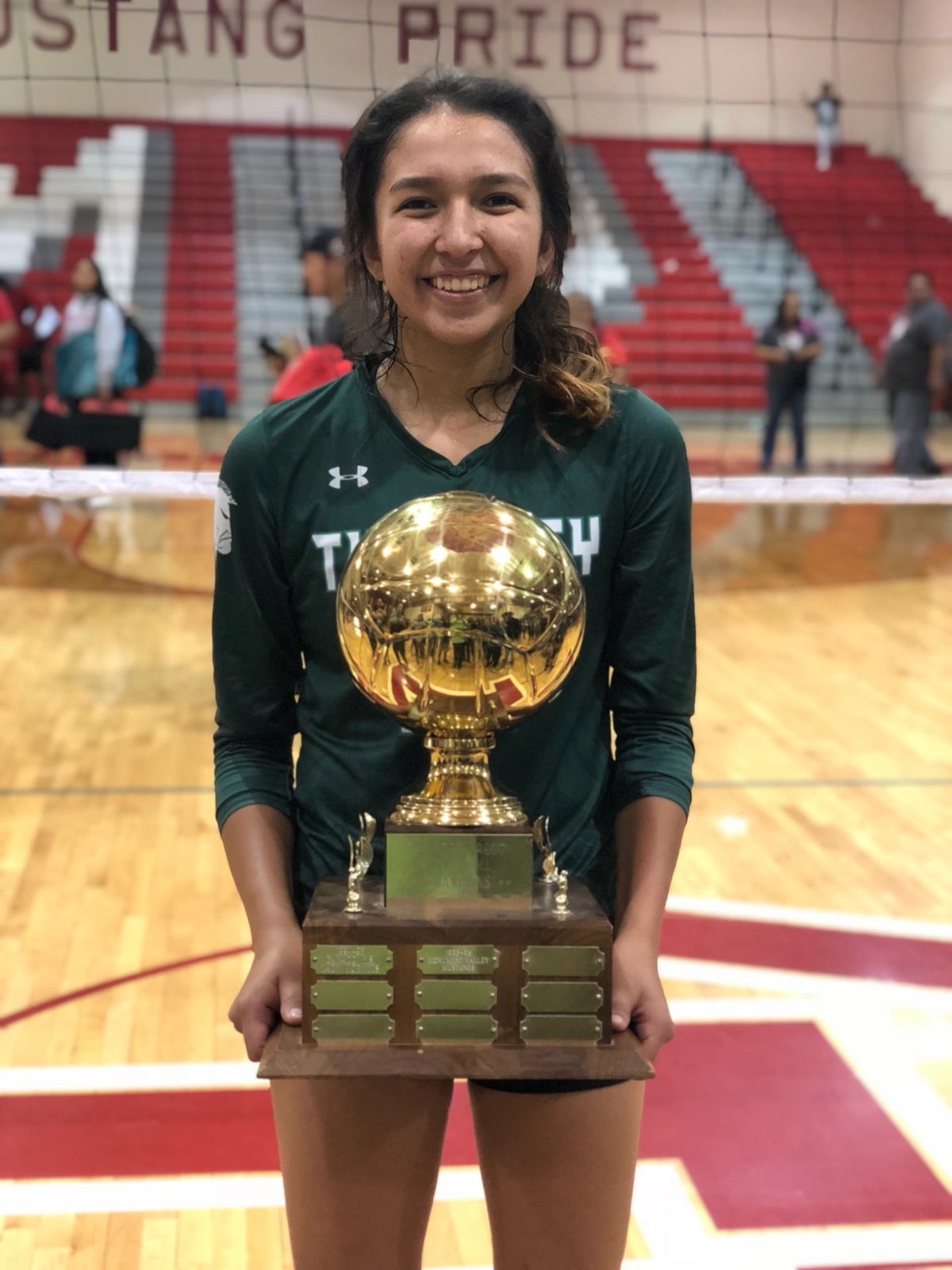 Tuba City Lady Warriors junior middle / outside hitter Jayda Chee believes participating in off-season workouts and club volleyball has helped her game.
Since her initial freshman volleyball season in high school, Chee has become a force defensively blocking and offensively as a hitter.
"Off-season is where you get better," Chee said. "During the months where there's no volleyball, our volleyball club goes year round. We have open gym, lifting (weights) and conditioning. I work on getting stronger and staying consistent. If you're not putting in the work on your own, someone else is and they're getting better. There's also club volleyball that I participate in. I also play basketball. During basketball season I stay in shape."
To work on her fundamentals and compete against talented athletes, Chee joined club volleyball team, Tuba City Starlings, in 2010.
"While volleyball season is not going on, club keeps me on my toes," she said. "The competition is still there. The practices and reps are still provided. My mental game is still being challenged."
Chee said in volleyball, statistically, as outside hitter I get most of the sets.
"My job is to hit consistently and help our team pull away," Chee stated. "As middle, I protect the net. The net is my home. I have to block at all positions and also transition to be part of our hitting plays."
She said believes her strength is her quickness and court sense.
"In collegiate volleyball, the middle's and outside's tower around 5-feet-10 to 6-feet," the 5-foot-8 Chee said. "So in reality, I'm small. But being quick on the court and knowing where to hit, when to hit and what to do, puts me at an advantage."
Chee lettered as a varsity athlete during her freshman and sophomore years. She said this year is her best season.
She said this year's team has been incredible. Going into the first round of the 3A volleyball state tournament today, Tuba City has a 26-win, 4-loss record, a No. 2 ranking, first place during the 3A North Region regular season and champions of the 3A North Region Tournament.
"The team right now is completely different than the ones before," Chee explained. "We all grew up together. We have that chemistry that was automatically there from the beginning. It's hard to find a team to have that with. And these girls, I absolutely love being around and being on the court with."
Based on her outstanding performance on the court, Chee was voted 3A North Region Player of the Year.
"I was honestly surprised that I earned Player of the Year," Chee said. "I even said to my mom, 'I thought seniors were the only ones who got it (Player of the Year)'. I am so happy. I know now, that all my hard work is paying off and that it's being recognized."
Tuba City stepped into the limelight during the 3A North Regional Tournament in Kayenta last Saturday. Based on their regular season undefeated region record, the Lady Warriors were seeded No. 1 in the tournament.
Tuba City posted a pair of 3-0 victories in the regional tournament. The Lady Warriors knocked off the Chinle Lady Wildcats in the semifinals. Tuba City defeated the Page Lady Sand Devils for the regional championship.
"The last two years, we were always placing second, after Kayenta Monument Valley," she said. "Those championship games will always be in my memories. This year tops it all."
No. 2 Tuba City faces No. 15 Pusch Ridge in the first round of the state tournament at 1 p.m. today.
"My freshman year, we lost out in the second round (of the state tournament)," Chee said. "My sophomore year, we lost out in the first round. Each loss wasn't a good feeling. We put in so much work. But in the end, we couldn't pull it off."
Chee said everyone has been stressing to us that ranking doesn't matter going into the state tournament.
"Even though we are ranked No. 2, that doesn't mean anything," she said. "We have to fight for every point. We want that state title. We wanted it from the start. We just need to play our game. Play like the team we know we can be."
Chee said during her young three-year playing career at the Tuba City, she has had so many memories. She said her most memorable game was in Kayenta, facing the Monument Valley Lady Mustangs.
"The rivalry game is always a big one," she said. "Before going there, we made sure we were prepared. We have five freshmen on the team. We had to make sure they knew what will happen. We pulled out with the win in three. I was so proud of my team. We clicked. We were playing our game. It was an amazing feeling after we won."
---