6A volleyball semis: Corona and Xavier Prep prevail for title rematch
November 5, 2018 by Les Willsey, AZPreps365
---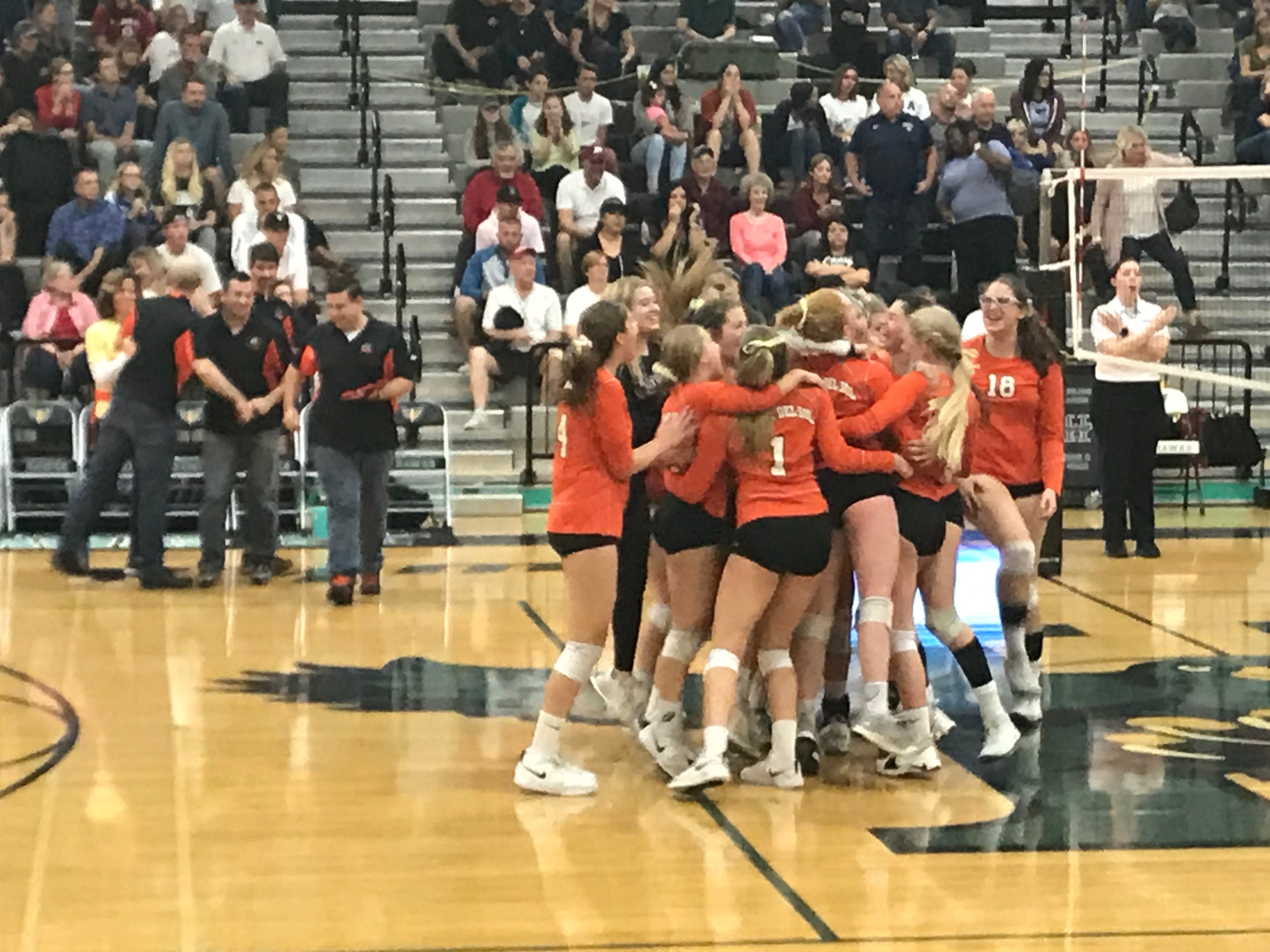 ---
Xavier Prep and Corona del Sol took different paths Monday to make their way to a title rematch in 6A volleyball.
#2 Xavier turned in a sweep of #3 Hamilton, 25-21, 26-24, 25-16 while Corona battle back from a 2-0 deficit to stun #1 Perry 18=25, 15-25, 25-21, 25-21, 15-7 in the conference semifinals at Highland High School. Corona and Xavier meet on Wednesday at 8 p.m. at Wells Fargo Arena.
Xavier dethroned Corona as state champ last year and now the Aztecs have the chance to return the favor. Corona is 29-13 and Xavier is 32-9. This will be Corona's third year in a row in the title match and Xavier's sixth final appearance this decade. Xavier defeated Corona in last year's final, 3-1.
Hamilton finished 33-10 and Perry lost for only the fourth time and closed with a 32-4-1 mark. It's the second year in a row Perry lost a five-set match in the semis.
Corona's victory seemed far-fetched after it was dominated in the first two sets. Corona coach Ben Maxfield opted to switch things up for the third set and employ another setter. The strategy paid dividends as Corona gradually battled back, gained momentun and put Perry on the defensive by the time it forced a fifth set.
"We shifted to a 6-2 and once we tried it a bit we knew we were in it," Maxfield said. "Once we started coming back the pressure was on them. They were the team that was the No. 1 seed."
The shift in tactic certainly got Corona's hitters going -- junior Madi Noble and senior Mary Shroll. They were limited to a total of nine kills the first two sets. Shroll finished with 17 kills and Noble 13 to go with 22 digs.
Sophomore setter Ashley Hayden was joined in the lineup in the third set by freshman setter Anita Babic. Babic carried the setting load the first half of the season while Hayden sat out 9 matches due to transferring from Desert Vista. Hayden contributed 25 assists and Babic 14 in the semifinal match.Corona was led in the other stat departments by libero Becca Morse (25 assists) and junior middle Sadie McRae with five blocks.
Perry's attack was paced unofficiallyt by Tatum Stull (15 kills), Brooklyn Poling (11 kills) and Sian Richardson (9 kills).
Xavier's victory came somewhat out of the blue. The Gators won their first two playoff games handily 3-0 and 3-1. However, October was a tough month especially when it came to facing Hamilton. The Huskies beat Xavier three times (two power-ranking matches and once in an invitational). The last loss to Hamilton two weeks ago was by sweep.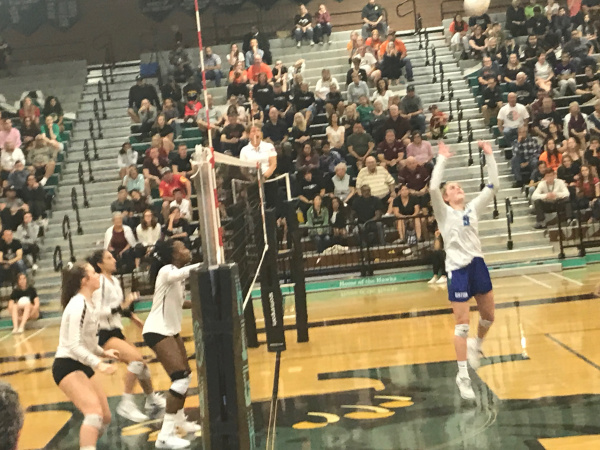 Xavier's Shannon Shields delivers an assist vs. Hamilton (AzPreps365 photo).
Xavier coach Lamar Bryant remained confident her team could rebound for the postseason. Starting out well in the first set was the key.
"Getting comfortable early is really important," Bryant said. "A lot of times the team that gets comfortable the fastest in a gym not its own has an edge. Tonight was the best we played against Hamilton in the matches we faced them in."
Xavier got a team best 13 kills and .647 hitting percentage from junior Jasmine Knight. Julianna Westfall added nine kills and Briana McKnight had 7. Four-year starter Shannon Shields had 28 assists, Hayley Nash four blocks and libero Ashley Yeung 12 digs and three aces.
Senior Taylor Jacobsen led Hamiton with 11 kills, middle Jordan Middleton had four blocks and setters Reilly Babcock and Diana Ethridge handed out 14 and 13 assists, respectively.
If you are planning to attend Wednesday's volleyball championship matches at ASU, the parking and event entry details can be found here.
---