3A football: Northwest Christian solid in downing Valley Christian
November 17, 2018 by Les Willsey, AZPreps365
---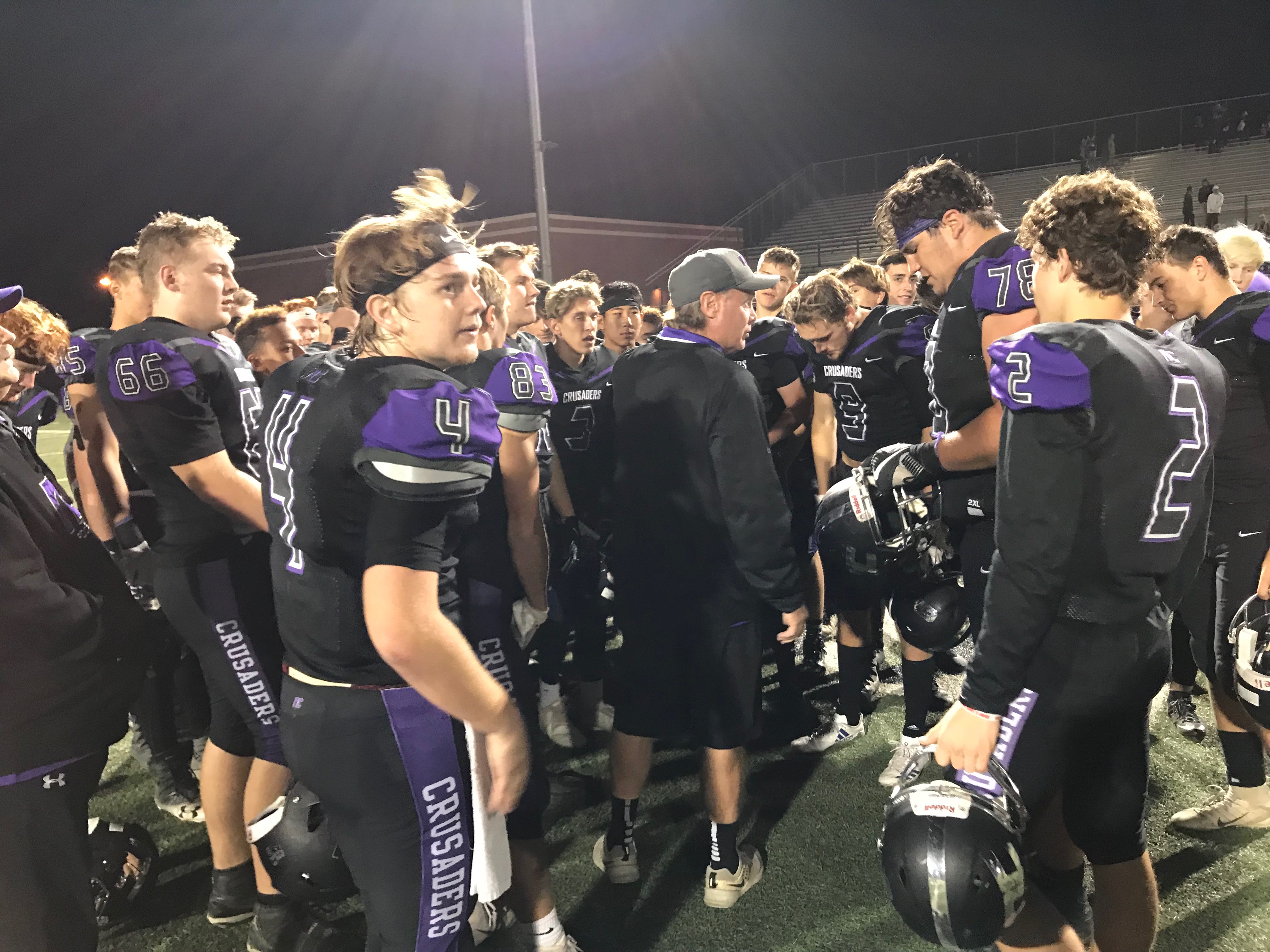 It was another methodical victory for top-seed Northwest Christian on Saturday night as the Crusaders turned back a second challenge by rival and No. 5 Valley Christian with a 27-6 victory in a 3A semifinal at North Canyon High School.
NWC (12-1) advances to the 3A title game against very familiar foe Yuma Catholic, a 75-43 winner over Sabino in the other semi. That game is set for Saturday Nov. 24 at 7 p.m. at Campo Verde High School. The meeting between NWC and Yuma Catholic will be the 16th between the schools since 2009.
Valley Christian's impressive run under first-year coach Kirk Sundberg ended with a 9-4 mark. Valley Christian is the only team to beat Yuma Catholic this season.
"This is a team the brings a lunch pail," NWC coach Dave Inness said of his Crusaders.
NWC, which beat Valley Christian (33-10 in an earlier meeting in September did much the same in fashioning Saturday's win. Workhorse back Aren Van Hofwegen carried 27 times for 135 yards and two touchdowns. Quarterback Jonathan Metzger complemented the ground game in the second half completing 5 of 7 passes for 105 yards, including a 59-yard strike to Brady Wijbrandts that extended a 14-6 lead to 20-6 less than two minutes into the fourth quarter.
Defense chimed in as well for NWC with the Crusaders intercepting VC four times, three in the final period as the Trojans desperately tried to rally. Defensive back Cameron Adams (two), Zach Heidel and Wijbrandts combined for the interceptions.
"Defensively we gave up one play," Inness said. "Other than that the defense was good. We like to get the run established, and we did. I think we kind of wore them down by the fourth quarter. Valley is good. Kirk is just getting started with them. They're going to be around.
The game was mostly one of field position in the first half. Valley Christian had six possessions in the first half. Those all started in Trojans' territory at their 20, 9, 20, 22, 19 and 10. NWC took a 7-0 lead at the 9:06 mark of the second quarter with Van Hofwegen capping a 66-yard march with a 10-yard run. Van Hofwegen added his second TD on NWC's opening drive of the third period -- a 72-yard march that restored a one-score lead.
The "one play" Inness referenced took place on VC's first play after the ensuing kickoff. Peyton Hanzel found cousin Andrew Hanzal for an 80-yard TD on a post pattern. The extra point failed, keeping NWC in front, 7-6.
Peyton Hanzal finished 15 of 32 passing for 263 yards, a TD and two picks. Hanzal wasn't helped with several drops, most of them in the second half.
Heidel's interception just after NWC went up 20-6, set up the final score. Heidel did the honors scoring on an 8-yard run with 8:26 to go.
---