Girls hoops: Horizon spoils debut of Chad Taylor at Miner Webster Jamboree
November 19, 2018 by Les Willsey, AZPreps365
---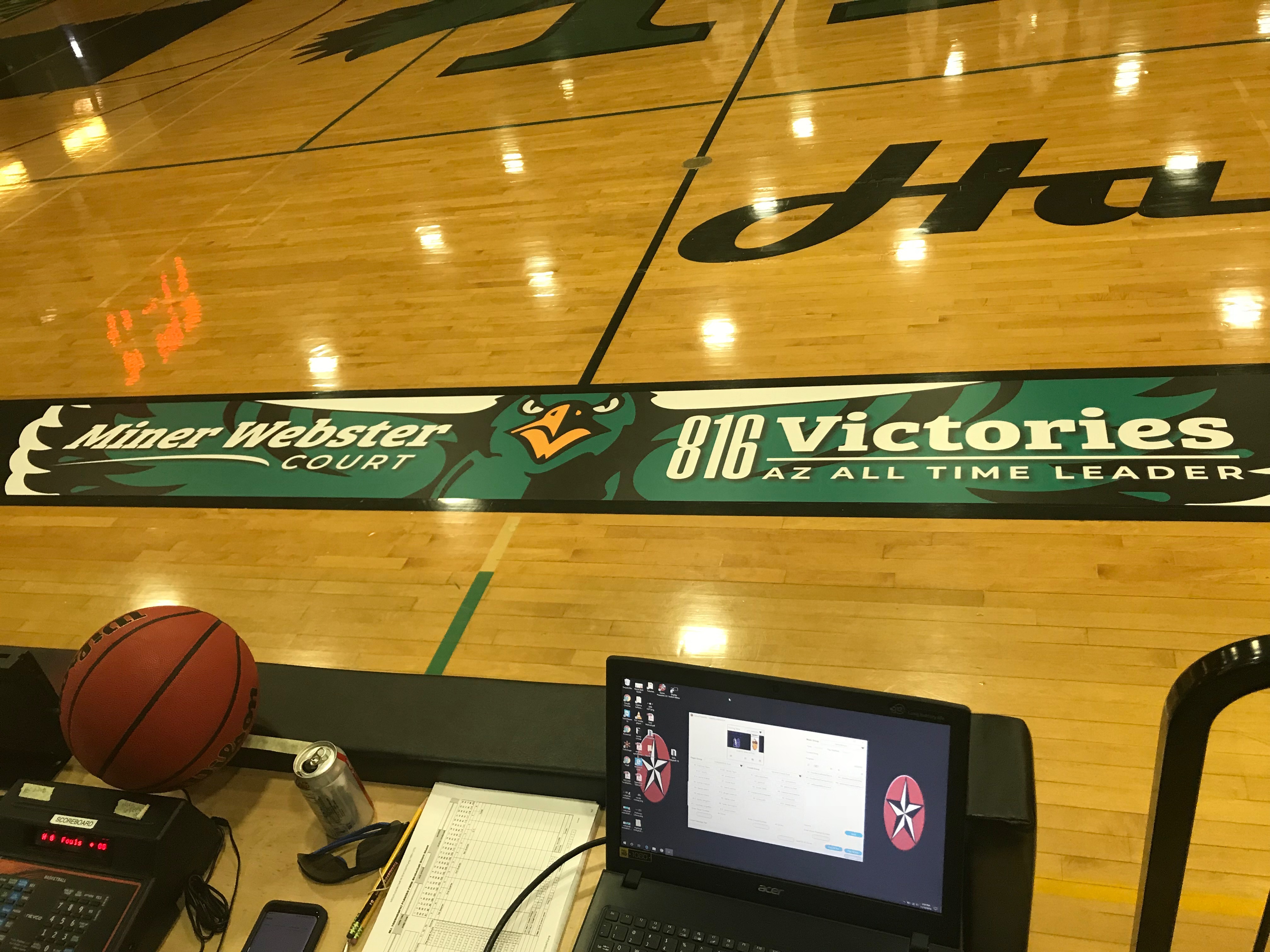 Chad Taylor has a tough act to follow at Highland in his first head coaching assignment -- following Miner Webster the state's winningest girls coach in history.
As a further reminder, Taylor witnessed with a small, mid-afternoon crowd Monday the dedication of the gym floor at Highland henceforth to be deemed Miner Webster Court.
Taylor didn't take umbridge as it took place minutes in front of his head-coaching debut for the Hawks.
"I don't mind trying to keep the high standard that's been set," Taylor, who assisted at Dobson with Tyler Dumas and most recently Mountain Pointe and Justin Hager this decade, said. "It's a great program. I wouldn't want to be anywhere else."
Highland ran into a more experienced foe in in its first game of the season, dropping a 66-57 decision to Horizon at the newly christened Miner Webster Girls Basketball Jamboree. Horizon has moved down from 6A to 5A and should figure as a contender in its new conference along with the likes of Millennium and Gilbert, who also dropped a conference.
Webster didn't miss the first game played without him as coach. He quietly and graciously accepted the honor bestowed. The center stripe on both sidelines bears Webster's name and victory total. Webster watched the game behind Highland's bench with family and friends.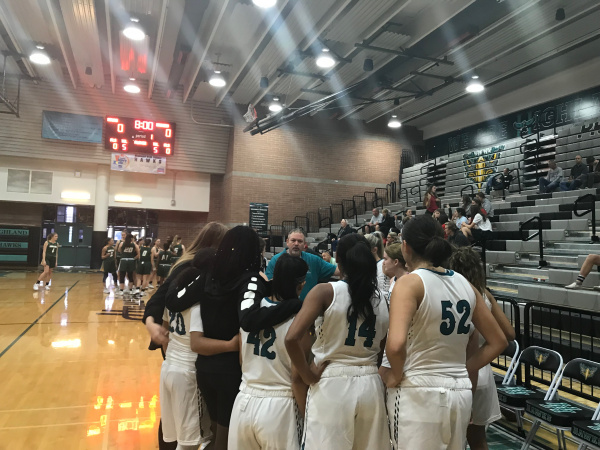 Chad Taylor gives last minute instructions to Highland as they begin the season vs. Horizon. (AzPreps365 photo).
Back to Taylor's debut. Highland played all out and other than a few brief leads in the first quarter,found itself playing catch up the rest of the way.
Horizon won led by better-than-average shooting from 3-point range. Senior guard Alyssa Alvarez, who sat out last season, poured in a game-high 23 points and senior Jayce Carter chimed in with 17 points. Alvarez canned 3 of 5 three-point shots and Carter made 4 of 9. Horizon connected on 10 threes in 21 attempts.
Alvarez led Horizon in scoring her sophomore year (17 points a game). She was also tough taking the ball to the basket when the three wasn't open.
"I knew they had two shooters," Taylor said. "We scrimmaged them last week. We didn't rotate as well as we needed to But I thought we played hard and better than we did in the scrimmage."
Highland trailed 28-24 at halftime, but threes out of the gate by Alvarez and Carter in the third period pushed the margin to 34-24. That margin or a little more remained the rest of the game. The Hawks could have helped themselves with better free-throw shooting as they hit just 7 of 21.
Airiana Madanski led Highland with 13 points and Mattie Lamb added 11. They logged the most playing time last year of the players returning Highland and for Taylor.
In other games played in the tournament at Highland, defending 4A champion Seton Catholic used stifling defense from its entire roster to subdue Desert Ridge, 57-17. Seton had six players tally between seven and 10 points led by sophomore Annemarie Trojanovich and freshman Sasha Daniel. Senior veterans Kendyl Thompson and McKenna Klecker and freshman Leeaira Willis scored eight points each and freshman Lexi McNabb had seven. Seton led 31-6 at halftime.
In a battle of what many believe will be 6A title contenders, Pinnacle used an 11-2 run over a three-minute span of the final period to knock off Hamilton, 66-57. Hamilton and Pinnacle advanced to the 6A quarterfinals last year. Pinnacle had four players score in double figures -- Ally Stedman (17), Bryn Parker (13), Shaila Mays (12) and Sydney Murphy (10). Hamilton was led by Zakirah King with 14 points and Tori Davis with nine.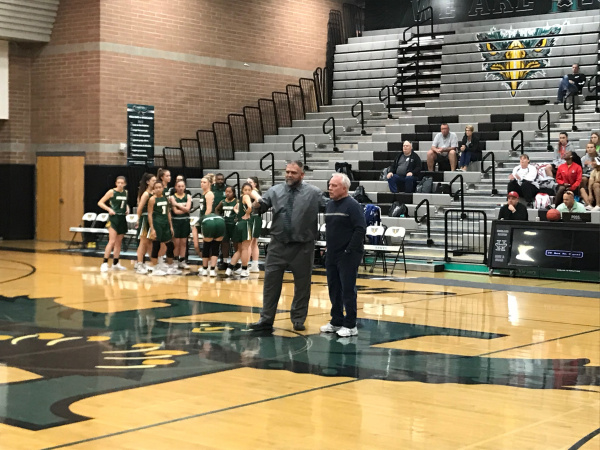 Highland AD Rod Huston (left) presents Miner Webster with a parting coaching gift- naming of Highland's court after Webster. (AzPreps365 photo)
---