3A football: Northwest Christian trims Yuma Catholic in triple OT
November 24, 2018 by Les Willsey, AZPreps365
---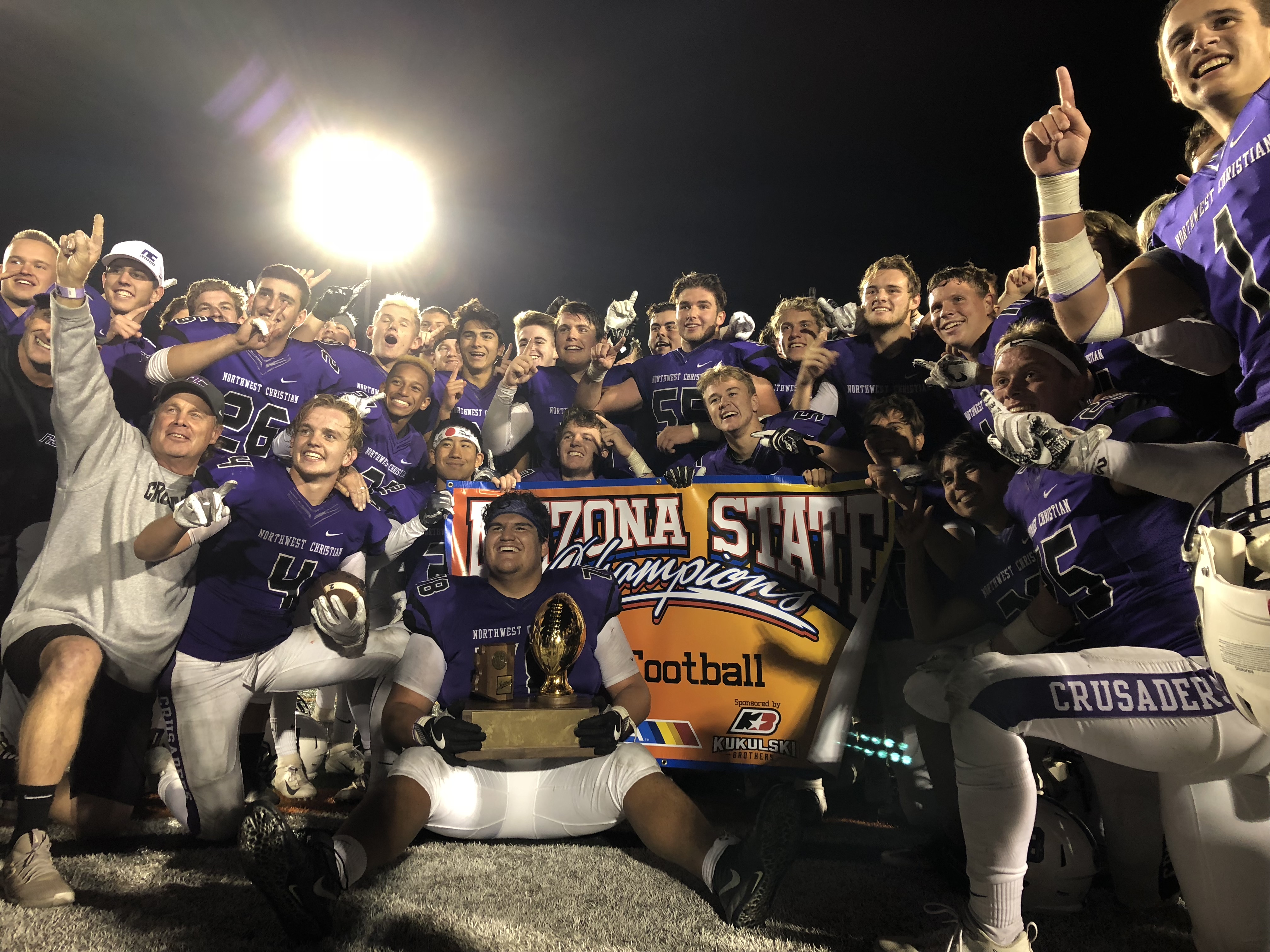 Top-ranked Northwest Christian and No. 2 Yuma Catholic's 16th meeting in the past nine years on Friday night -- nearly Saturday morning -- was as good as it gets. With three overtimes thrown in.
Northwest Christian (13-1) led in the game just once and it was at the right time - the end of the third overtime. Dusty Inness hauled in a 8-yard pass from Easton Meier that gave the Crusaders a 40-37 victory over Yuma Catholic (11-3) in the 3A title game at Campo Verde High School. The triumph avenged NWC's only loss of the season three months ago. It was the longest game in 3A history and the first to go overtime since 2008.
Inness, a senior and son of head coach Dave Inness and a freshman on the last NWC team to play in a final in 2015 (runner-up), played on that squad because he was the best long snapper available. Meier, the backup quarterback for NWC this season, came on in relief of starter Jonathan Metzger late in the second quarter and made plays when they were needed most. None more important than the winning score.
"Both our quarterbacks knew there was a chance they'd play," NWC Dave Inness said. "(Metzger) wasn't getting it done so we made the change. He's a gunslinger. We got some good and some bad from him. We called an "Arrow" to Dusty on that last play. They got it done." Meier was 13 f 21 for 136 yards, two TDs and one pick.
Zach Heidel's 1-yard TD run with 9.5 seconds left sent the game to overtime tied at 27. The overtimes were as wild as regulation.
YC got the ball first in the first OT. YC's amazing wide out-safety JR Henderson, threw a 10-yard pass to Randal Voutt on first down to put the Shamrocks up 34-27. Not to be outdone on its first play, Meier flipped a short pass to Brady Wijbrandts in the flat, who lateraled to Aren Van Hofwegen (179 yards rushing on 32 carries) for the tying score.
NWC had the first possession in the second OT and the possession ended with Henderson intercepting Meier. YC ran two plays moving to the 1. On third down the snap from center didn't reach quarterback Gage Reese and NWC recovered setting up a third OT with the game still knotted at 34.
YC settled for a 21-yard field goal from Jesus Zamudio to go up 37-34. NWC gained a yard each on first and second down before Dave Inness called for the "Arrow" play that won the game.
NWC had work to do to get the game to overtime. The Crusaders trailed 27-17 with 5:59 to go after Yuma Catholic scored on a 38-yard halfback pass from Ean Chavez to Issac Torres. NWC managed a field goal - the second of the game by Ben Ogan - to pull within 27-20.
An onside kick folllowed, but failed. NWC's defense stopped YC and got help from a YC timeout to preserve clock time after the Crusaders had to burn their final time out. YC ended up punting.
NWC took over at midfield with 1:26 left and no timeouts. Eight plays later Heidel scored from the 1 and Ogan's extra point forced overtime.
YC's big three offensive players -- Henderson, Reese and Chavez - didn't have huge games, but as always made plays. Henderson had three touches in the first half. The first an interception that set up the second -- a scoring reception of 33 yards from Reece for a 7-0 lead. The third was an 84-yard punt return for a TD that made it 14-0 with 10 minutes left in the first half.
Henderson, a 2,000-yard receiver this season, finished with two catches for 52 yards. He had one rush for 21 yards helping out an 80-yard scoring drive that opened the third quarter and put YC up 21-7 for a brief time. Henderson drew double coverage most of the night and on occasion had three defenders around him.
"Henderson is the best players in 3A," Dave Inness said. "We had to double him. We did a good job, and he still made plays."
Chavez carried 16 times for 83 yards plus his 38-yard scoring pass. Reese was 10 of 21 passing for 130 yards, two touchdowns and one interception. The 130 yards was a season low for Reese, and he was sacked five times.
"It helped us tonight running out 20 seniors," Dave Inness, who chalked up win No. 100 in his tenure at NWC, said. "They rose to the occasion. They showed the younger guys what it takes."
---