Boys hoops: Dobson edges Desert Ridge in overtime
December 4, 2018 by Les Willsey, AZPreps365
---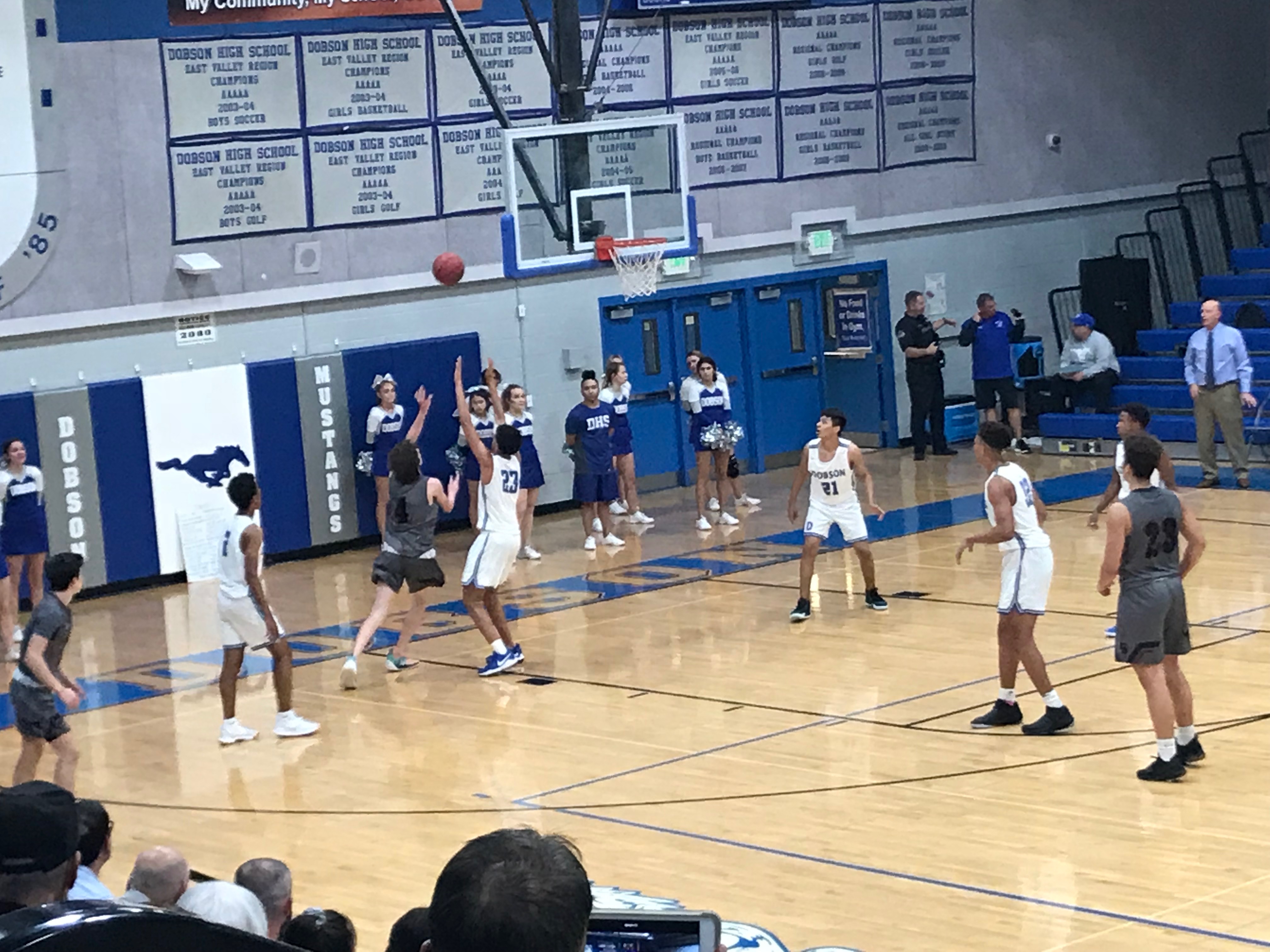 Dobson and Desert Ridge were already used to close games in the young season so they decided to engage in another Tuesday night.
Brandon Hicks made a key steal and four free throws in the final 30 seconds of overtime helping Dobson slip past Desert Ridge, 62-57, in a 6A non-region game at Dobson.
Dobson improved to 4-1 overall and 1-0 as it was the Mustangs' initial power-ranking game of 2018-2019. Desert Ridge is 2-5, 1-2 prg. Dobson lost a two-point decision to Shadow Ridge last weekend in the Southwest Rotary Classic in Yuma. Desert Ridge's previous game was a 48-46 win over Brophy Prep and the one before that a one-point loss to Mountain View.
Dobson was led by 6-foot-6 juniorJuhlawnei Stone with a game-high 23 points -- his average for the year thus far. Stone scored 12 of those in the third period. Jairo Sierra added 14 points, Hicks nine and fellows starters Malik Love and Kevin Rodriguez eight apiece. Desert Ridge was led by Marcus Windham's 12 points and 10 each by Caleb Alonso and Matt Haltorp. Haltorp's were all in a reserve role and all in the second half.
"This was a good one for our kids to win," Dobson coach Rick McConnell said. "It was back and forth, back and forth all night. We did some good things at the end."
The game featured double-digit lead changes with Dobson playing the better first and third quarters and Desert Ridge holding the edge in the second and fourth. Dobson, however, had a strong finish to the final quarter to force overtime, rallying from five down with 1:10 to play.
In overtime Dobson took the lead for good, 58-57 with 2:06 left. A driving layup by Sierra put the Mustangs ahead to stay. The teams exchanged missed threes the next few possessions. With 32 seconds left, Sierra two free throws but rebounded his last miss. Seconds later Desert Ridge stole the ball, but Hicks got the turnover back with a steal and was fouled with 21 seconds to go. He made both free throws for a 60-57 lead.
Desert Ridge called time with 15 seconds left and got a long, but open look for guard Joe Kelsey from 3-point range. It didn't connect and Dobson had possession with six seconds left. Hicks was fouled and sealed the outcome with two more free throws.
Dobson's rally late in regulation came with Desert Ridge up, 52-47, with 1:10 left after two free throws by Windham. Love sank his only trey of the game to pull Dobson within 52-50 a few seconds later. A Buck Eagleburger free throw made it 53-50 Desert Ridge with 30 seconds left.
The Mustangs forced overtime thanks to the last of Stone's 23 points - a free throw - with 23 seconds to go. Dobson managed a steal and Hicks fed Sierra for a game-tying layup with nine seconds left. A three at the buzzer by Haltorp was off the mark.
Dobson opens East Valley Region play on Wednesday at Skyline. Desert Ridge is off until Thursday when it hosts San Luis.
---