Boys hoops: Skyline pulls away late to top Highland
December 11, 2018 by Les Willsey, AZPreps365
---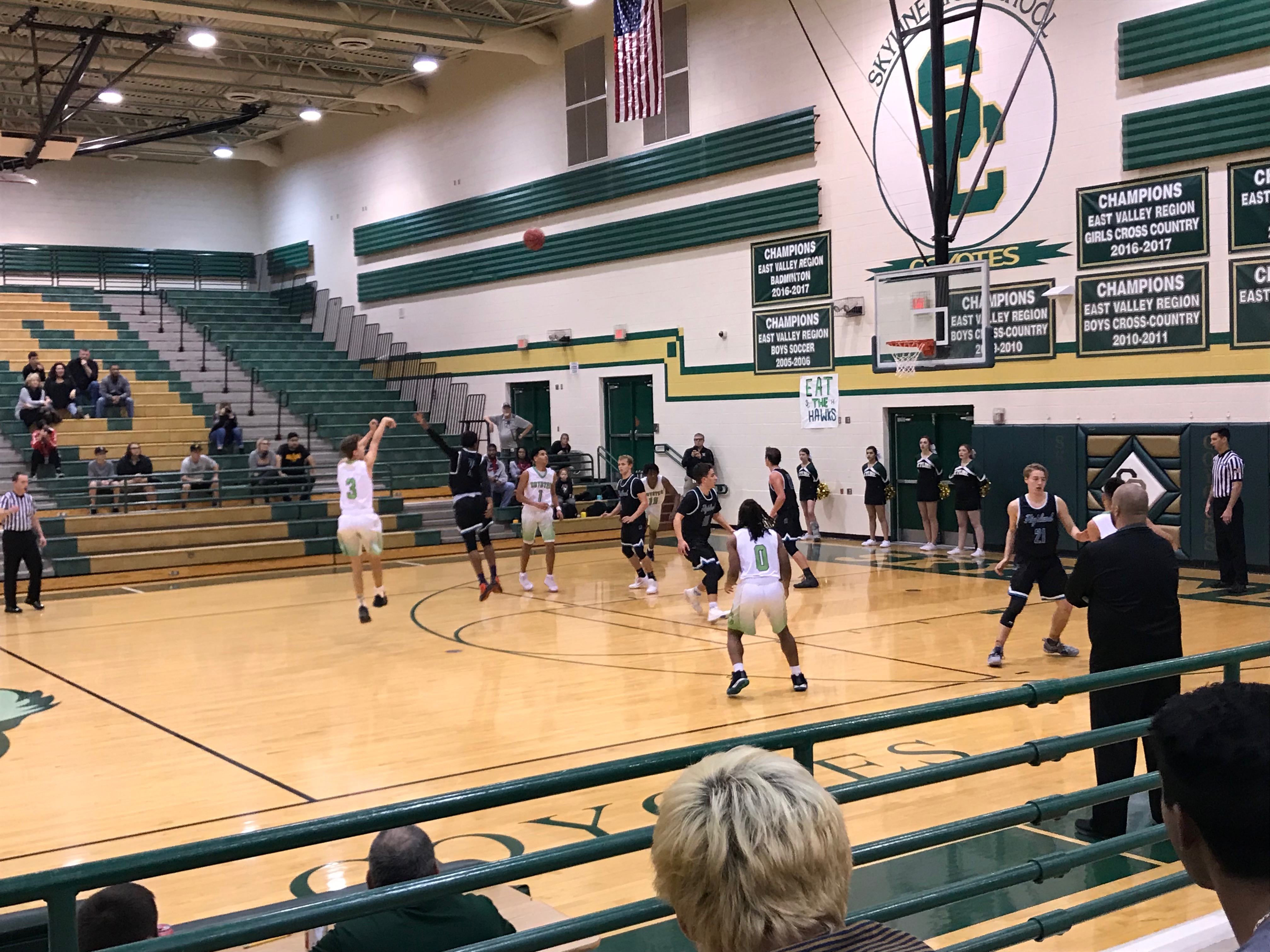 It was not Skyline's Dayton Harris' best performance Tuesday night as the Coyotes tried to keep their hot streak to open the season intact.
In the end it didn't hurt as sophomore Patrick Herrera was his usual self with additional offemse from Tyree Tyler as Skyline fended off victory-hungry Highland, 59-50, in a 6A non-region game at Skyline High.
Skyline ran its record to 6-1 with all its games of the power-ranking variety. Highland, with former Desert Mountain and Red Mountain coach Todd Fazio now at the helm dropped to 1-9, 0-6 in power-ranking games. The Hawks are young and trying to builup after the loss of a large number of seniors from last year.
"Anytime we can get a win on a night Dayton Harris isn't on his A game, I'll take it," Skyline coach James Capriotti said. "Highland is a very scrappy team. They never gave in."
Harris, a 6--2 junior guard, was limited to four points - 16 below his season average. Harris couldn't get shots to fall and ran into foul trouble in the third period. He sat for a five-minute stretch into the final period after picking up his fourth foul.
Herrera dropped in 24 points - five above his season average. None were bigger than the trio of threes he connected on in the third period after Highland rallied to take the lead in the third period and maintained a small edge through the first half of the quarter. Tyler also finished with 21 points - double his average for the year -- to help offset Harris' struggles.
"Patrick Herrera is such a steady player," Capriotti said. "Since his first game last year as a freshman on varsity he''s been our most consistent player. He has ice water in his veins."
Skyline still couldn't shake Highland even in the early moments of the final quarter. The Coyotes 46-41 lead heading to the fourth was cut to 48-47 with 5:53 to play. The rest of the period belonged to Skyline as Herrera tallied on a nice back-door feed to make it 50-47. Highland's last basket was a 3 with 54 seconds left, but it trailed by eight when that shot connected.
Highland's three-point shooting (8 of 18 in the first half), whick kept it in the game and helped it rally from double digits down in the second period, tailed off in the second. The Hawks made only 2 of 11.
The Hawks were forced to foul in the final 2 1/2 minutes to keep the margin at two possessions. Tyler made a basket and two free throws for the last of his 21 points to keep the margin at two possessions.
Highland's scoring was balanced and led by Justin Stidhum with 15 points. Stidhum made four successive threes in the second period. Tanner Crandall added 14 points, Anthony Esposito 12 and Bronson Hatch 9.
---