Girls hoops: Mtn. Pointe ends Chandler winning streak
December 13, 2018 by Les Willsey, AZPreps365
---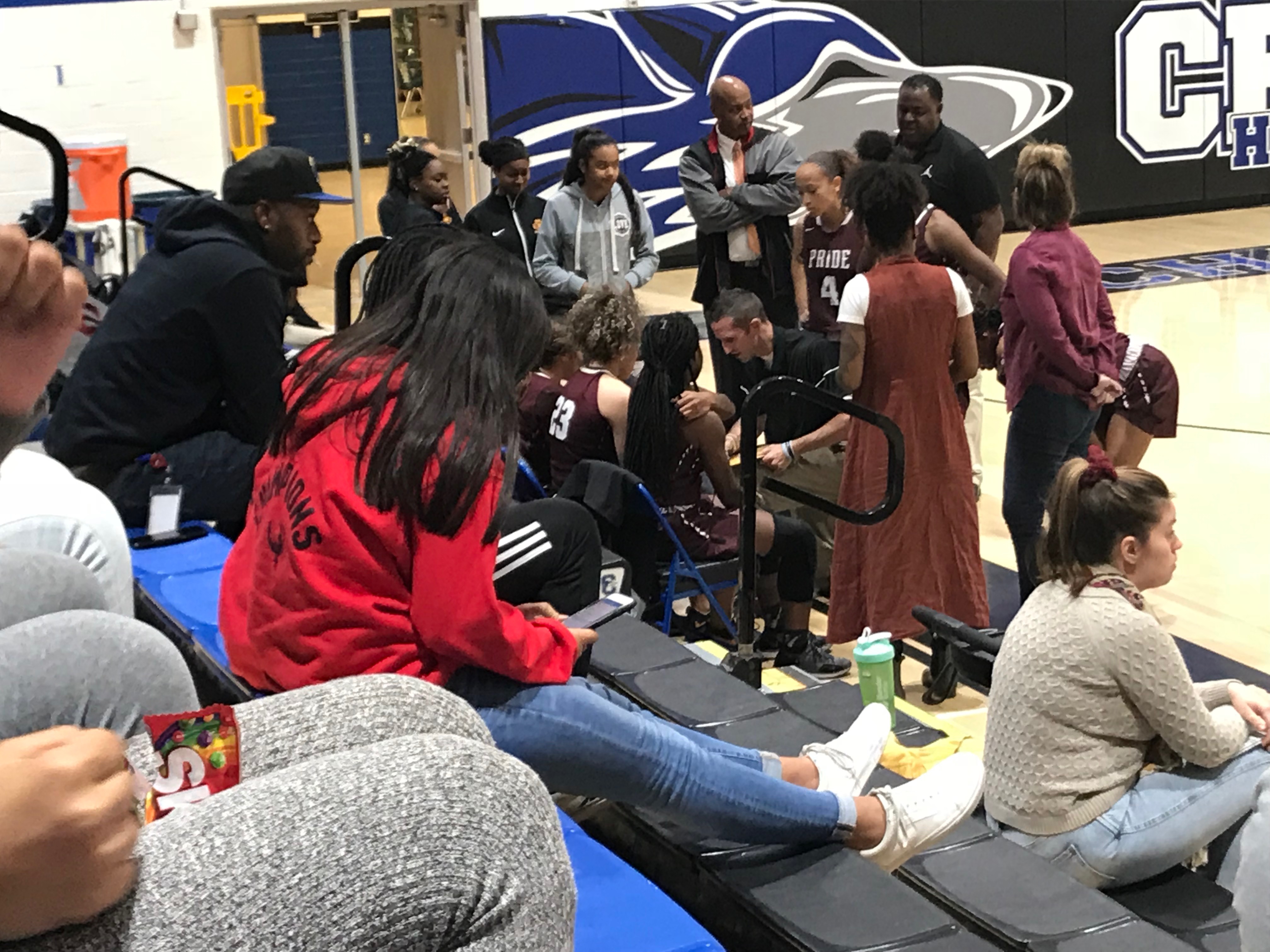 As time expired at the end of the first quarter, Mountain Pointe's Keeli Kaye was fouled heaving up a desperation shot from just across half court. The shot was not close, but she got three free throws as the teams went to their benches to talk strategy.
Kaye made all three to give Mountain Pointe a one-point lead over Chandler at the quarter. It was more of the same as the game wound down in the final minutes.
Kaye made 6 of 8 free throws in the final 2:44 as Mountain Pointe ended Chandler's eight-game winning streak with a 44-41 triumph in a 6A non-region game Thursday night at Chandler's House of Payne.
Mountain Pointe topped the .500 mark in power-ranking games in winning, moving to 4-3. The Pride is 7-5 overall. Four of its fivelosses are to Xavier Prep, Hamilton, Pinnacle and Valley Vista - a large chunk of the top teams in 6A. Chandler, off to a fast start with new head coach Glenda Skalitzky, fell to 8-4 overall and suffered is first power-ranking loss (6-1).
Kaye, a junior guard, led Mountain Pointe with 14 points. Freshman Kishyah Anderson supplied 13 points and 13 rebounds off the bench. Senior post Katie Fagan grabbed a game-high 18 rebounds. The Pride played without freshman leading scorer Jaida Brooks (15 ppg) sidelined with a severe hip pointer.
Mountain Pointe coach Justin Hager was wary of Chandler's early-season success, sparked by the offense provided by junior guards Victoria Mason, Mykah Anderson and Victoria Perez. Mason entered averaging 23 points a game, Anderson almost 20 and Perez 11.
Mason led the Wolves again with 20 points, but struggled to pile up that total. She made only 6 of 26 shots from the field and tallied 11 of her points in the first quarter. Anderson finished with 11 points and Perez with 7. The latter two fouled out in the final minute. Mason and Anderson each have scored 40 points or more in a game this season.
"We knew they were the scorers and we wanted to make it a grind for them," Hager said of the Wolves' trio. "This one was a grind for both teams."
The game was close all the way. Mountain Pointe led 13-12 after one quarter, 24-22 at intermission and 30-29 after three quarters . With 3:46 left to play it was eeven at 38.
Kaye put Mountain Pointe in front for good, 40-38, with the first two of her six points in the quarter. An exchange of free throws - one each by Kaye and one by Mason, made it 41-39 with 2:01 to go.
Down the stretch Chandler missed six field-goal attempts, three from Mason trying to tie or take the lead. Kaye was fouled by Mason with 29 seconds left and made both free throws to extend the lead to four. Chandler's Emily Sepulveda made it 43-41 with 6 seconds left, hitting a putback after three previous misses by the Wolves on the possession.
Kaye made 1 of 2 free throws with 4.7 seconds left for the final three-point margin. Mason's Hail Mary 3 at the buzzer wasn't close, ending a frustrating night for Chandler.
---