Boys hoops: Show Low tops Fountain HIlls for 8th straight victiory
December 18, 2018 by Les Willsey, AZPreps365
---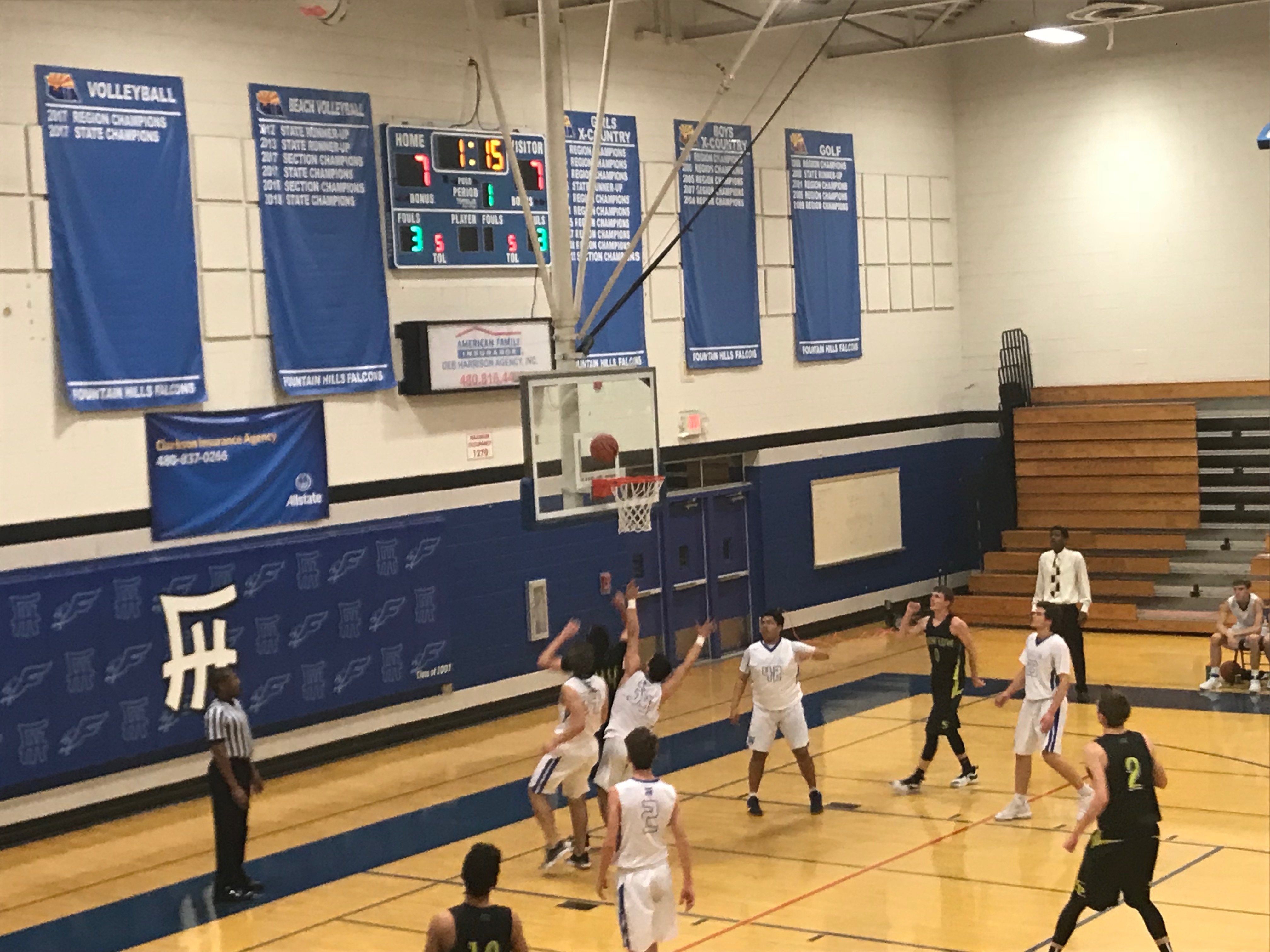 Senior guard Aahron Villalba scored 10 of his 17 points points in the final four and half minutes Tuesday night helping Show Low break away from Fountain Hills and record a 50-44 triumph in a 3A non-region game at Fountain Hills.
The victory stretched Show Low's winning streak to eight games and improved the the No. 9 Cougars record to 12-4 overall and 6-1 in power-ranking games with one game left before the Christmas break. Fountain Hills slipped to 3-8, 1-6 prg.
"He (Villalba) is one of our seniors," Show Low coach Matt Thacker said. "He gives us someone who can make shots outside. I was interested to see how we played after winning (Round Valley) tournament last weekend. I didn't think we were focused early. We missed a ton of bunnies at the start. I wasn't sure how the night was going to go."
Villalba took over down the stretch in a game that Show Low led nearly start to finish, but never in comfortable fashion. Villalba sank his second three of the night with 4:36 left to give the Cougars a 41-35 advantage. He was fouled three times attempting threes during the game and after making one of three on his first trip to the line made the other six from the last two.
Show Low's 41-35 lead lasted two possessions as Fountain hills pulled even at 41 with 3:20 to go getting threes from Wesley Cottrill and Benjamin Danko (team-high 12 points). From that point turnovers that plagued Fountain Hills (19 overall) bit the Falcons some more. Show Low gathered in loose balls for three successive layups off miscues - two by Villalba and one by guard Tylon Evans -- to move in front 47-41 with 52 seconds left.
Fountain HIlls didn't go away as Danko sank another three to cut the margin to three with 34 seconds left. Forced to foul, Fountain HIlls sent Villalba to the line twice for one-and-ones. Villalba made three of four to end the scoring and the Falcons' comeback bid.
Thacker was pleased to see the Cougars prevail on a night leading scorer -- 6-foot-6 junior Colton McGinnis tallied just six points (averages nearly 15 a game.
"Colton struggled, missed a lot of bunnies," Thacker said. "Other guys picked us up."
One of the players filling the gap offensively besides Villalba was junior Thadeus Carlyon. Carylon was a model of consistency in the low post. He led all scorers with 18 points -14 in the first half helping the Cougars to a 21-17 lead at the break. Carlyon was 8 for 11 from the field. Everything he scored came from the low block. He also grabbed a half-dozen rebounds and blocked four shots.
---