Girls hoops: Pinnacle reaches NIke TOC bracket final
December 21, 2018 by Les Willsey, AZPreps365
---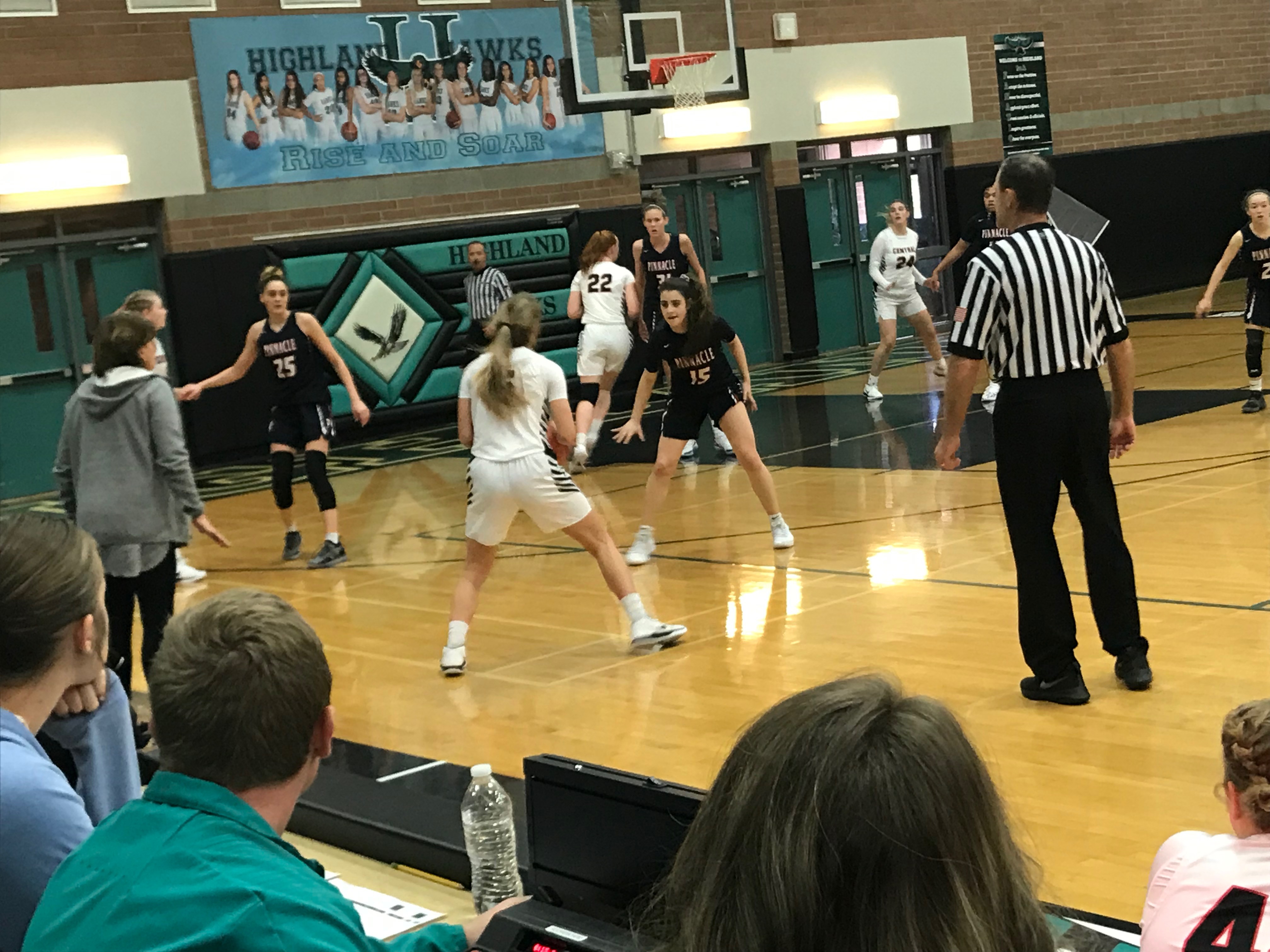 It's been a tough three days for Pinnacle's girls basketball team when it comes to scoring and more precisely shooting.
But despite intermittent and at times prolonged shooting slumps, the Pioneers continue to win. Pinnacle (15-1) reached the title game Friday afternoon of the Derrill Kipp Bracket in the Nike Tournament of Champions knocking off Central (Ore.), 42-36, at Highland High School. Pinnacle plays for the bracket title on Saturday morning at 8:30 at Powerhouse Hoops Facility against William Penn (Philadelphi, PA). William Penn topped host Highland in the final minute, 53-49.
Pinnacle and Desert Mountain are the only Arizona teams to advance to a bracket final. Desert Mountain has played in the Kirk Pointer Bracket (eight teams instead of 16). Desert Mountain's final is against St. Paul (Calif.) at 10 a.m. at Powerhouse. Those teams met Wednesday in a pre-bracket game with Desert Mountain winning, 40-38.
"Maybe we need a change of venue," Pinnacle coach Rick Bunger said. Three days at Highland High have yielded some subpar shooting efforts. But Bunger quickly reminded himself his team has played eight games (seven actually) at Highland in its two invitational tournaments in the past month and sports a 7-0 record at Miner Webster Court and Highland's auxilary gym.
What offense Pinnacle received Friday came from the usual sources in this semifinal. Ally Stedman notched 15 points, Shaila Mays hit for 13 and Kennedy Basham chipped in with 10 points.
Pinnacle led 30-24 at halftime and shot reasonably well hitting 41 percent of its field goals for the first 16 minutes. The second half was more of what Thursday produced -- 3 of 20 (15 percent) from the floor.
Still, with its lead down to 35-34 with 6:16 to play, defense helped save the day. Mays nailed a three to boost the lead to 38-34 with six minutes left. Four Central turnovers and 1 of 7 shooting by Central allowed Pinnacle to eke out the victory.Central's Meagan Mendazona enjoyed another productive game connecting for 23 points. She tallied 27 in a quarterfinal win over Casteel on Thursday.
Pinnacle has averaged 44 points a game in the tournament. Prior to the tourney it was putting up 65 per game.
WILLIAM PENN 53, HIGHLAND 49: Highland made a furious rally in the final 90 seconds, but fell short to the Quakers in the other Derrill Kipp Bracket semifinal at Highland HS.
Highland trailed 51-39 with 1:28 to play after two free throws by William Penn's India Barnes. A 10-0 run sparked by Mattie Lamb (two threes) and Fama Thiam (basket and free throw) made it a one-possession game (51-49) with 18 seconds left. Carmen Williams (game-high 23 points) gave William Penn its final cushion with two free throws with eight seconds left. Kaitlyn Carter also scored in double figures for the Quakers with 17. Lamb paced Highland with 17 points, Thiam finished with 12 points and Airiana Madanski chipped in 10.
Other results of Arizona teams from Friday's TOC action:
Normal Community (Ill.) defeated Hamilton 53-51; Central Catholic (Ore.) defeated Mesquite, 38-33; Sacred Heart Cathedral (Calif.) defeated Chandler, 66-55; Boulder Creek defeated Americus Sumter (GA), 47-42; St. Francis (Calif.) defeated Basha, 59-42; Gilbert defeated Corona Centennial (Calif.), 51-43; Dillard (Fla.) defeated Perry, 62-52; Mountain Si (Wash.) defeated Casteel, 45-35; Sabino defeated Omaha Northwest (Neb.), 61-56; Thunder Basin (NY) defeated Red Mountain, 52-42; Columbine (Colo.) defeated Williams Field, 45-32; Westview defeated Clark (Nev.), 40-36; Chaparral defeated ThunderRidge (Colo.), 61-44; Archbishop Mitty (Calif.) defeated Millennium, 60-46; Eaglecrest (Colo.) defeated Campo Verde, 28-21; Desert Mountain defeated Faith Lutheran (Calif.), 45-31; Valley Vista defeated Beaverton, (Ore.), 38-36; Chaminade Prep (Calif.) defeated Seton Catholic, 42-29; Queen Creek defeated Desert Ridge, 39-25.
---