Centennial's turn to get shut out
December 23, 2018 by Jose Garcia, AZPreps365
---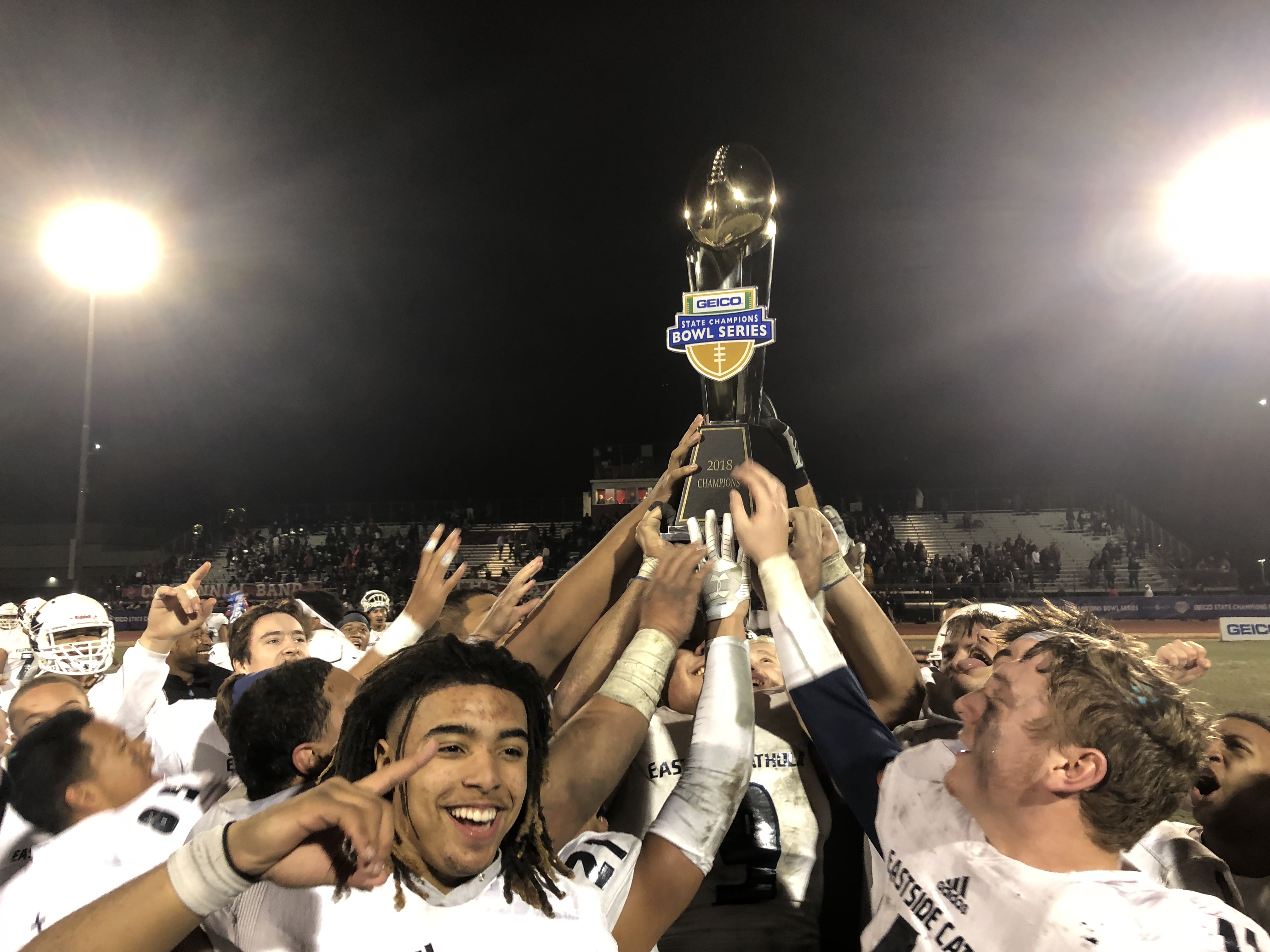 Centennial is no stranger to a shutout.
What's foreign to the Coyotes is being on the receiving end of one.
Eastside Catholic of Washington came to Peoria and did what Arizona's best team was accustomed to doing this season, blanking Centennial 17-0 in a nationally televised game. Centennial, which owns victories over national powers Bishop Gorman and St. Thomas Aquinas, wanted to file another significant victory to its national portfolio during Saturday's Geico State Champions Bowl Series.
But Eastside Catholic took some shine off the still successful 2018-19 Centennial 5A state championship campaign. The loss snapped the 18-game win streak of Centennial, which was held scoreless for the first time since 1997.
"It's a huge win for us," Eastside Catholic coach Jeremy Thielbar said. "We hadn't had a marquee victory out of state. We came down here and were focused. We played clean football.
"We have the best defense on the West Coast, I think."
Eastside Catholic's physicality and size blanketed its opponent in the first half, when Centennial mustered just one first down.
A better showing in the second half by Centennial's defense and special teams play the entire game helped keep Centennial in the game. But, near the end of the third quarter, it didn't keep an Eastside Catholic player from chanting on his sideline to bring on 6A champ Chandler, arguably the other best team in Arizona this year along with Saguaro.
"They (Eastside Catholic) did have size, but our defensive line is used to that," Centennial coach Richard Taylor said. "Our offensive line are not small people either. I just give them credit. The made plays when they had to. They were really solid in all three phases of the game and came away with a deserved victory."
Senior quarterback Hayden Harris (6-5, 225), wide receiver Gee Scott (6-3, 180) and sophomore linebacker Jaylahn Tauimoloau (6-4, 245) are impressive high school football specimens.
Each one stood out at different times in Saturday's late night chilly tilt on ESPNU. Harris, who stepped in a couple of times for starting quarterback Michael Franklin, posed as a running threat at first.
He scored Eastside Catholic's second touchdown on a 4-yard run with 2:50 left in the second quarter.
Harris as well as Franklin connected with Scott on a couple of big plays downfield.
Tauimoloau had a couple of sacks and tackles in Centennial's backfield. Despite the size disadvantage, Centennial's front seven made Eastside Catholic's main run threat, Sam Adams, earn his yards in small amounts.
Adams' 5-yard score on a 3rd and goal play capped a 14-play drive to put Eastside Catholic ahead 10-0 at the start of the second quarter. On offense, the 14-1 Coyotes' only trips to the red zone came in the fourth quarter, but Eastside Catholic (13-1) stuffed fourth down plays to halt two drives near the end zone.
Centennial (14-1) assisted Eastside Catholic's shutdown with 10 penalties. Other than a missed 47-yard field goal attempt and fake punt run that didn't net a first down, Centennial's special teams played well.
Jaydin Young and Kieran Clark recorded a couple of long kickoff runs, and A.J. Jackson's high and long punts were praised even by an assistant coach on Eastside Catholic's sideline during the game. Centennial also blocked a field goal try.
When it was over, Taylor focused on the positives.
"I'm going to remember the (preseason) California trip," he said. "I'm going to remember the senior retreat. I'm going to remember the (Bishop) Gorman game. I'm going to remember the state championship. But most importantly I'm going to remember the time that we laughed in practice and watched young men mature and see them accomplish things they thought they couldn't do."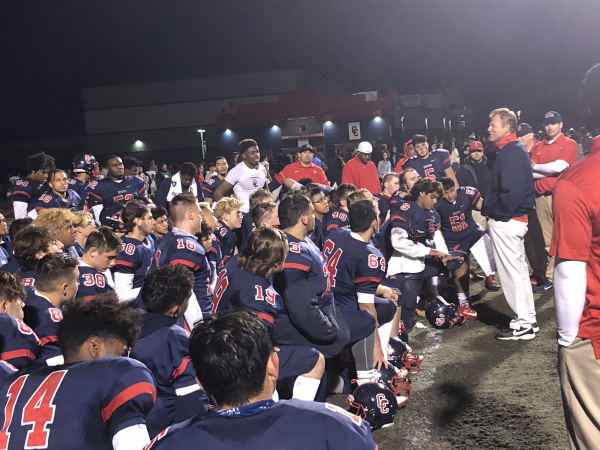 (Centennial coach Richard Taylor addresses his boys one last time during the 2018-19 season.)
---