Justine Butterfield is Winslow's most versatile athlete
January 2, 2019 by Oree Foster, AZPreps365
---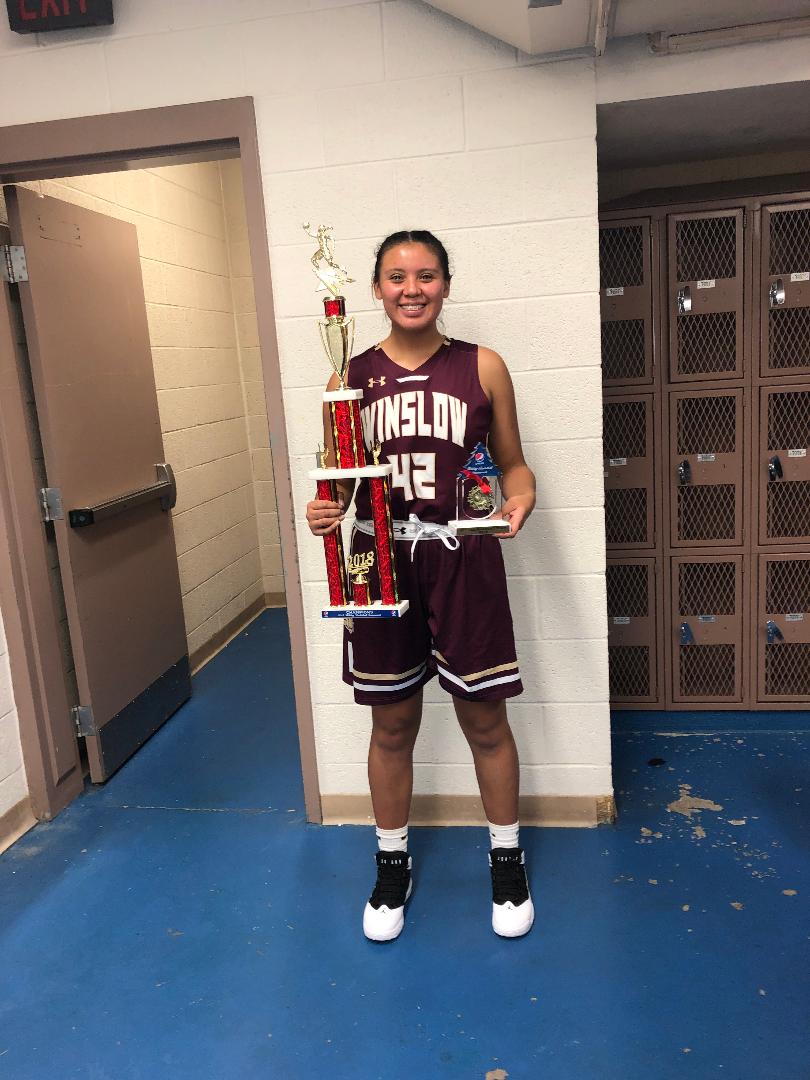 Due to Justine Butterfield's hard work, discipline, dedication and work ethic, the Winslow senior is the Lady Bulldogs' most coveted versatile athlete.
Butterfield's character and leadership qualities are undoubtedly resilient.
Everytime she laces up her shoes and steps onto the athletic field, whether its basketball, softball or volleyball, Butterfield is a force. She is ready to compete with desire, heart and playing 100 percent until the final whistle.
Butterfield is the nucleus of Winslow's basketball team, which is off to a 12-2 start at Christmas holiday break.
When basketball season began last month, Butterfield set a personal goal to become the best defensive player she could be.
"I work to improve and emphasize my defensive skills each practice and game," said Butterfield, a 5-foot-10 forward. "For many years, I've heard that defense wins games and I value that saying and believe it's true. My personal goal this year as a captain of my team is to push my teammates to work hard defensively and have them push me to become a better offensive player."
She pointed out that this year's team is the strongest since she became a varsity player as a freshman.
"We are a much stronger and bonded team that play very well with each other and because of those connections, we are able to create an unbreakable chain," Butterfield explained. "Like other team's goal, our set gosal this year is to win the state tournament or the "Gold Ball", as we say. Of course, there will be bumps that will occur throughout this journey, but with the amount of heart we have as a team, with the many bickering moments and unforgettable memories we cherish, we couldn't ask for anything more, other than the bond of sisterhood we have. This is our DESTINY."
Butterfield said being 12-2 at Christmas holiday break isn't just the beginning for the Lady Bulldogs.
"We know as a team that it took hard work to get where we are now and it will take much harder work to get where we want to be post season," Butterfield said. "We still have many more games to come and understand it will not be easy. As a whole, we want more wins in the column, but also know it takes more than we are putting in as of now to achieve the goals we've set as a team."
During last weekend's Chandler Prep Girl's Basketball New Year's Classic, Winslow garnered the Platinum Division championship. The Lady Bulldogs finished with an unblemished 4-0 record.
"The key to winning the tournament championship was using each player's abilities and utilizing those players to contribute to our wins throughout the tournament," Butterfield stated. "Trust, in the girl next to us also being a huge part of our success. The tournament was fun and memorable. It was also filled with many tough competitors, which it prepares us for upcoming competition. For it being the last tournament of my high school basketball career, I wish we attended this tournament sooner."
For Butterfield's exceptional performance throughout the tournament, she was seleted the all-tournament team.
"Making the all-tournament team was filled with many emotions, mainly proud of my self and my team," Butterfield said. "For this was a team effort."
Butterfield said she remembers earning a starting position as a freshman on the varsity volleyball team, which stands out as memorable during her career.
"My favorite memory was playing against Payson during Senior Night and receiving the Most Valuable Player award of both teams," Butterfield said.
Butterfield said a softball game she remembers quite well was during last year's state tournament.
"We were playing against the number one team in state," Butterfield said. "Coming down to the last two innings of the game, I was up to bat and I ended up hitting a home run, punching our ticket to the state championship game."
During Butterfield's initial varsity basketball career as a freshman, Butterfield said the game against Safford ranks the best.
"I came off the bench and scored 20 points, to begin my high school basketball career," Butterfield said.
Last year Butterfield had a banner basketball season. Butterfield was selected First Team All-State. Accolades poured in her sophomore and junior basketball seasons. Butterfield was selected First Team 3A East All-Region.
Butterfield is one of the state of Arizona's top softball pitchers. Butterfield throws a number of pitches from the pitching circle. Butterfield has been clocked throwing her fastball at the mid-60 miles-per-hour.
"Softball has always been the sport I grew up loving the most," Butterfield said. "I always imagine myself playing at the next level. Being involved in other sports makes selecting a college difficult. I have (scholarship) offers for all three sports, ranging from NCAA DI to NAIA."
Butterfield continued, "I love all sports, as I will be making my decision soon on which sport I want to continue with at the next level."
Butterfield has been selected to First Team All-State last year and is a two-time First Team 3A East All-Region.
During the summer, Butterfield has played in the prestigious Arizona D-Back Inter-Tribal Youth Softball Tournament (NABI Softball) in Scottsdale. Butterfield said the tournament is her favorite.
"The NABI Softball Tournament is my upmost favorite tournament to attend each yer," Butterfield said. "I have attended this tournament for five years straight, with four being with my team I entered. My team name is Kryptonite and all my teammates are the Winslow girls I grew up playing with, Navajo girls."
---