Boys hoops: 6A-4A midseason glance
January 8, 2019 by Les Willsey, AZPreps365
---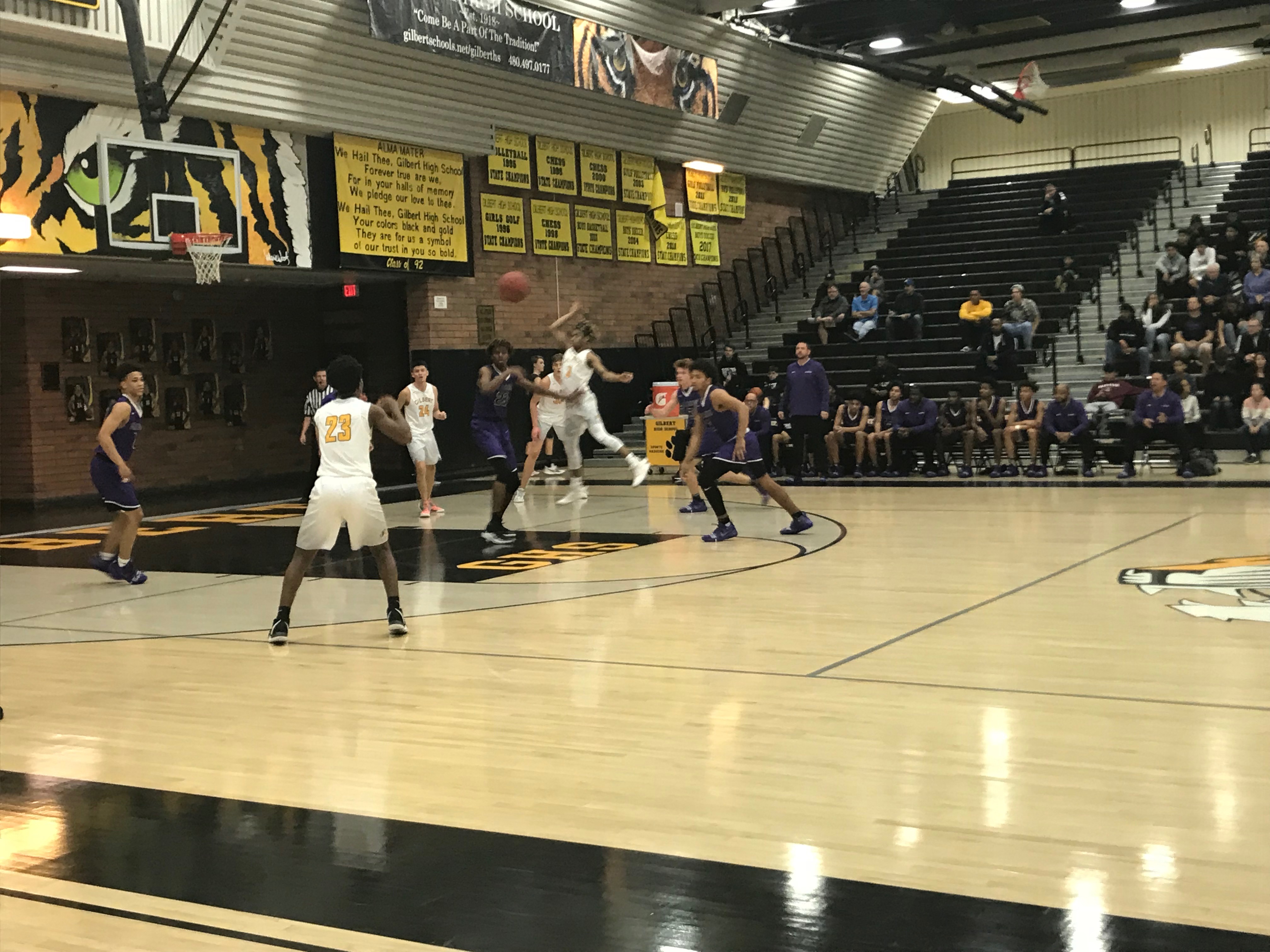 Some boys hoops observations as the second half unfolds this week, concentrating on 6A, 5A and 4A:
6A
The prevailing opinion when teams tipped off Thanksgiving week was defending champ Pinnacle and runner-up Mountain Pointe were good bets to go deep again. Deep as in title rematch. Perry was also often talked about in this mix. Pinnacle and Mountain Pointe opened winning in-state invitationals - Pinnacle claimed Welcome to the Jungle and Mountain Pointe (Phoenix Union Coyote Invite). Perry is getting healthier- they hope - as the new year turns. That trio still head the list, but others are going to make January fun to watch.
Pinnacle (14-3) still holds the best hand led by Nico Mannion, but the loss of Jordan Mains for the year early makes the Pioneers a tad mortal. Mannion is averaging 31 points a game and the better health of guard this season for Trent Brown (18 ppg) is a huge plus. Pinnacle's losses are a pair to out--of-state teams at Hoops Hall and Rancho Mirage and one in state - Mountain Pointe.
Mountain Pointe 's (12-5) 9-0 start was accentuated by its decisive win over Pinnacle (76-59) the second week of December. Since then the Pride are 3-5. They dropped three power-ranking games in a row to Brophy, Chandler and Cesar Chavez. Those turned out not to be bad losses as all three opponents are playing well and in the top-10 of the power rankings. The Pride have displayed balanced scoring with four players averaging in double figures led by Jalen Graham and Khalid Price. They sported a 2-2 record in their bracket the Torrey Pines to finish u[p December.
Perry (10-4) remains intriguing if it gets all the pieces on the floor at one time. Senior Jalen Williams and freshman Dylan Anderson were outstanding at Visit Mesa the last week of December. The Pumas are expected to have senior Kyle Patterson ready to go Tuesday when they visit Brophy. That trio have played one game together so far. Patterson reinjured his ankle (football) just before Visit Mesa and was held out of the tourney. Perry's power-ranking losses are Modesto (CA) and Chaparral.
Quick takes: There are many teams to keep watch over as January plays out - Chaparral (13-3), Chandler (12-4), Cesar Chavez (12-4), Brophy (8-8), Hamilton (9-5), Corona del Sol (10-6). Every one of them has at least a win or more against a current top-10 team in the 6A power rankings. Expect one of Skyline (12-5), Mesa (11-6) or Mountain View (8-7) to emerge from the East Valley Region to compete hard with the aforementioned schools come February.
Toughest region top to bottom -- Premier (Perry, Chandler, Hamilton, Brophy and Basha).
Not packing it in: Highland boys. The Hawks opened the season 1-10. Since then they are 5-1, including region wins over Desert Vista and Desert Ridge and share the Central Region lead with Corona at 2-0.
5A
Storming out of a small pack of contenders is Gilbert (15-1), which dropped a conference for the first time since Highland opened 25 yaers ago. The Tigers would be in the thick of things even in 6A this year. Their loss is to Pinnacle at Welcome to the Jungle. Gilbert has topped two of its rivals for 5A supremacy -- Millennium and Apollo -- in definitive fashion. The Tigers are good offensively inside and out led by point guard and fine perimeter shooters Doc Self and Brycen Long. They move the ball well and get great looks inside and out as a result. Carson Towt and Jake Ehmann man the post and there is good depth behind the starting unit. Gilbert's most recent accomplishment was winning the McClintock Holiday Shootout - downing, Basha, Arcadia, Apollo and Cesar Chavez in the process.
Ironwood (15-2) suffered its only losses in November (6A Sandra Day O'Connor and 4A Deer Valley) and brings a 14-game winning streak to the resumption of region play on Tuesday at Centennial. Ironwood plays in perhaps the most competitive 5A regions (Northwest) in boys hoops (Sunrise Mountain, Centennial, Apollo and Sunnyslope) and that serves to help more than hurt come season's end. Ironwood is led by junior guard Dominic Gonzalez and senior guard-forward Malik Smith.
Millennium (10-6) took its lumps the latter half of December. The Tigers second loss was to Gilbert (they made a late run at Gilbert before falling by 11). Millennium then participated at Visit Mesa after Christmas and came away 1-3 and begin the second half of the year on a high note even with their last game a tight loss (83-80). That was to Thomas Jefferson (NY) (the best team with a 4-0 record at Visit Mesa). Its losses to Arizona teams in addition to Gilbert are 6A Perry and Brophy. Millennium is young compared to Gilbert playing mostly sophomores and juniors. Millennium is led by soph guard Justus Jackson and soph forward DaRon Holmes, who combine for 32 points a game.
Apollo (16-1) was one of two unbeaten teams in 6A, 5A, 4A (Salpointe the other) before it dropped a 60-45 decision to Gilbert in the McClintock semis. The Hawks pretty much shredded all opposition prior to that. Coach Jacob Marin has a nice array of players from all classes led by 6-7 Emmanuel Taban (17 ppg) and Paris Woods (12.5 ppg).Taban suffered a leg injury late in the Gilbert game and did not play in the third-place game the next night against Mesa.
4A
Shadow Mountain (15-1) remains the favorite and appears to be getting better as games pile up. The Matadors loss was to Pinnacle on a buzzer-beater by Mannion. Jovan Blacksher and Jaelen House lead the way in scoring, assists and steals for the senior-dominated squad. Shadow finished December winning the Torrey Pines Invitational and began 2019 with a double-digit win over Deer Valley at Talking Stick Arena.
Deer Valley (13-5) is enjoying a solid season coming off its runner-up 5A finish to Sunnyslope last year. The returns lately haven't been so good with four of its five losses absorbed since Dec. 26. Two were to 6A Perry and Chaparral, one to Thomas Jefferson (NY) - all at Visit Mesa. The others were to 5A Apollo and a few days ago to Shadow Mtn. The Skyhawks are led by guard Johny Diaz and Brandon Savage, key contributors to last year's trip to the final. Both averaged in double figures in their four games at Visit Mesa.
Salpointe Catholic (15-1) was a surprising, nearly upset-state title team last year despite finishing with a losing record (15-16). The Lancers have matched their win total of last season and finished third in one of the brackets at the Torrey Pines Invitational where they suffered their only loss to eventual bracket runner-up Santa Fe Christian (CA). Salpointe's surprised noone this year and follows the exploits of dynamic duo -- senior forward Majok Deng and junior guard Evan Nelson. Each are averaging 18 points a game and change. Salpointe should run the table in its final 11 games
---