Chinle's Cooper Burbank is one of the top prep players in the state
January 10, 2019 by Oree Foster, AZPreps365
---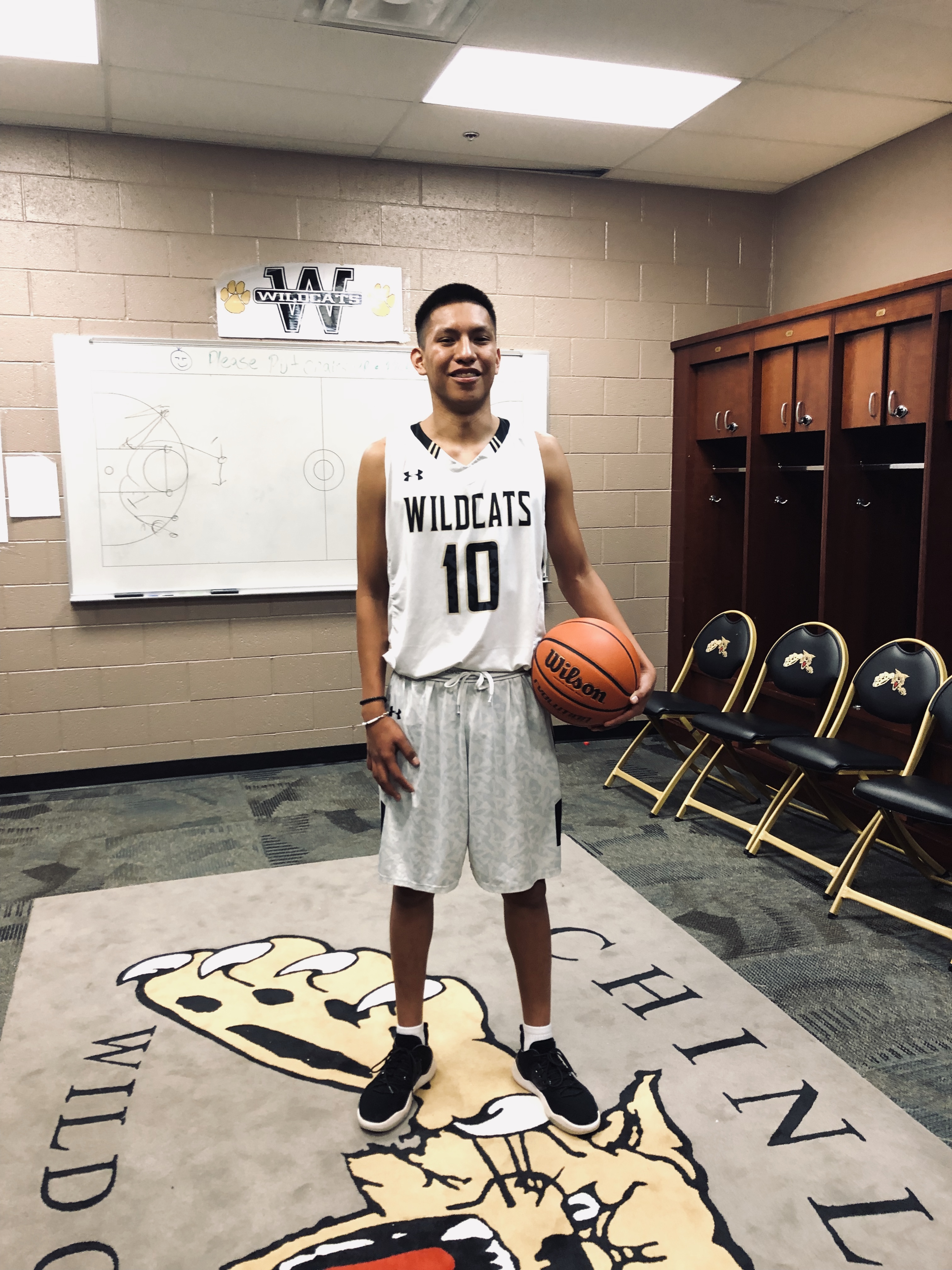 Chinle Wildcats junior guard Cooper Burbank is one of the top prep players in the state.
After completing two good seasons, Burbank has made a 'big splash' for the Wildcats this year on both sides of the basketball court. A cat-quick guard, Burbank has the speed and ability to drive to the basket with his uncanny moves.
He can pull down rebounds and start a fast break, moving quickly with the ball down the court for a layup. Burbank is assigned the opponent's top offensive player's to defend.
The 6-foot-2 Burbank is averaging 21.4 points per game, pulling down 5 rebounds per contest and handing out 5 assists, as he is instrumental in guiding Chinle to an 18-4 overall record.
Burbank is diligent and a clutch player. Whenever the Wildcats set up its offense, Burbank moves well without the ball, freeing himself for open shots or boxing out opponents for defensive rebounds and scoring on put backs. This year, Burbank's top scoring output is 27 points in a game against Blue Ridge, Tuba City and Combs.
After the Wildcats' 72-41 victory over Tuba City Warriors in a 3A North Region ball game, last week, Chinle head coach Raul Mendoza described Burbank's overall game performance as, "Monster of a Game".
"Cooper (Burbank) had a 'Monster of a Game'." Mendoza said. "Not only did he lead in scoring, but he had his first slam dunk of his career. He also had five assists in the game."
Burbank, who has been a starting guard since his freshman year, said he can play other positions when needed.
"This year as a player, I want to be able to halp my team in all areas to benefit everyone on the team," Burbank said. "I also want to improve myself as a player .... being able to lead the team consistently, keeping everyone together as a team," Burbank said.
Burbank said the team's goal is to surpass last year's semifinal finish.
"We want our team to have ourselves a good position in being successful," Burbank said.
Burbank said it's a great feeling for his teammates, head coach Raul Mendoza and himself for the start the Wildcats has turned in.
"Everyone of our players are determined in doing good this season," Burbank stated. "I feel it has been our best starts in Raul Mendoza's time here as head coach. We are confident in ourselves. We have players that can fill positions and know what to do."
During the recent Christmas holidays, Chinle competed in the White Mountain Holiday Classic, hosted by Blue Ridge High School. The Wildcats played two games in Pool Play and four games in the tournament. The Wildcats completed pool play 1-1 and tournament play 2-2.
"During the tournament, we played some tough teams and felt we can compete with the other teams," Burbank said. "We had close games and we did our best against those teams," Burbank said. "Knowing we were up with those teams, boosted more of our confidence with ourselves and the team. We now know we can improve more as a team to better ourselves. I feel we can play with anyone. We will do our best and give it all."
Burbank said he credits his teammates for being selected to the all-tournament team at the White Mountain Holiday Classic.
Burbank said his memorable game during his young career happened during the first round of the state tournament against American Leadership Academy.
"Being down by 17 points in the first quarter, kind of gave us a lost of hope," Burbank explained. "Until the second quarter, we found our identity. We were a bit smaller as well, therefore each one of us gave it all we had. We never gave up and stuck with it, earning ourselves a win.
As years past, Burbank has earned more recognition. As a freshman, Burbank was selected 3A North All-Region Honorable Menrion. As a sophomore, Burbank was selected 3A North All-Region Offensive Player of the Year. Burbank was selected 3A Second Team All-State.
Burbank said his goal is to play at the next level after his senior season next year.
"I do plan to continue pursuing basketball, but mainly focusing about now and the moment," Burbank said. "I have received a few letters from colleges, but I hope to continue to see more."
Burbank said the state 3A Division is filled with competitive teams.
"There isn't really one team to watch in 3A Division, because there is many teams to watch," Burbank stated. "But as far as this season, it could be the number one team, Valley Christian."
Burbank points out that head coach Mendoza stresses playing quality defense. Burbank said two of the Wildcats' losses were at the expense of the Blue Ridge Yellowjackets. The Wildcats split its games with Blue Ridge during the Choice Wireless Classic in Chinle. The Wildcats lost to Blue Ridge during the White Mountain Holiday Classic.
"Blue Ridge is a tough team," Burbank said. "We have played Blue Ridge three times this season and only won one game. In order to contain them, we have to play strong defense. Everyone on Blue Ridge's team is a shooter, which makes them dangerous."
Burbank said offensively, every shot has to be very selective and taking care of the ball.
"They take advantage of turnovers," Burbank stated. "Sticking to game plans is strict in order to have a chance against Blue Ridge. And yes, there could be a possibility of playing Blue Ridge in the post season."
---