Girls hoops: Resilient Perry edges Xavier Prep, 60-58
January 8, 2019 by Les Willsey, AZPreps365
---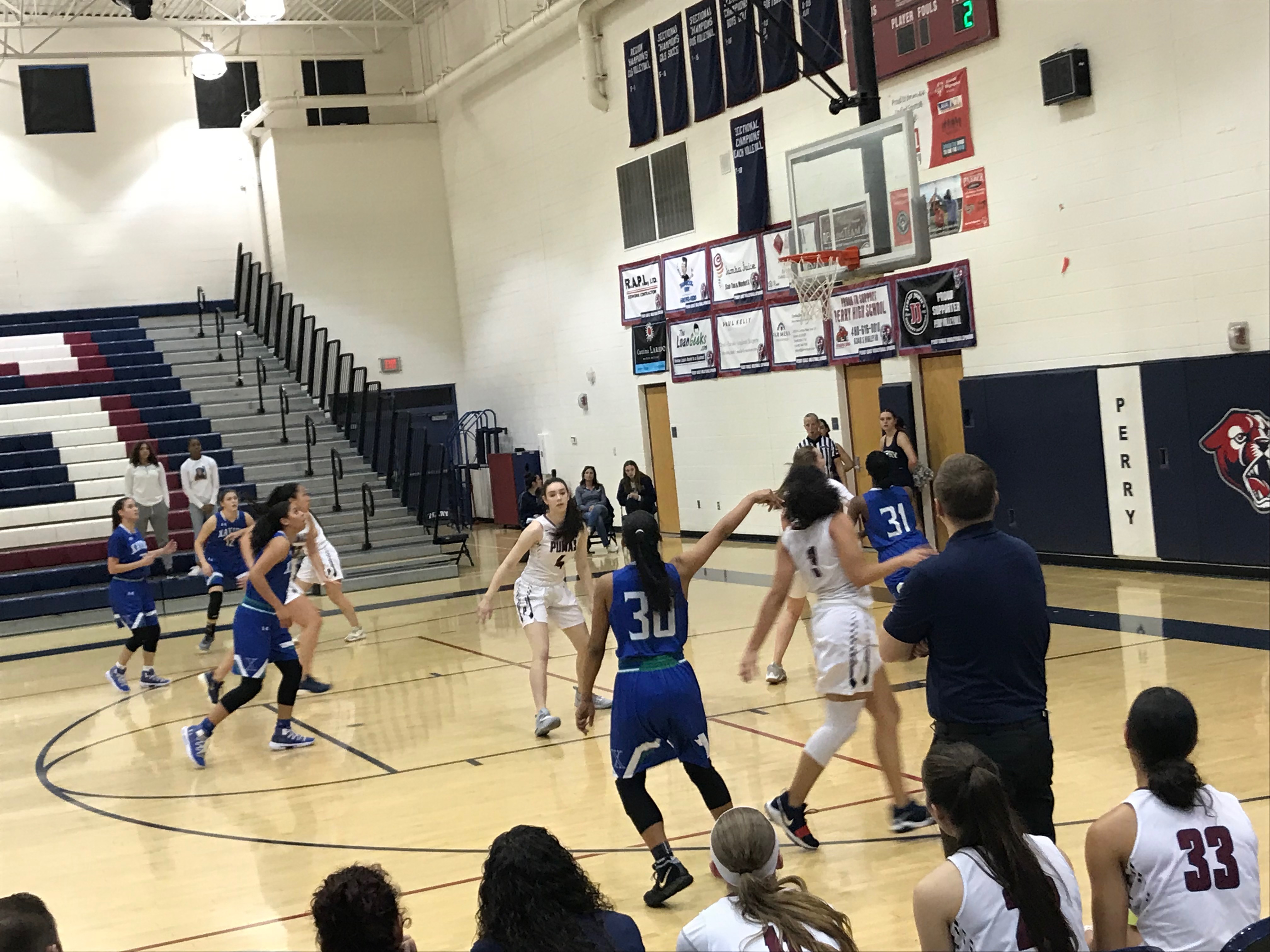 Last year Perry's girls basketball team often lacked the resolve to battle back from scoring runs or double-digit deficits. That happens with a lot of freshmen playing quality minutes. They're still young loaded with youth, but nearly all sophomores now with varsity time behind them.
The experience paid off Tuesday as No. 7 Perry's fifth different rally overtook top-ranked Xavier Prep in the final seconds in a 60-58 win at Perry High.
Xavier (14-3) suffered is first power ranking loss in 10 games. The Gators were pretty much a two-person show on offense as junior standout Leilani McIntosh netted 22 points and fellow junior Elysia Fleetwood had her most productive scoring effort of the year with another 22. McIntosh was 9 of 15 from the field and Fleetwood 8 for 12.
"Our maturity is really showing," Perry coach MIke Curtis said. "If we got down like we did tonight a few times last year, we weren't able to battle back. We've done this before this year. It's a big win."
Tatyanna Clayburne, who shared team-high scoring honors with Madison Connor with 18 points, sank two free throws with 2.7 seconds left to break a tie and give Perry its first lead since it was up 6-2 early in the opening quarter. Clayburne gathered in a loose ball after a drive to the basket by McIntosh came up empty with the game even at 58. Clayburne was fouled at Xavier's end on a reaching call that had Xavier coach Jennifer Gillom beside herself.
Perry gave up an 11-0 run in the first period that turned a 6-2 lead to a 13-6 deficit. The Pumas trailed 21-13 midway through the second and pulled within 23-20 late before Xavier bumped the lead at intermission to 28-20.
It was more of the same - close but no lead - in the third period. Xavier bolted to a 34-24 advantage three minutes into the quarter. With 1:20 left the deficit was only 39-38. A pair of threes by Xavier junior Elysia Fleetwood put Perry down six heading to the final quarter.
Then again, Xavier's Abbie Putnam's only basket of the game - a 3 - gave the Gators their largest lead at 50-39 with 6:36 to play.
Curtis called time and two minutes later his team caught Xavier at 50 on two free throws by Connor.
The fifth and final comeback started in the final 2:07 after Xavier's 7-0 run made it 57-50. McIntosh with a pair of drives to the basket and Fleetwood's fifth three of the night. Connor's second trey of he quarter reduced the lead to 58-56 with 51 seconds left. Clayburne hit a 10-footer to tie at 58 with 13 seconds left after a Xavier turnover. She followed with with the last second free throws for the win.
"Our goal was not to let the role players beat us," Curtis said. "McIntosh is a great player and Putnam is very good. We had to pick our poison and it almost beat us."
Per
---