Girls hoops: Mesquite battles back for OT win over Seton Catholic
January 11, 2019 by Les Willsey, AZPreps365
---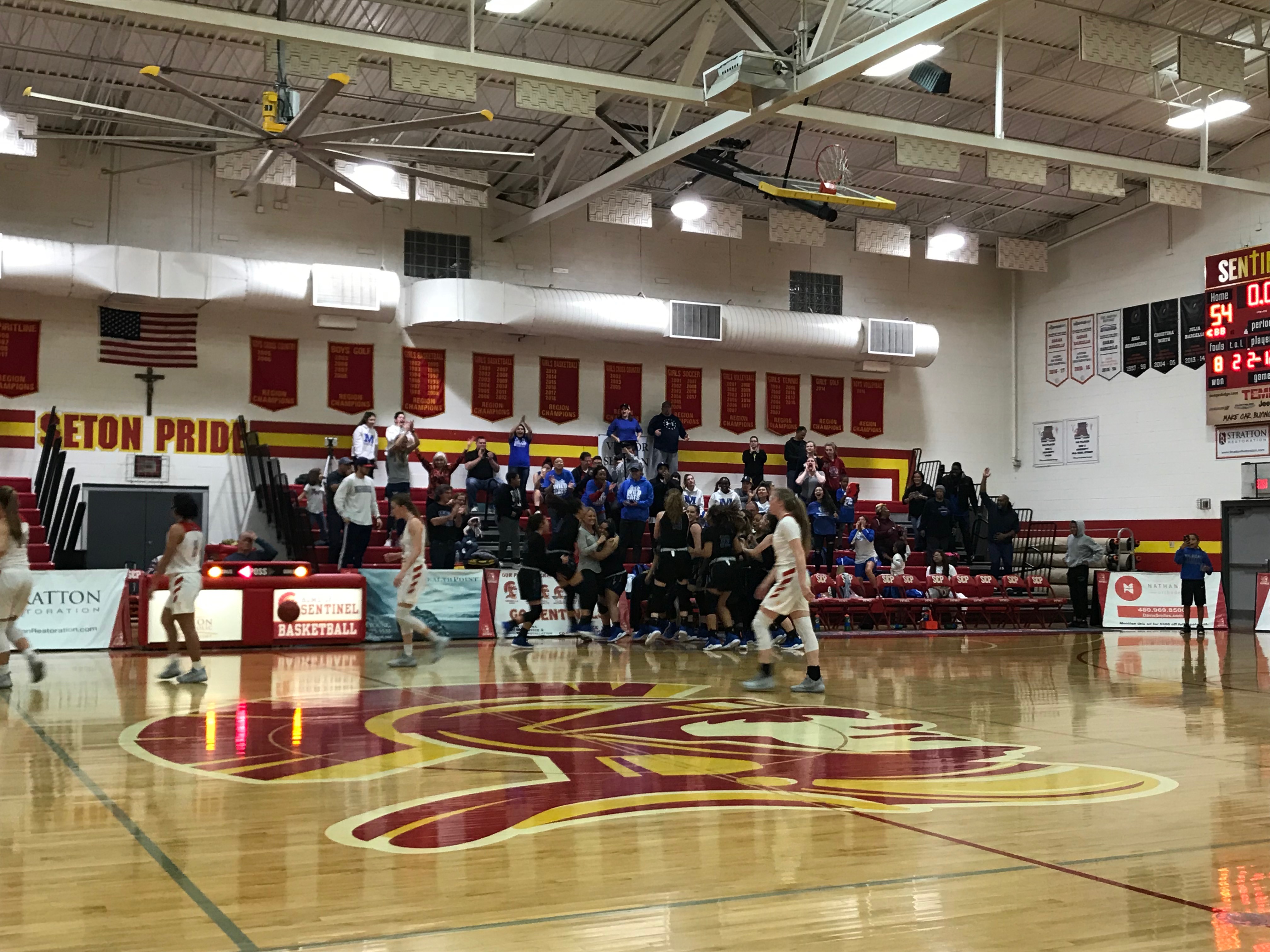 State championship appearances have been the norm for Seton Catholic and Mesquite the last two years or more. It's first things first this year as the two East Valley hoop powers compete in the same conference and region.
Mesquite managed to gradually pare down a 12-point, first-quarter deficit and finally overcame Seton, 60-54, in overtime in their 4A Desert Sky Region contest at Seton. Mesquite now shares the region lead at 3-0 with Arcadia, which also won on Friday over Saguaro. Seton is 2-1 in region.
Mesquite senior post Olivia Champion powered her way to 22 points to lead the victory along with help from veteran senior Zyan Smith who checked in with 13 points, including the go-ahead bucket in overtime. Sophomore guard Alaya Fitzgerald helped Mesquite climb back in the second quarter totaling eight points among the 16 she finished with.
But it was Champion's night that was the offensive spark in the eyes of Mesquite coach Candice Gonzales.
"We needed a big game from (Champion)," Gonzales said. "The last three weeks or so her confidence hasn't been what it should be. We need her to be a force inside."
The game was tied at the end of regulation at 51. Mesquite managed to score a pair of baskets in the final 1:50 to push for an extra four minutes. A Champion layup off a post move with 1:49 and a Maggie Herberger layup with 48 seconds left evened things.
The teams traded turnover and missed shots early in OT until Smith made a nice spin move in the lane for two that put Mesquite (12-7 overall, 10-1 in power-ranking games) up for good, 53-51. Smith added a free throw and Champion another layin boosting the margin to 56-51 with 1:01 left. Seton (13-6, 8-2 prg) managed three free throws in six attempts for its only points of the overtime. Champion added one last bucket with 36 seconds left cinching the victory.
Gonzales credited defense from the second quarter on as another key.
"I felt like when we played man we were leaving people open in the first quarter and they were hitting their shots," Gonzales said. "After that we mostly fell into zone. It made a difference and that was a big part of us winning."
Seton shot 50 percent in the first half - 60 percent (9 of 13) in the first quarter. The Sentinels were 3 of 23 in the fourth quarter and overtime combined.
Seton coach Karen Self might have been satisfied with the Sentinels play early, but overall it wasn't good enough.
"We did not compete hard enough," Self said. "That's what hurt us the most. They kept going inside for layup after layup and we kind of stood around letting it happen. We needed to compete harder."
Seton was led by freshman guard Leeaira Willis with 13 points, but Willis went down with a little over three minutes left in overtime with what appeared was a knee injury. Kendyl Thompson was also in double figures for Seton with 11 points. Amanda Barcello and Bella DiGiovanni chipped in with eight points. Di Giovanni's points were off the bench and all in the second half.
---