Rincon's Loraya Rocha breaks 1,000 career points
January 16, 2019 by Andy Morales, AZPreps365
---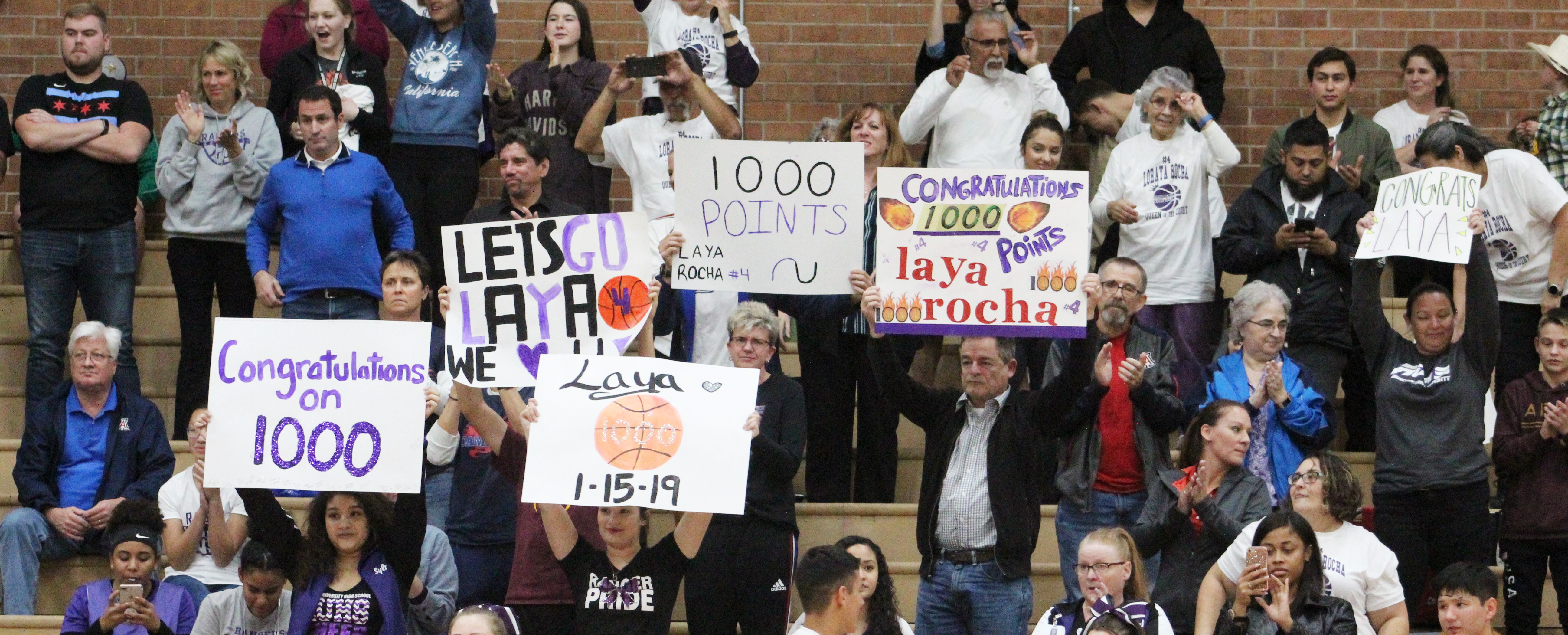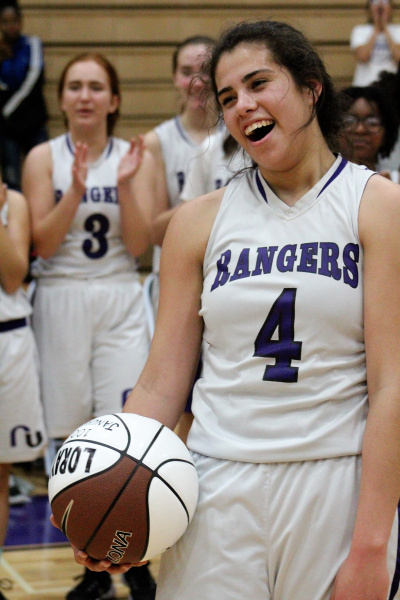 Loraya Rocha celebrates with her game ball signifying 1,000 career points (Andy Morales/AZPreps365.com)
Loraya Rocha scored 21 points to help lead Rincon/University past Desert View 63-25 Tuesday night but most of the people in the home crowd came to see her score 1,000. Rocha came into the night with 992 career points and, it took a while, but the junior standout scored on a breakaway layup with about five minutes left in the second quarter to score points 1,000 and 1,001.
"I was really nervous out there," Rocha explained. "But this means a lot. I'm very excited."
@ruhsgbasketbal Loraya Rocha points 1,000 and 1,001. #AzPreps365 @RUrangers @tus pic.twitter.com/boax6028xN

— Andy Morales (@AZPreps365Andy) January 16, 2019
Not only did Rocha reach an important individual milestone, she helped the Rangers extend their power-ranking record to 8-4 including a commanding 4-0 record in the 5A Sonoran Region. Ranked No. 10 in the 5A Conference, the Rangers are hoping to win their first region title since 2010 when the team finished 18-8 and went into the playoffs as a 5-seed but didn't make it past the first round of the 5A-II state playoffs.
Rincon shifted to the 6A Conference in 2017 and the program qualified for the play-in tournament that winter and again last year before being reconfigured back into the 5A Conference this year.
@ruhsgbasketbal @RUrangers @tucsonunified Loraya Rocha talks 1,000 and her team #AzPreps365 pic.twitter.com/nrvK93vxGR

— Andy Morales (@AndyMorales8) January 16, 2019
Desert View is ranked 36th in the 5A Conference and the Jaguars have five wins on the year, which equals the best mark in program history dating back to 2014. Sirena Jimenez scored eight points against the Rangers and Alyssia Arispuro scored five. There are only three seniors on the roster so things are looking up for the Jaguars.
The Rangers also sport three seniors, including Cienna Crawford, but the future looks bright with sophomore Edie Cotton, Maddie Greene and Kendall Jeong combining for about 29 points a game. Jeong scored 15 Tuesday night, Cotton added 10 and Greene scored seven to go along with the 21 scored by Rocha. Crawford averages nine points for the Rangers and she scored four points Tuesday night.
Rincon will host No. 21 Cholla (7-5, 3-1) Friday night and Desert View will host No. 13 Empire (8-4, 3-1) Thursday night.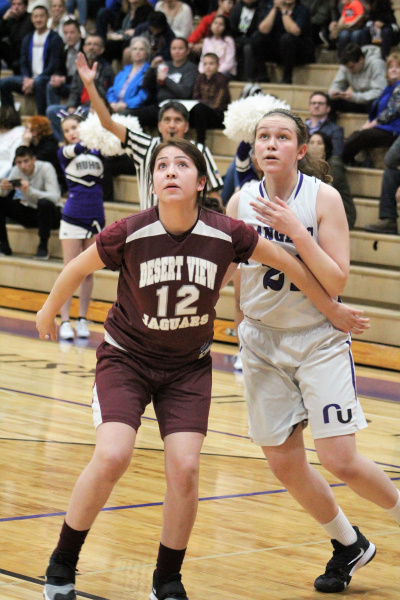 Desert View standout Sirena Jimenez battles Edie Cotton for a rebound. (Andy Morales/AZPreps365.com)
---