BJ Burries sets new Arizona Prep Career Scoring Record
January 19, 2019 by Andy Morales, AZPreps365
---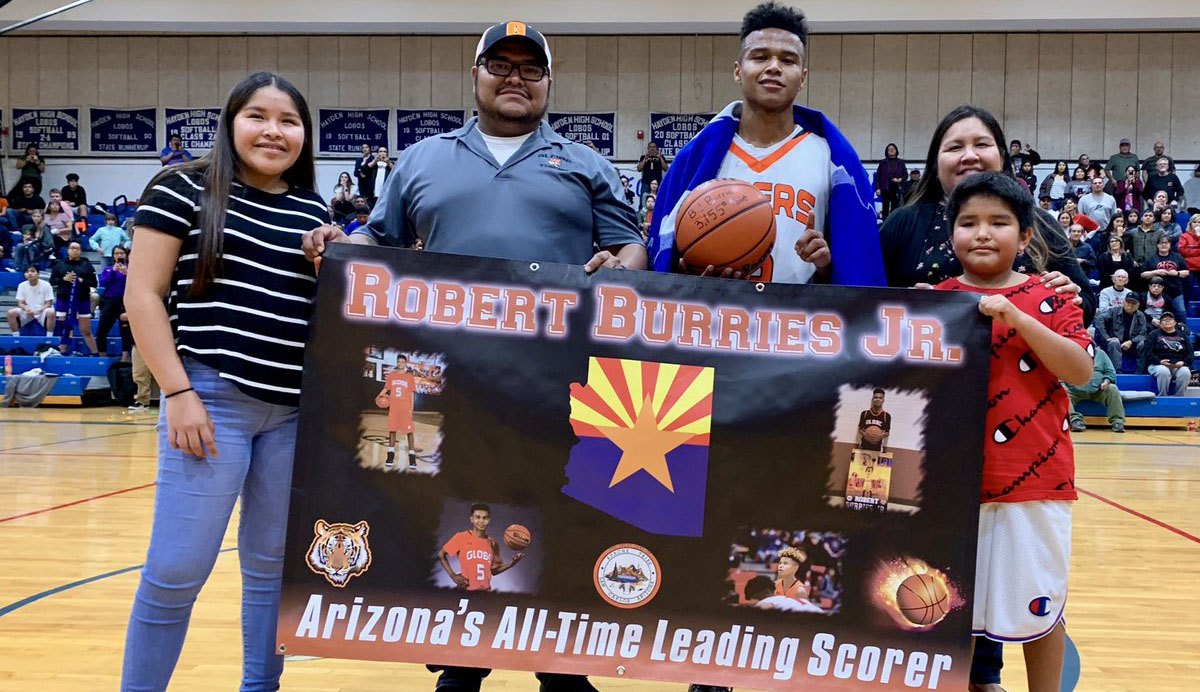 "He never talked back to me. He was always kind. He's very humble. He never talks about himself in the car after a game, it's always about how his team is getting better."
That's how Kelly Reede began to describe her son, Robert "BJ" Burries. Reede spoke so calmly and peacefully about her son, it was as if the wild celebration surrounding her was nonexistent. Her son scored 41 points to help Globe defeat St. Augustine 82-78 Friday night but those weren't like any another of the 3,171 points he has scored in his career. Not even close.
We have a new Arizona all-time scoring leader BJ Burries #azpreps365 @AZPreps365Jose pic.twitter.com/MKpzfEg7dN

— Andy Morales (@AZPreps365Andy) January 19, 2019
Burries came into the night needing 25 points to become the state's all-time leading scorer. Only three prep basketball players in the history of Arizona have ever scored more than 3,000 points and the Globe senior is one of them and he leads the list. He passed former Shadow Mountain, University of Arizona and NBA legend Mike Bibby (3.002) ten days ago and only former Estrella Foothills and ASU standout Corey Hawkins (3,154) stood in his way.
Robert "BJ" Burries. (Andy Morales/AZPreps365.com)
Bibby held the scoring record for 14 years and Hawkins gave it up to Burries Friday night after holding on to it for nine. Former Catalina Foothills and Arizona standout Julie Brase Hairgrove is fourth on the combine list with 2,913 points and she has held the girl's record for 21 years and there has never been a real challenge to her mark on that side of the ledger.
"We taught him from about age four to respect your coaches and your teammates," his mother added. "He knows nothing comes without having God first and everything he may accomplish could not happen without his coaches and his teammates helping him."
Had news of her son's pending record not become the talk of the town, it's doubtful she would have known about it because Burries certainly wasn't raised to put himself above others.
"He had a chance to play somewhere else but he made the right decision for him and he chose to stay with Globe and we are thankful for the coach and the program there."
James Simmons took the Globe position five years ago and the Tigers only had five wins in his first year but he knew help was coming.
"I saw him play on our eighth grade team and I knew we had someone special coming in," Simmons said. "He's an extension of us on the court, he's humble and he has the athletic ability to get his shot off in all kinds of defenses but he also passes the ball and he's a team player."
Globe put together a 16-win season in his freshman year and Burries came away with 694 points in that first year on the court and he followed that up with 790 points his sophomore year but it wasn't until he scored 816 points against 3A opponents in his junior year that a wider range of media members started to "discover" what many in the small-school community had already known.
"It's disappointing to hear others try to diminish what he has done by saying it's the competition but he played 3A last year and he scored against some bigger schools," Simmons added.
BJ Burries talks setting a new state scoring record incredible halftime recognition from the San Carlos Apache representatives Special night #azpreps365 @AZPreps365Jose pic.twitter.com/TABywLqhLP

— Andy Morales (@AZPreps365Andy) January 19, 2019
The small-school community is right. Burries scored 55 points against Flowing Wells, 21 against Sahuaro, 29 against Palo Verde, 42 against Casa Grande and 33 against Sahuarita in his junior season. Globe was reclassified to the 2A Conference last summer and Burries is having the best year of his career with 38 points per outing with 871 points to date. At his current rate, Burries could end his career with over 3,500 career points and that just might be untouchable.
Burries scored 17 points to help lead Globe to a 22-10 lead over St. Augustine in the first quarter and he scored his record-breaking bucket with 3 seconds left in the half to put the Tigers up 42-29. The crowd erupted and the storm began but the fans were blessed to have members of the San Carlos Apache Indian Reservation on hand and United National Indian Tribal Youth (UNITY) Executive Director Mary Kim Titla was present to recognize Burries for bringing honor to his people.
Mary Kim Titla speaks to the crowd during the celebration. (Andy Morales/AZPreps365.com)
"This is truly a blessing for my family and to our tribe," Burries said. "I didn't think all that would happen. I thought I'd just get the ball and go into the locker room."
Globe led 65-54 after three but the Wolves got hot and only trailed 73-71 with 3:14 left in the game. Thomas Reyna scored eight of his team-high 28 points in the fourth quarter, Jose Maldonado scored six of his 27 down the stretch and Aaron Palofox added six of his 12 and the game almost flipped.
Maldonado scored with 34 seconds left to cut the Globe lead down to 78-76 but Burries hit two free throws to make it 80-76 with 9 seconds left. Maldonado slammed the ball home with 2 seconds left but Burries hit two more free throws to end the game, 82-78.
Luis Trevizo added 11 for St. Augustine, Burries had his 41 to lead all scorers, Daniel Widner scored 14 for Globe and Brandon Pina added 10.
Globe is now 10-0 in the 2A South Region and St. Augustine is 8-2 with both losses coming against Globe. Globe beat St. Augustine in an epic 101-97 game on Dec. 11. Ranked No. 3, Globe will travel to No. 36 Santa Rita next Tuesday and No. 7 St. Augustine will travel to No. 47. San Miguel on the same night. The top two teams from each region will get an automatic playoff berth so both Globe and St. Augustine are pretty much a lock for the postseason.
NOTE: The game was played at Hayden High School because the gym floor at Globe has been unusable this year due to a flood.
MORE FREE PHOTOS OF THE NUGHT HERE
BJ Burries mother (top right), grandother (top left), great grandmother (bottom right) and great great grandmother (bottom left) were on hand. (Andy Morales/AZPreps365.com)
Arizona Career Scoring Leaders: Boys
1 Robert Burries, Globe (3,171) 2015-present
2 Corey Hawkins, Estrella Foothills (3,154) 2007-10
3 Mike Bibby, Shadow Mountain (3,002) 1993-96
4 Terrell Stoglin, Santa Rita (2,901) 2007-10
5 Jerryd Bayless, St. Mary's (2,888) 2004-07
6 Daniel Bejarano, North (2,642) 2007-10
7 Chuck Overton, Cholla (2,535) 1989-92
Arizona Career Scoring Leaders: Girls
1 Julie Brase, Catalina Foothills (2,913) 1994-1998
2 Kayla Pedersen, Red Mountain (2,611) 2003-2007
3 Christina Wirth, Seton Catholic (2,550) 2001-2005
4 Ashley Wirtzberger, Yuma Catholic/Gila Bend (2,505) 2006-2010
5 Alexis Cortez, Tucson (2,479) 2012-2016
6 Nicole Powell, Mountain Pointe (2,478) 1996-2000
7 Shaylee Gonzales, Mesquite (2,385) 2014-2018
8 Olivia Snyder, Green Fields (2,382) 2009-2013
9 Alyssa Wahl, Cibola (2,366) 1999-2003
10 Wendy Woudenberg, Scottsdale Christian (2,295) 2001-2005
---