Sunnyside wins Flowing Wells Invitational
January 20, 2019 by Andy Morales, AZPreps365
---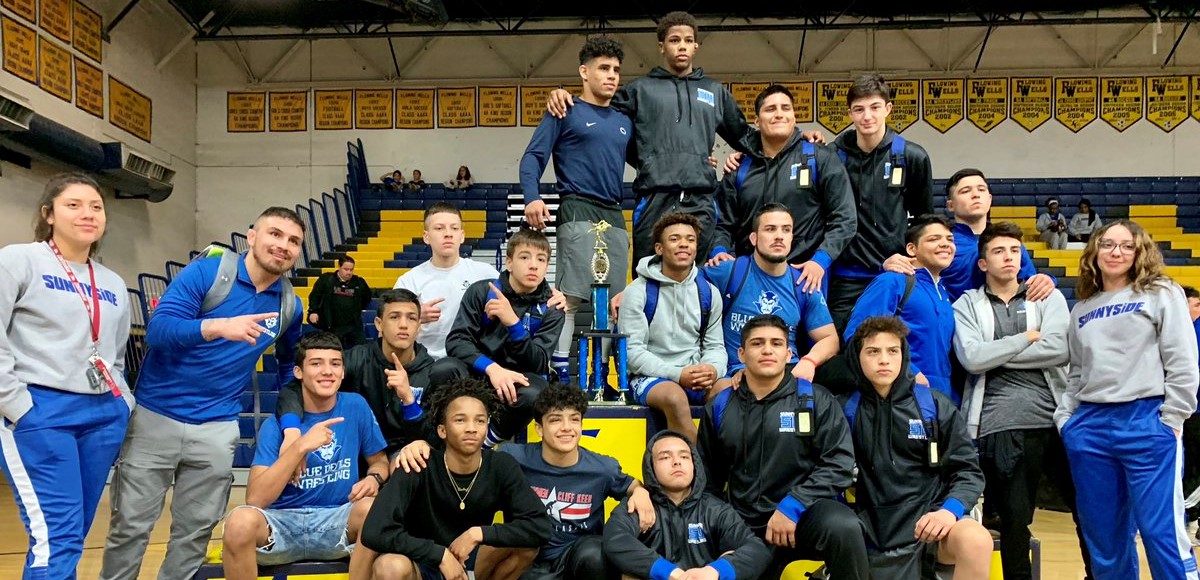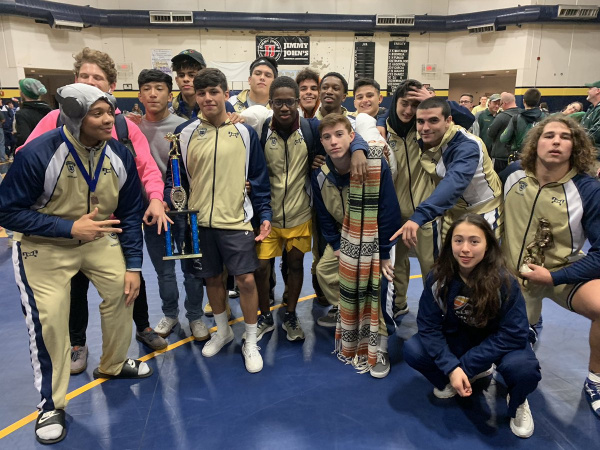 Desert Vista (Andy Morales/AZPreps365.com)
Flowing Wells Invitational
Jan. 19-20
The 53rd Flowing Wells Invitational is in the books and Sunnyside outdistanced the pack to bring home its 30th championship in the series by beating Desert Vista 270 to 220.5. Walden Grove scored 213 points to take third.
For the first time ever, girls will compete in sectional and state competition in ten weight classes and this was the first year for girls competition at the Flowing Wells Invitational as part of the initiative brought forth by the Arizona Interscholastic Association (AIA).
Karyme Martinez. Flowing Wells senior. Blazing a trail for girls in Arizona #AzPreps365 @FWCabsSports pic.twitter.com/EiPjvuaR9e

— Andy Morales (@AZPreps365Andy) January 20, 2019
Tombstone junior Jasmine Jacquay earned the first-ever Outstanding Wrestler Award on the girl's side thanks in part to her win over Marana senior Lilianna Rojel (Fall 1:24) to bring home the 145-pound championship and Walden Grove senior standout Diego Guerrero came through with a dramatic victory over Sunnyside junior Jesse Ybarra (Dec 6-4) in the 128-pound division to earn the Outstanding Wrestler award for the boys.
A three-time state champion, Guerro is now 40-2 on the year and, two-time state champion Ybarra, is 36-1.
154-pound division on the boy's side also featured a dramatic result with Sunnyside senior Anthony Echemendia defeating Safford senior Dawon Andrews (TB-1 4-2) in extra periods. Echemendia improved to 14-0 while Andrews is now 35-1 on the year. Andrews is also a three-time state champion.
In addition, Andrews and his teammate McKade Finch were both awarded $1,100 scholarships given in the name of David Nelson and Dan Penrod. The Nelson and Penrod Inspirational Scholarships are awarded every year at the Flowing Wells Invitational.
Longtime Flowing Wells coach and athletic director Pat Weber was recognized for his dedicated service to the Caballero community. Weber is retiring at the end of the school year.
@FWCabsSports athletic director Pat Weber recognition for his long and important service to the Flowing Wells community. @AZPreps365 Dean Visser on hand pic.twitter.com/PjCvXhurRt

— Andy Morales (@AZPreps365Andy) January 20, 2019
The various wrestling sectionals for girls will take place next Saturday, Jan. 26 and Flowing Wells will host the Section III tournament. The sectional tournaments for boys will take place on Feb. 2.
FREE PHOTOS OF THE INVITATIONAL ARE HERE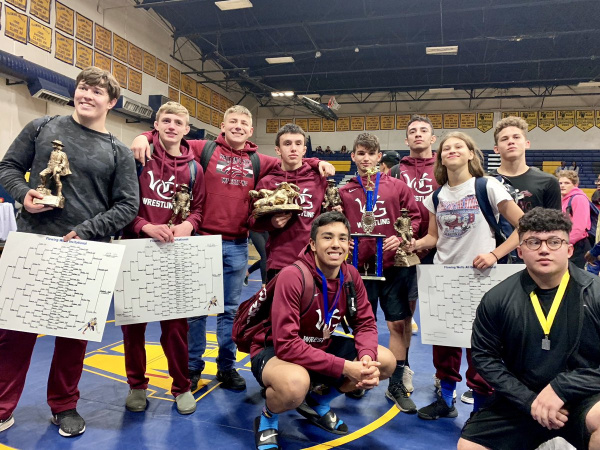 Walden Grove (Andy Morales/AZPreps365.com)
GIRLS RESULTS
101
1st Place Match
Iris Lujan (Socorro) 24-5, So. over Caylee Townsend (Camp Verde) 11-2, Fr. (Fall 3:51)
110
1st Place Match
Amelia Lewis (Walden Grove) 4-0, Jr. over Ariana Olmo (Empire) 12-6, Sr. (Dec 6-2)
118
1st Place Match
Mylei Seigla (Canyon Del Oro) 12-1, Fr. over Reyanna Robles (Pueblo) 3-1, Jr. (Fall 1:15)
125
1st Place Match
Julia Chambers (Skyline) 17-0, So. over Candice Pocase (Santa Rita) 3-1, So. (TF-1.5 2:00 (17-2))
130
1st Place Match
Carolina Moreno (Kofa) 4-0, So. over Tiffany Salahub (Mohave) 3-1, Sr. (Fall 0:42)
135
1st Place Match
Jazmine Lobato (Mohave) 7-2, Sr. over Taliyah Armstrong (Westwood) 10-6, Fr. (Fall 2:36)
145
1st Place Match
Jasmine Jacquay (Tombstone) 4-0, Jr. over Lilianna Rojel (Marana) 1-1, Sr. (Fall 1:24)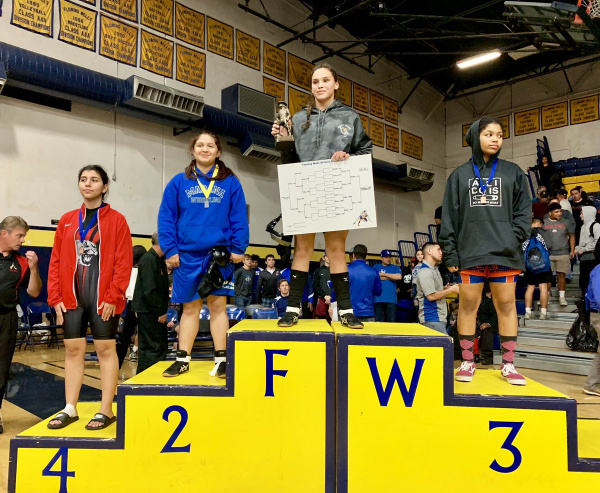 Tombstone junior Jasmine Jacquay. (Andy Morales/AZPreps365.com)
160
1st Place Match
Jennifer Curry (Hamilton) 9-0, Sr. over Sierra Chapman (Boulder Creek) 12-2, Jr. (Fall 2:37)
185
1st Place Match
Mia Didur (Centennial) 2-0, So. over Stefanie Valencia (Westwood) 10-8, . (Fall 4:31)
225
1st Place - Jazmyn Barela of Mohave (ft)
BOYS TEAM RESULTS
1.Sunnyside 270
2.Desert Vista 220.5
3.Walden Grove 213
4.Silver 183.5
5.Kofa 163
5.Safford 163
7.Boulder Creek 162
8.Ironwood Ridge 149.5
9.Canyon Del Oro 129.5
10.Cienega 123.5
11.Tucson 111
12.Hamilton 106
13.Willcox 98
14.Pueblo 95
15.Centennial 83.5
16.Gila Ridge 76
17.Marcos de Niza 67.5
18.Sahuarita 62
19.Thunderbird 59.5
20.Douglas 51.5
21.Prescott 47.5
22.Casa Grande 38
23.Catalina Foothills 30
24.Paradise Valley 25
25.Sahuaro 24
26.Flowing Wells 17
27.Sabino 15
28.Desert Mountain 14
29.Socorro 13
30.El Paso Americas 7
31.Amphitheater 4
31.Rio Rico 4
33.Santa Rita 3
34.Palo Verde 0
BOYS RESULTS
108
1st Place Match
Brendon Olsen (Silver) 20-0, Fr. over Thomas Kinnebrew (Safford) 39-6, Sr. (Fall 1:54)
115
1st Place Match
James Brown (Sunnyside) 36-1, So. over Noah Kasprowicz (Boulder Creek) 43-7, So. (Dec 6-1)
122
1st Place Match
Owen Berry (Walden Grove) 38-1, Jr. over Jaime Rivera (Sunnyside) 34-5, Fr. (Fall)
128
1st Place Match
Diego Guerrero (Walden Grove) 40-2, Sr. over Jesse Ybarra (Sunnyside) 36-1, Jr. (Dec 6-4)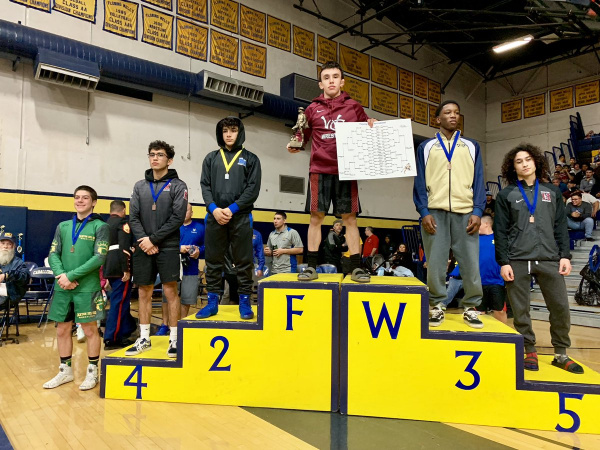 Diego Guerrero (Andy Morales/AZPreps365.com)
134
1st Place Match
Bobby Tellez (Cienega) 42-3, Sr. over Zeke Marquez (Silver) 17-1, Sr. (Dec 7-3)
140
1st Place Match
Mckade Finch (Safford) 43-1, Sr. over Roberto Santamaria (Tucson Magnet) 28-5, Sr. (Dec 7-0)
147
1st Place Match
Alfonso Martinez (Desert Vista) 34-1, Jr. over Evan Killgore (Walden Grove) 39-2, Sr. (Fall 2:58)
154
1st Place Match
Anthony Echemendia (Sunnyside) 14-0, Sr. over Dawon Andrews (Safford) 35-1, Sr. (TB-1 4-2)
162
1st Place Match
Sheldon Cole (Boulder Creek) 46-0, Sr. over Preston Cameau (Desert Vista) 30-7, Jr. (Dec 3-2)
172
1st Place Match
Robert White (Safford) 47-0, Jr. over Jose Beltran (Ironwood Ridge) 31-1, Jr. (Dec 9-2)
184
1st Place Match
Elijah Wyatt (Sunnyside) 35-3, Sr. over Charles Hindley (Pueblo Magnet) 41-5, Sr. (Dec 6-4)
197
1st Place Match
Armando Delgado (Desert Vista) 28-8, Sr. over James Soto (Sunnyside) 32-5, Sr. (SV-1 3-1)
222
1st Place Match
Jackson Edwards (Walden Grove) 39-2, Sr. over Damien Montiel (Douglas High) 4-1, Sr. (Inj. 2:51)
287
1st Place Match
Brett Johnson (Desert Vista) 35-1, Sr. over Adam Alvarenga (Walden Grove) 39-3, Sr. (Fall 1:26)
PAST TEAM CHAMPIONS
Sunnyside
1974, 1978, 1979, 1980, 1982, 1983, 1984, 1985, 1987, 1988, 1989, 1990, 1991, 1992, 1993,
1996, 1997, 1998, 1999, 2000, 2001, 2002, 2005, 2006, 2007, 2008, 2011, 2013, 2018, 2019
Flowing Wells
1967, 1968, 1969, 1994
Canyon del Oro
1970, 1973, 1986
Sahuaro
1974, 1976, 1977
Ironwood Ridge
2012, 2016
Marcos de Niza
2003, 2004
Mesa Mountain View
2014, 2015
Palo Verde
1971
Pueblo
1975
Highland
1995
Safford
2009
Mingus
2010
Corona del Sol
2017
---