GIRLS WRESTLING: 50 athletes claim section championships
January 26, 2019 by Andy Morales, AZPreps365
---

Sectionals: Saturday, Jan. 26
280 girls took part in the first-ever sectional competition held on Saturday, Jan. 26 at five locations around the state and the 50 athletes listed below are the first high school section champions in the state of Arizona.
These 50 athletes will join the second and third place finishers to form the first class of athletes to compete for a state championship. The state tournament is slated for Friday, Feb. 8 at the Findlay Toyota Center in Prescott Valley.
Undefeated Mylei Seigla wrestling in the 118-class is going to state from Canyon del Oro. #AZPreps365 pic.twitter.com/LjJQZ1nkCy

— Andy Morales (@AZPreps365Andy) January 26, 2019
The championship schedule is as follows:
Weigh-ins: 7:30 a.m.
Round 1: 9:45 a.m.
Round 2: 11:30 a.m.
Semifinals: 3:30 p.m. (approx.)
Championship Finals and Medal Rounds: 7:30 p.m.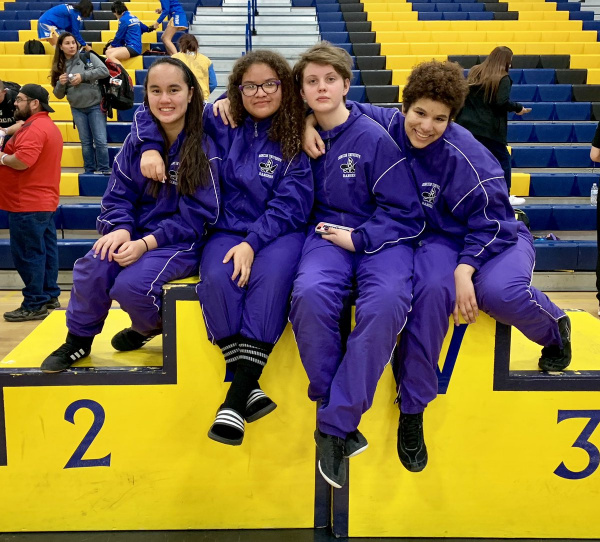 Rincon/UHS took second place in Section III. (Andy Morales/AZPreps365.com)
Sectional Team Champions
Chandler (I)
Ironwood (II)
Sunnyside (III)
Monument Valley (IV)
Mohave (V)
Sectional Individual Champions
101
Grace Wletschak of Desert Ridge (I)
Emily Porras of Ironwood (II)
Natalie Masters of Empire (III)
Caylee Townsend of Camp Verde (IV)
Lexi Borunda of Shadow Ridge (V)
110
Sierrah Thrun of Corona Del Sol (I)
Tiffany Aguirre of Maryvale (II)
Amelia Lewis of Walden Grove (III)
Jennifer Alcott of Monument Valley (IV)
Arely Carvajal of Yuma (V)
118
Stefana Jelacic of Chandler (I)
Cynthenie Tai of Washington (II)
Mylei Seigla Canyon Del Oro (III)
Shyann Dilley of Chino Valley (IV)
Genesis Higuera of Odyssy Institute (V)
125
Julia Chambers of Skyline (I)
Katherina Sotomayor of Ironwood (II)
Naliah Rosales of Marana (III)
Brooke Williams of Tuba City (IV)
Emma Gulczynski of Dysart (V)
130
Tyla Biggs of Casteel (I)
Yaniva Carrillo of Cesar Chavez (II)
Mercedes De La Rosa of Flowing Wells (III)
Sharmayne Crank of Page (IV)
Carolina Moreno of Kofa (V)
135
Taliyah Armstrong of Westwood (I)
Julia Lundberg of North Canyon (II)
Adriana Garland of Sunnyside (III)
Latasha Slim of Page (IV)
Jazmine Lobato of Mohave (V)
145
Brooke Fitzpatrick of Skyline (I)
Rylee Bruce of Moon Valley (II)
Nesa Martinez of Morenci (III)
Anjane Rose Chee of Chinle (IV)
Jessie McCurry of Deer Valley (V)
160
Jennifer Curry of Hamilton (I)
Alvina Litzin of Central (II)
Alianna Vega of Douglas (III)
Trinity Tompkins of Chino Valley (IV)
Layla Velasquez of San Pasqual (V)
185
Sofia Rubio of Marcos De Niza (I)
Mia Didur of Centennial (II)
Athiana Hernandez of Sunnyside (III)
Wagner Nikayla of Chinle (IV)
Rayna Anaya of Mohave (V)
225
Taylor Haney of Basha (I)
Lelya Powell of Central (II)
Kenya Starr of San Carlos (III)
Danni Schulz of Mingus Union (IV)
Mariana Reyes of Cibola (V)
---