Moro, state's winningest football coach, passed away
January 27, 2019 by Jose Garcia, AZPreps365
---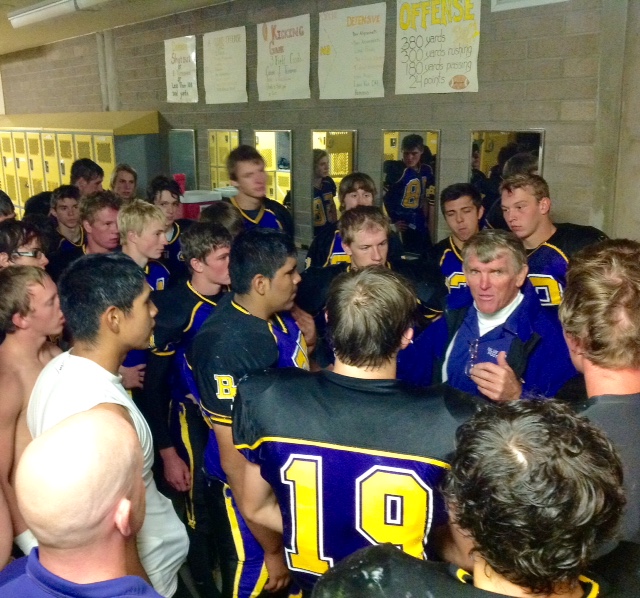 Paul Moro, Arizona's all-time winningest high school football coach, passed away Saturday afternoon.
He was 66.
Moro suffered multiple strokes and was battling cancer. Wins and championships aside, Moro's mission was to serve, and he did so admirably while impacting the lives of young men during his 30-plus seasons as a coach and educator.
Adam, Moro's son, started a Facebook page titled Paul Moro's Fight. The page, which was started in 2017, had 727 members as of Saturday night.
Just got word my high school coach passed away today. Coach Moro changed my life and many others. What a gift he was to this world. Please pray for his family. Coach was a strong believer in Christ. You finished the race Coach. Be in peace with Jesus your ultimate prize. pic.twitter.com/y5FLgPZVFM

— Jeremy Hathcock (@CoachHathcock) January 27, 2019
"This is a tremendous loss for our state," said former Arizona Interscholastic Association executive director Dr. Harold Slemmer. "Paul was one of the biggest coaching names I have seen during my 40-year span as a coach and administrator. Even as a small school coach, he's on par with anybody in the state, with such legends as Jesse Parker and Karl Kiefer. His is one of the best coaches ever if not maybe the best."
Moro made his mark at Blue Ridge High School, the first job he took after graduating from Long Beach State.
That first step started the climb to the top during his 30 years at the school, winning 319 games at Blue Ridge and propelling him to an all-time Arizona best 334 wins after stops at Poston Butte and Marcos de Niza.
He lost just 70 games.
"God had a plan," Moro told azpreps365.com after winning his 300th game in 2012. "He wanted me to coach."
His ability to relate to his players and strategizing were two of Moro's chief assets.
"Paul always had a tremendous character and work ethic," said Dr. Slemmer, who played against Moro when Dr. Slemmer was Pasadena City College and Moro attended Long Beach City College. "He wasn't a big guy, but he had a toughness about him. You knew he would be successful. To go to Blue Ridge not knowing where it was from Southern California on a whim and build that program from scratch says a lot about the man.
"What stood out about his teams were that they were extremely disciplined and made few mistakes. I thought his offensive lines always knew what to do. He had a strong running game and did it with just regular kids."
The extremely competitive Moro got the best out of his players, but his run at Blue Ridge came close to not happening.
Only two districts offered Moro a job, including the Blue Ridge Unified District, out of college. After serving four seasons as an assistant, Moro became Blue Ridge's head coach but posted sub .500 records in his first three seasons at the helm, his only losing seasons at Blue Ridge.
During his fourth season, he told his coaches he was planning to resign.
But Moro didn't quit and neither did his 1987 underdog team, which became his first state champion.
"I love to teach," Moro told azpreps365.com. "I love the high school kids."
In his final season at Blue Ridge, in 2013, he extended his state record championship collection to 13.
Moro became Arizona's winningest coach on Oct. 15, 2016 after Marcos De Niza defeated Seton Catholic 48-21.
Moro's father Adam, high school golf coach Bill Ridenour and wife of 40-plus years, Joyce, played big roles in his life. Adam, a former vice president of an aeronautical company, and Ridenour's ability to relate to others is what Moro admired the most in his two biggest role models.
Moro credited his gentle touch in the classroom to Joyce, who was always on the sideline during games keeping stats for her husband. Like those who influenced him, Moro was all class even during his final days as a coach.
When he was released as Marcos de Niza's coach in 2018, he didn't step away from the program completely.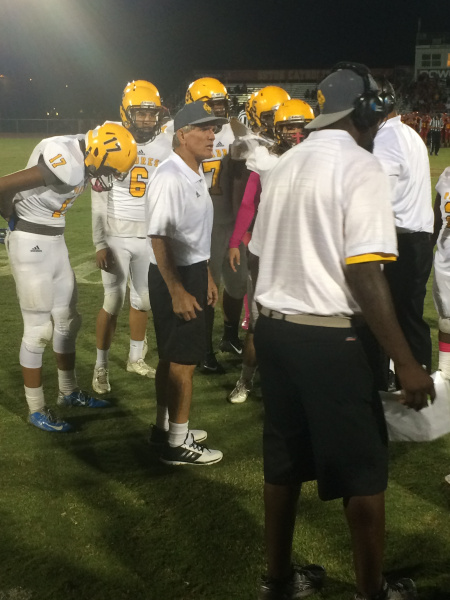 (Paul Moro became the winningest high school football coach in Arizona in 2016 when he coached at Marcos de Niza. Photo by Jose Garcia/azpreps365.com)
He decided to keep training the team during spring ball until Marcos de Niza hired a new coach.
"During your life in education, relationships are the most important thing," said Moro in 2012. "As an educator you are there to serve. Being a servant is honorable. It's a Christian principle. There is no happiness without serving."
Rest in Piece Coach Moro, thank you for all you have done for us at Marcos. You impacted alot of lives.. we all may have went our separate ways as life moved on but just thought id remind all of you , that we will forever be a band of brothers. I love you all♥️ pic.twitter.com/lEZcgWc6Yw

— Ruben Sifuentes👑 (@_King_Kunta55) January 27, 2019
The Gilbert Tiger Football Family Would Like To Extend Our Heart Felt Condolences To The Family of Arizona Legendary Football Coach Paul Moro. Rest In Peace Coach Moro🙏

— Coach Z (@zdawgzilla) January 27, 2019
Rest in peace Coach Moro! So much respect for what you have done for AZ High School Football and the many lives you impacted. #legend

— Coach Blueford (@BluefordMyron) January 27, 2019
RIP Coach Moro - a true legend, a man of faith who just happens to be the best Coach in Az History. Appreciated my 1 time I met him at the 2016 National Football Foundation Awards Banquet

— Dalton Mills (@sultanbaseball5) January 27, 2019
The high school sports community lost an icon today. Paul Moro, AZ's all-time winningest HSFB coach, passed away after a long battle w/ cancer. I'll never forget meeting coach in 2017. I left our interview in tears after hearing the way coach talked about his players. #12Sports https://t.co/195NcQ9Q3u

— Cameron Cox (@CamCox12) January 27, 2019
---