Girls hoops: No. 4 Pinnacle topples No. 7 Chaparral in OT
February 1, 2019 by Les Willsey, AZPreps365
---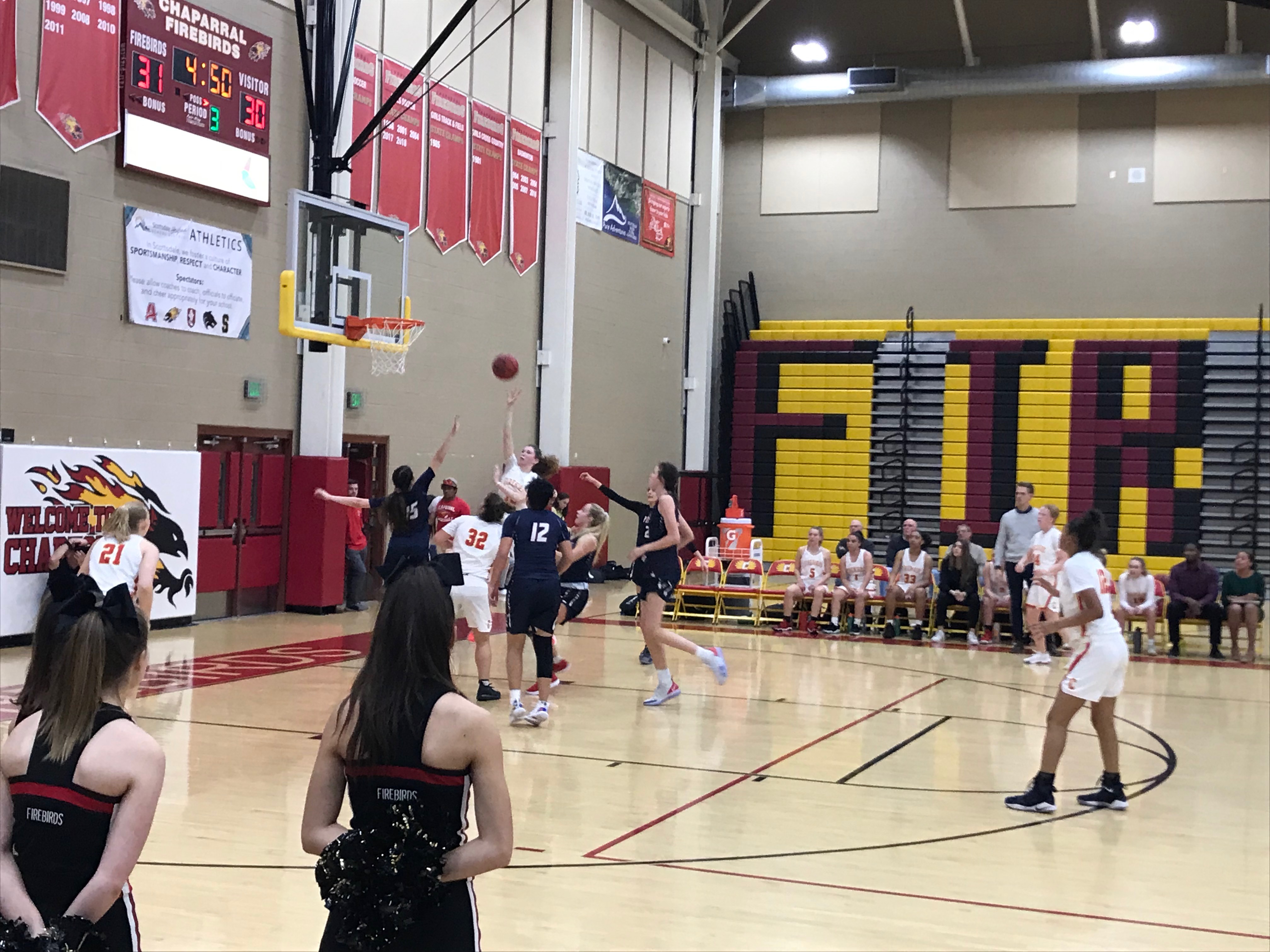 #4 Pinnacle and #7 Chaparral gave girls hoops fans a preview of what's to come when the 6A state tournament opens on Feb. 13.
There isn't much difference among the top six to eight teams in 6A. Unlike 6A boys where Pinnacle is a notch above, it's anyone's guess who raises a trophy come late February. Both these teams are part of that mix.
The Desert Valley Region rivals produced their second overtime contest in 17 days with Pinnacle turning the tables on Chaparral in the rematch with a 62-53 triumph at Chaparral. Chaparral won earlier at Pinnacle, 70-62.
What this outcome meant is the teams are deadlocked in the race for the region title at 8-1. Each has a region game left on Tuesday Feb. 5 and if they remain tied the tiebreaker for the region banner is best conference record since they split their meetings. That would go Pinnacle's way.
The finish had plenty of drama -- especially the final five-plus minutes of regulation. Pinnacle (23-3) led 44-43 with 5:41 left on a free throw by Bryn Parker. With 5:14 left Chaparral junior and leading scorer Anna Ostlie drove for a shot and landed awkwardly under the basket.
Ostlie, part of last year's 5A state title team, suffered a sprained ankle and wasn't able to return. She finished with 12 points. She tallied 40 in the OT win over Pinnacle.
With Ostlie out up stepped teammate Jess Finney, who also was a key part of last year's title team. Finney scored a pair of baskets - a two and a three - putting Chaparral in front 48-44 with 3:57 to play. Pinnacle followed with a 7-0 run to lead 51-48 with 16.9 seconds to go.
Finney tried to even the score with about 8 seconds left as a three-point try bounded off the heal. Chaparral retained possession for one final chance with 3.2 seconds left.
The Firebirds got the ball to Finney from the same spot a few seconds earlier and this one ripped the net as the buzzer sounded to force extra time. Finney finished with a game-high 28 points.
"We told the girls to foul and not let them get off a three," Pinnacle coach Rick Bunger said. "They got the last one to go. It was a bigtime shot. So here we were in overtime again."
Bunger's frown at the end of regulation turned to a smile as Pinnacle played a solid four minutes and outscored Chaparral, 11-2, in an anti-climactic OT.
Ally Stedman, who led four Pinnacle players in double figures with 20 points, scored eight of Pinnacle's points in OT making two baskets and 4 of 4 free throws. The Pioneers were 7 of 8 from the line in OT.
Teammates Shaila Mays (13), Kennedy Basham (12) and Parker (12) were the other Pioneers in double digits.
"Pinnacle is very talented and long," Chaparral coach Brian Porth said. "Our effort was good all the way. They dug deep with Anna out. Proud of how they played."
Porth said he thought Ostlie's right-ankle sprain was mild and they'd see how she does over the next few days.
"I feel good about her coming back," Porth said. "I think ice and elevation should do it. She's in good hands. Her dad's a doctor."
#7 Chaparral (16-8, 12-4, 8-0) vs. #4 Pinnacle (22-3, 14-2, 7-1)
---