Boys hoops: Mtn. View edges Corona in seesaw affair
February 8, 2019 by Les Willsey, AZPreps365
---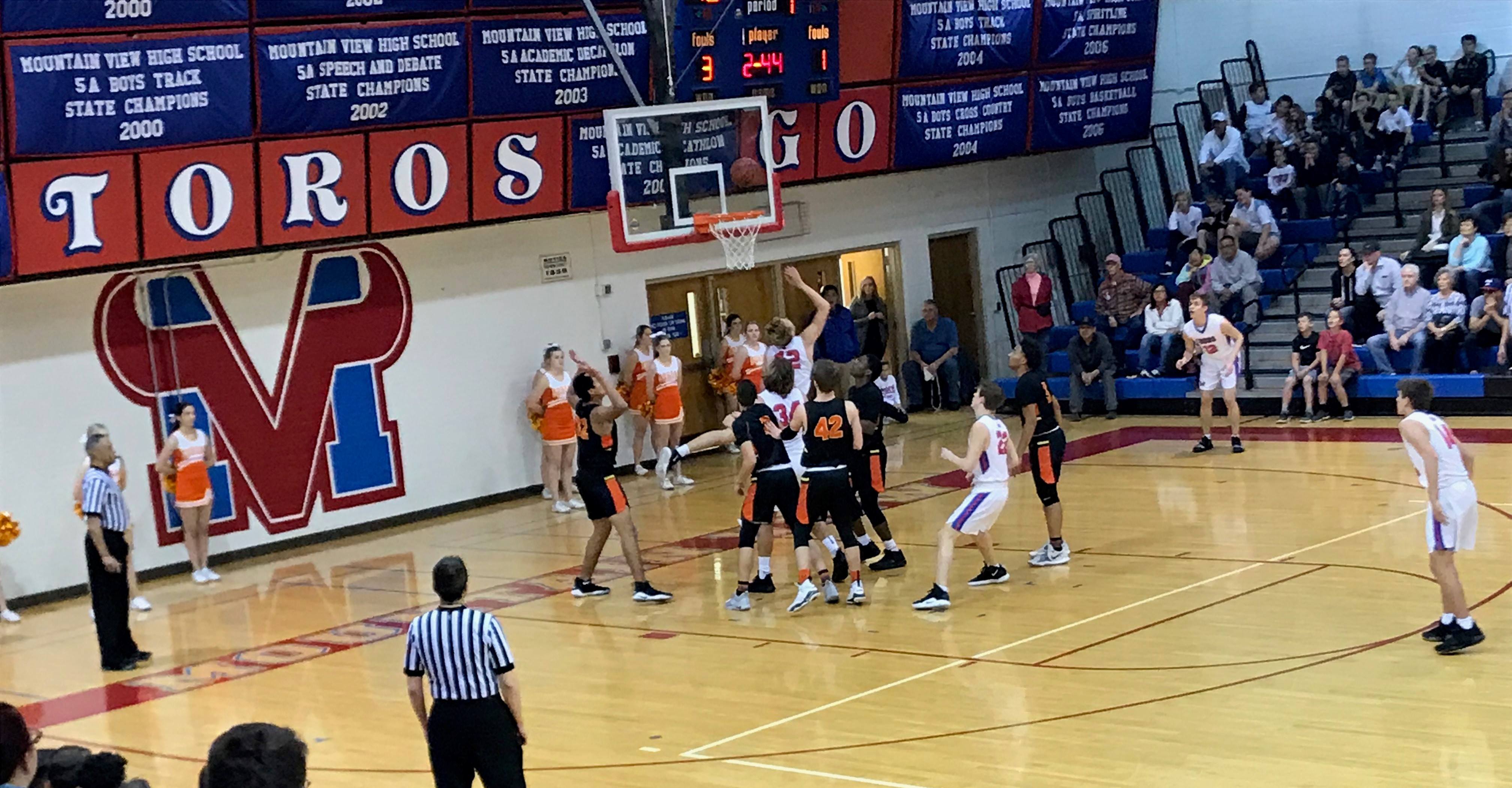 Corona del Sol coach Neil MacDonald was determined if his Aztecs fell Friday night it wouldn't be because Mountain View dominated in the paint. Corona gave up a hard-earned 15 points to Mountain View forward Preston Jones and the Toros other post presence Zach Lyons failed to score.
So how did Corona bow out? The rest of the Toros made their mark when called upon.
Point guard Jackson Reavis sank a 10-foot jumper with 25.5 seconds left for the final points and lead change giving No. 16 Mountain View a 49-48 victory over No. 17 Corona del Sol in a 6A play-in game at Toro Gym. The meeting was the second this season for the non-region rivals, the first back in December went to the Toros in triple overtime by
Mountain View (15-11) advances to the first round of the state tournament on Feb. 14 and likely will face what is sure to be No. 1 seed Pinnacle. All eight of the 6A high seeds won play-in games on Friday meaning the Toros at No. 16 should face Pinnacle. That becomes official Saturday afternoon when the state basketball tournament brackets are revealed on the basketball bracket show at 4 p.m. from Gilbert High School. Corona del Sol's season ends with a 15-12 record.
"They made one more play than we did," MacDonald said. "We didn't want them beating us inside and I thought our guys did a great job doing what we wanted. Their other kids made shots."
The game was close start to finish, but even more so the entire second half. The third and fourth quarters saw 15 lead changes and four ties. The final tie (45-45) came with 2:22 left as Corona's Anthony Irvin, who led the Aztecs with 15 points, made one of two free throws. Mountain View missed a three-point shot on its next possession and Corona took the lead by one thanks to one of two free throws by Eric Blackwell with 1:28 left.
Mountain View answered with two free throws. Guard Grant Hansen sank both ends of a one-and-one for a 47-46 edge with 1:15 to go. Back came Corona with Irvin driving hard for an easy layup and a 48-47 lead with 59 seconds to go.
Mountain View worked its final possession, primarily seeking to get the ball inside. Reavis made a move to the right baseline with the help of a screen and Corona players collapsing in the lane. Reavis saw he was open and pulled up for a 10-footer he calmly sank. Reavis tallied seven points for the night.
Corona had no particular shot in mind on the game's final possession running its motion offense. Mountain View did a good job defending penetration and the last shot from about 10-12 feet out by Keb Summers was short as time expired.
"I'm not sure how many, but we've had a whole lot of games come down to the end," Mountain View coach Gary Ernst said. "We had a few too many turnovers and that's been a problem. I tell our guys when we do that we lose too many opportunities. Preston was great tonight and has really been playing well. But other guys made some shots, too." Twelve of Mountain View's 26 games this season have been decided by five points or less.
Mountain View finished with two players besides Jones in double figures. Blake Tingey had 13 points, including three threes. Hansen added 10 with two threes in the first quarter. Corona also had two other players in double figures. Sha-vere Yarde with 11 and Blackwell with 10. Blackwell set a single-season record for most threes (68). It broke the old mark of 67 held by Casey Benson.
---