Girls soccer: Hamilton tops Shadow Ridge, 4-1
February 9, 2019 by Les Willsey, AZPreps365
---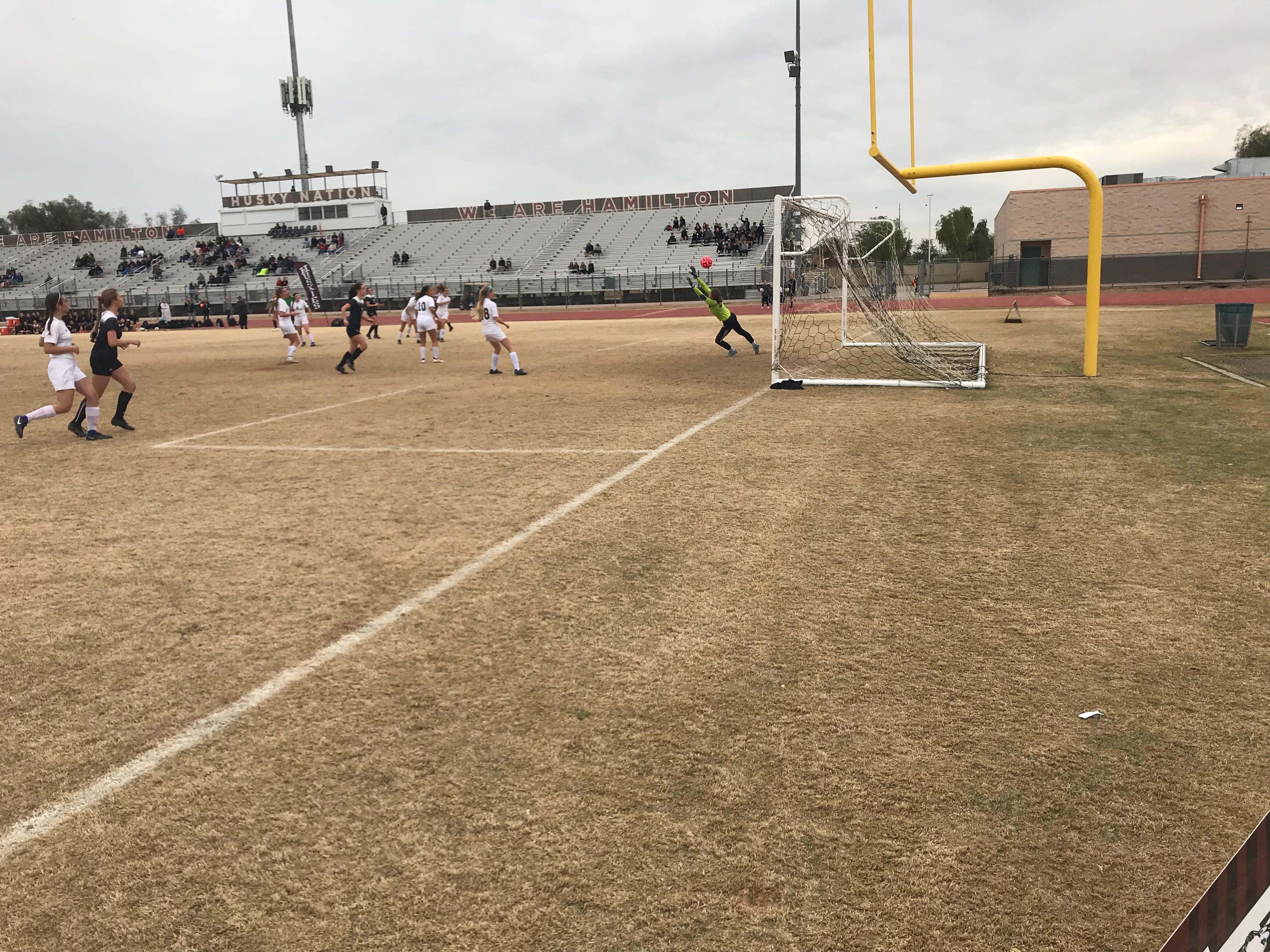 Shadow Ridge girls soccer coach John Gray was quite content with his team's scoreless tie with Hamilton at halftime Saturday of their 6A first-round playoff match.
It even went beyond that.
"I was fine with the first 55 minutes," Gray said, adding the additonal 15 minutes of the second half that still had the match scoreless. "Then it got away from us. We started leaving people open, and they made us pay."
Yes it did. No. 4 Hamilton scored four times in a 15-minute span of the second half and defeated No. 13 Shadow Ridge, 4-1, at Hamilton High.
Hamilton improved to 12-5-2 and advances to the quarterfinals on Wednesday Feb. 13 for a home match against No. 12 Desert Ridge. Desert Ridge upended No. 5 Mountain View, 6-1. Shadow Ridge finished its first year in 6A with a solid 18-4 record, its best ever in its nearly decade-long history.
Hamilton, which outshot Shadow Ridge 12-1 in the opening half, broke through with the first goal in the 56th minute. Hamilton senior Kaitlyn Giordano got an open look from about 25 yards out and whistled a winner past Shadow Ridge keeper Hannah Redwood.
The goals piled up with tallies coming in the 61st minute by the Huskies' Brooklyn Villapudua, Nyah Bonchonsky in the 67th minute and finally Mia Zubiate in the 70th minute. Shadow Ridge was on the defensive pretty much throughout. It was mix of perhaps fatigue or Hamilton's non-stop possession that ultimately felled the Stallions.
"Even though we didn't score in the first half, we stuck to our game plan," Hamilton coach Eddie Hertsenberg said. "We got a lot of shots off and they kept coming. As the game went on the shots kept getting better. We had chances in the first half and when you come up empty it can be easy to put your head down. We just kept working."
Shadow Ridge avoided the shutout as senior midfielder Rachel Young, headed to McNeese State, tallied in the game's final minute. It was Young's 21st goal of the season.
---