Millennium baseball: 2019 season preview
February 9, 2019 by Zakk Brog, Arizona State University
---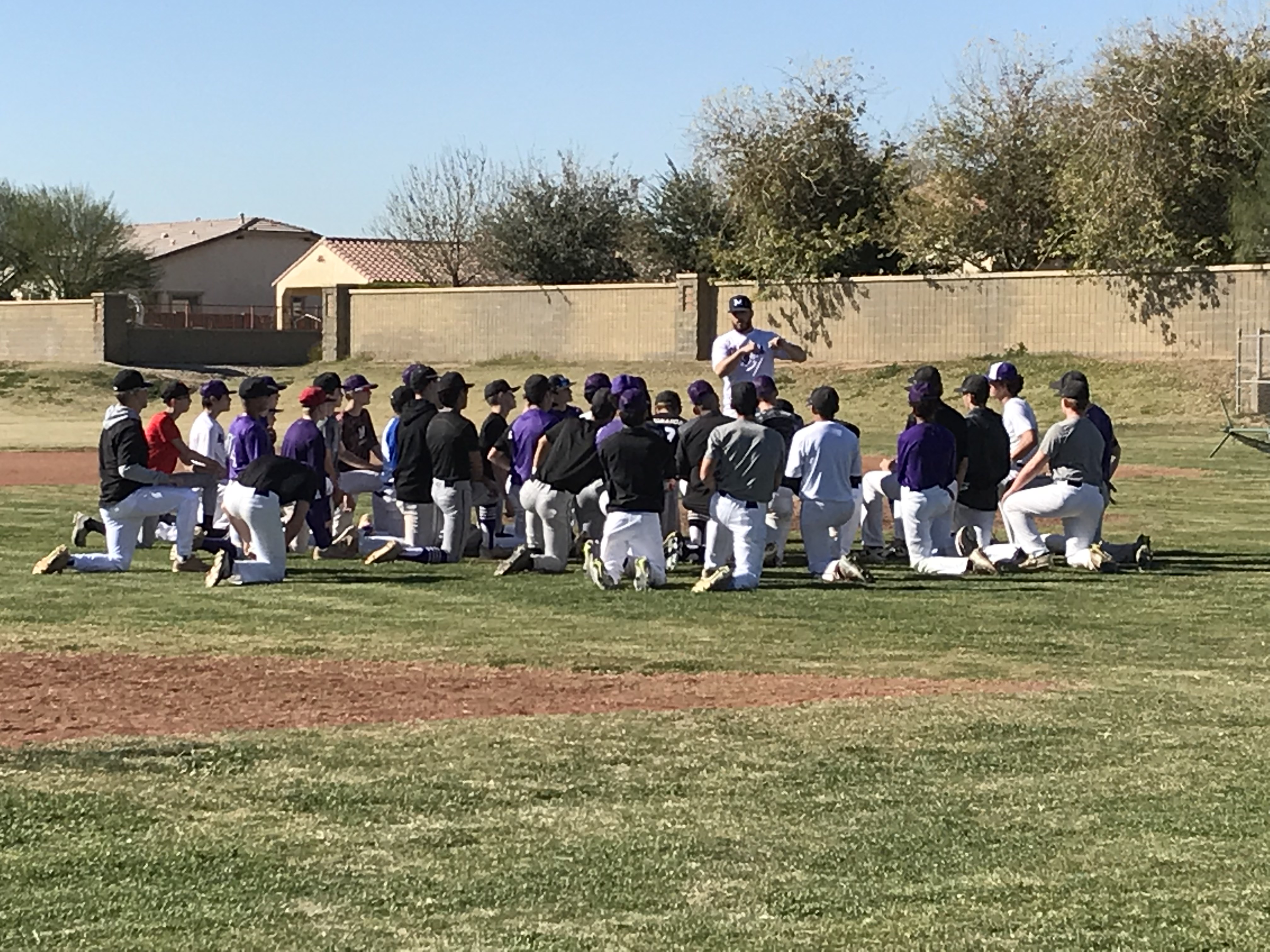 GOODYEAR, AZ – Heading into the 2019 season, the baseball program at Millennium High School looks to build off a successful 2018.
The Tigers finished in first place in the 6A Southwest Division with a 9-1 record and were ranked 36th in the state. The team hopes to carry over that success into its new division, 5A Desert West within Conference 5A, where they will be competing against schools such as Verrado and Agua Fria.
"I think we're right where we need to be right now," coach Jerod Burleson said. "We'll compete at a higher level, I think."
Pitcher and center fielder Cole Tofil is confident ahead of playing new clubs.
"It's completely different competition. We haven't seen any of these teams before," Tofil said. "Coach likes to say 'faceless opponent,' so we go out there and beat whoever we need to beat."
Like Tofil, left fielder and second baseman Alex Figueroa isn't focusing too heavily on the new opposition, but instead wishes to focus on the game itself.
"It's still baseball," Figueroa said. "The game is a game. We're playing against the ball and not really another team."
While the club adjusts to its new home in Conference 5A, Burleson plans to adjust his individual coaching style. 2018 was Burleson's first season at the helm for Millennium. While he did experience a fair amount of success, he admits that he may have been too emotional at times.
"I felt like in my first year, I got frustrated. I was an emotional roller coaster during games," Burleson said. "You win some and you lose some. Staying calm and even keel helps your players do the same."
Burleson has set his main goals for this upcoming season, including one that goes beyond this spring: "Obviously, win our sectional. I think that everybody's main goal is, you know, win your sectional. Long-term goal? I want all our seniors to play at the next level, if they choose. I want to see them all go to college. I'm hoping to instill the love of baseball into every one of them as I acquired and hope that they can use it to further their education."
Burleson feels strongly that any spectators that come to games should take each player seriously.
"All of them. Anybody in the lineup," he said. "Anybody who steps on that field. In my opinion, we're a high-caliber program. We don't have anybody on our roster who couldn't play at the next level."
His players have also set goals for themselves as well.
"Every team wants to win state," Figueroa said. "That's just the way it is. We like to practice as if we're holding each other accountable to be able to get to that position. Long term? We just want to be able to grow together, you know, keep in contact. Obbiously, grow together as ballplayers and as people."
The Millennium Tigers open their season at home against the Centennial Coyotes on Tuesday, Feb. 26th at 3:45 p.m.
---