Wrestling: Sunnyside wins 32nd title; Liberty wins in D-I
February 9, 2019 by Andy Morales, AZPreps365
---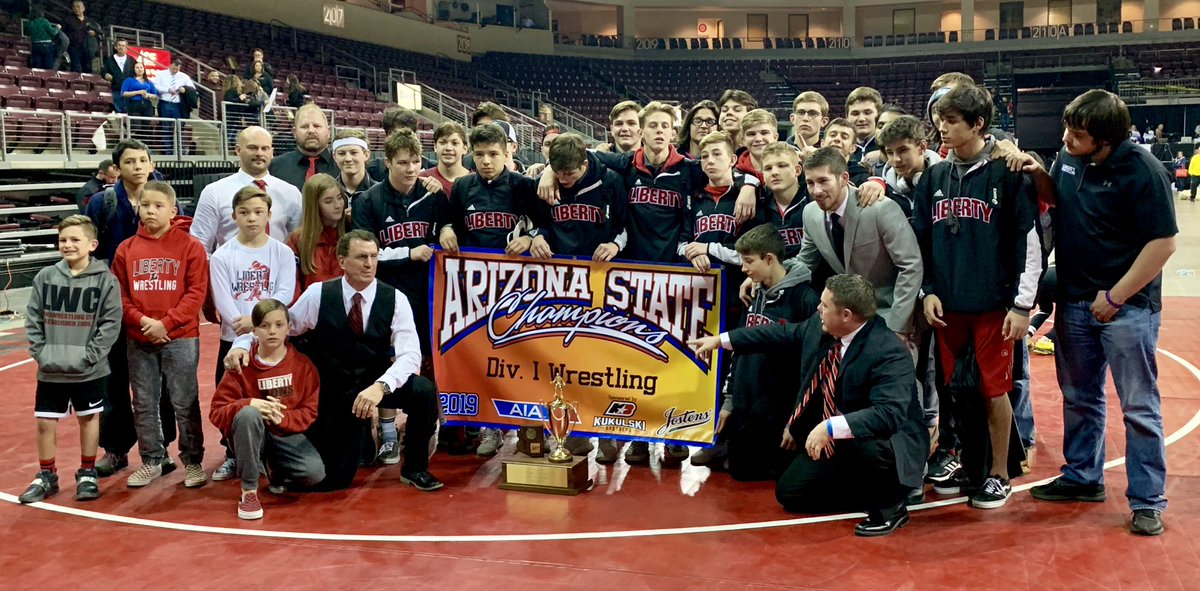 (Visit Paynterpics.com on Wednesday for all action shots)
Liberty beat Desert Vista 181 to 158 to claim the Division I championship Saturday in Prescott Valley and Sunnyside beat Mountain View Marana 241- 127 to win the D-II team title and, along the way, the Blue Devils came close to setting a few scoring records and the Lions proved they belonged with the big boys.
Sunnyside won the D-I title last year and Liberty took second in D-II competition but both teams found themselves switched after their division placements were reclassified over the summer. The move to D-II may have played a small role the margin of victory for the Blue Devils but that is unlikely since the squad sent 13 to state to compete in the 14 weight classes, as did Liberty. Sure, things may have been a bit tighter, but a loaded team is hard to beat.
The 241 points scored by the Blue Devils is the most scored by a big school since Mingus Union scored 243.5 points in 2008 and the 114-point margin of victory is the sixth most ever with Camp Verde beating Benson by 157 in 2007, Sunnyside beating Mesa Mountain View by 131.5 points in 1984, Sunnyside beating Mesa by 127 points in 1983, Mingus Union beating Buckeye by 125.5 in 2007 and Safford beating Payson by 114.5 in 2010.
But through it all, it was the 32nd state championship in program history.
"We expected to get better each time out and I will remember the adversity and all the injuries and issues our kids had to overcome this year," said head coach Anthony Leon. "You say this was a dominant performance but my heart goes out to the guys who didn't get what they wanted this year. You make a team by individual success and what they can do as individuals but not everyone reached the level they wanted to."
Of the 13 Blue Devils who qualified for state, 10 made it to the final six, eight battled in the championship round and five won gold medals.
Mountain View Marana standout Marcus Castillo (58-0) won the gold in the 132-pound class to finish his career with three straight championships.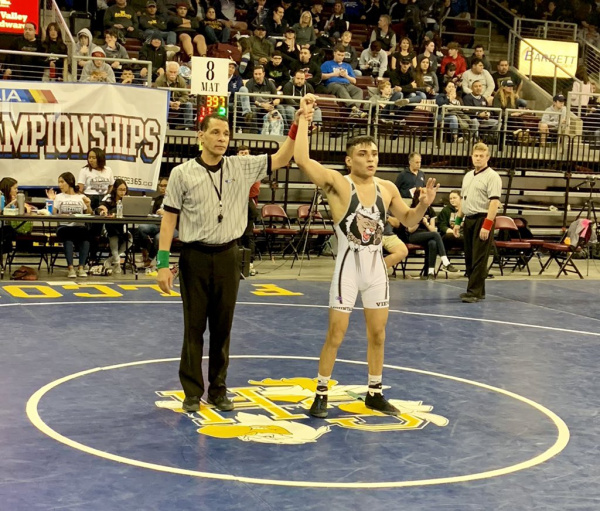 (Marcus Castillo/Andy Morales/AllSportsTucson.com)
Queen Creek won the D-II title last year over Liberty but the Bulldogs took 11th this year with senior standout Denen Fernandez (45-1) winning his third straight championship.
Queen Creek Denen Fernandez talks three in a row #AZPreps365 pic.twitter.com/fz370Y5bLV

— Andy Morales (@AZPreps365Andy) February 10, 2019
Liberty won its second title in program history with the first coming in 2016 under head coach Eric Brenton. As mentioned before, the Lions brought 13 wrestlers to state with 11 making to the final six and three making it to the finals. Even without an individual champion, the Lions all pulled together for a common goal.
"The leadership on this team is the difference," Brenton said. "They stated a goal at the beginning of the year and today proved it took everybody to make it come true. Moving to Division I was not a concern because we knew we had to wrestle to best teams and we do that during the season. Our team didn't skip a beat."
Desert Vista pulled through with four individual titles but the numbers just weren't there as a team to stop Liberty.
D-I Team Scores
1 Liberty 181.0
2 Desert Vista 158.0
3 Mountain View Mesa 130.0
4 Hamilton 104.5
5 Chandler 100.0
6 Cibola 95.0
7 Cesar Chavez 91.0
8 Basha 86.0
9 Boulder Creek 75.5
10 Kofa 70.5
11 Queen Creek 64.0
12 Mesa 62.0
12 Perry 62.0
14 Corona Del Sol 57.0
15 Westwood 50.0
16 Red Mountain 49.0
17 Tucson 41.0
18 Sandra Day O`Connor 34.5
19 Brophy Prep 32.0
20 Mountain Pointe 25.0
21 Valley Vista 24.5
22 Highland 24.0
23 Desert Ridge 23.0
23 Skyline 23.0
25 Pinnacle 22.0
26 Mountain Ridge 14.0
27 Chaparral 13.0
27 Copper Canyon 13.0
29 San Luis 12.0
30 Dobson 4.0
30 La Joya Community 4.0
32 Trevor G. Browne 3.0
33 Shadow Ridge 2.0
34 Alhambra 1.0
35 North 0.0
35 Westview 0.0
DIVISION I INDIVIDUAL RESULTS
D1-106
1st Place Match
Charles Boyle (Westwood) 38-2, Sr. over Zander Phaturos (Liberty) 44-6, Fr. (SV-1 8-6)
3rd Place Match
Cesar Avelar (Brophy Prep) 47-9, Fr. over Demarko Gomez (Cibola) 33-10, Fr. (Dec 6-0)
5th Place Match
John Jarman (Mesa) 51-7, So. over Janthony Vega (San Luis) 17-8, So. (Fall 0:40)
D1-113
1st Place Match
Zach Espalin (Chandler) 37-2, So. over Carson Coy (Liberty) 40-4, Fr. (Dec 6-3)
3rd Place Match
Juan Sierra (Cibola) 36-4, So. over Hunter Richards (Mountain View Mesa) 47-9, Sr. (Fall 4:13)
5th Place Match
Michael Llamas (Copper Canyon) 43-8, Sr. over Anthony Gonzales (Corona Del Sol) 43-9, Jr. (Dec 7-6)
D1-120
1st Place Match
Andres Avelar (Cesar Chavez) 20-1, Jr. over Zack Kvavle (Corona Del Sol) 46-4, Sr. (Fall 0:22)
3rd Place Match
Jonathon Rogers (Liberty) 23-7, Fr. over Caleb Pool (Tucson) 36-7, So. (Dec 5-4)
5th Place Match
Everett Gomez (Desert Ridge) 46-11, . over Jaxon Rohde (Boulder Creek) 45-15, Jr. (Dec 2-0)
D1-126
1st Place Match
Alex J Rodriquez (Basha) 32-9, Sr. over Isaiah Valenzuela (Hamilton) 22-5, Jr. (Dec 5-4)
3rd Place Match
Tariq Hornbuckle (Desert Vista) 44-8, Sr. over Isai Alonso (Kofa) 35-10, Sr. (Dec 7-6)
5th Place Match
Tyler Sauter (Liberty) 44-12, Fr. over Bradley Basgall (Mountain View Mesa) 51-10, Sr. (SV-1 9-7)
D1-132
1st Place Match
Bowen Doolen (Mountain View Mesa) 49-3, Sr. over Jonah Muhammad (Hamilton) 40-8, So. (Fall 3:51)
3rd Place Match
Jarrett Christofferson (Boulder Creek) 51-10, Sr. over Ibrahim Saudi (Tucson) 38-11, Sr. (Fall 4:48)
5th Place Match
Andrrew Correa (Liberty) 36-10, Jr. over Mourece Ramirez (Desert Vista) 33-13, So. (Dec 3-2)
D1-138
1st Place Match
Steven Jarman (Mesa) 56-1, Sr. over Dylan Quinn (Basha) 37-12, Sr. (Dec 9-7)
3rd Place Match
Thomas Bigelow (Chandler) 31-5, Sr. over Seth Fernandez (Queen Creek) 30-5, So. (Dec 9-5)
5th Place Match
Cody Foote (Red Mountain) 37-8, Sr. over Edgar Delgado (Liberty) 32-13, Jr. (Dec 3-2)
D1-145
1st Place Match
Alfonso Martinez (Desert Vista) 43-1, Jr. over Collin McCorkle (Liberty) 45-8, So. (Dec 4-2)
3rd Place Match
Gio Meza (Cesar Chavez) 23-5, Jr. over Connor Blakeman (Red Mountain) 43-9, Jr. (MD 12-4)
5th Place Match
Daniel Rios Morales (Kofa) 34-11, Sr. over Matt Andonov (Sandra Day O`Connor) 40-12, Jr. (Dec 7-1)
D1-152
1st Place Match
Denen Fernandez (Queen Creek) 45-1, Sr. over Zeke Guerrero (Cibola) 47-5, Jr. (TB-1 5-3)
3rd Place Match
Kamyn Stonebraker (Liberty) 37-8, Jr. over Anthony Morales (Kofa) 34-15, Jr. (Dec 7-2)
5th Place Match
Ali Hansen (Mesa) 44-10, Sr. over Samuel Hernandez (Cesar Chavez) 22-6, Sr. (Dec 10-9)
D1-160
1st Place Match
Preston Cameau (Desert Vista) 40-7, Jr. over Sheldon Cole (Boulder Creek) 54-1, Sr. (Dec 4-3)
3rd Place Match
Freddy Latu (Hamilton) 43-9, Jr. over Carlos Urias (Kofa) 40-12, Sr. (Dec 7-4)
5th Place Match
Elijah Garcia (Highland) 31-8, Sr. over Gage Beaton (Liberty) 18-13, Jr. (Dec 8-4)
D1-170
1st Place Match
Justice Smith (Desert Vista) 31-5, Sr. over Roan Kelleher (Corona Del Sol) 39-8, Sr. (Dec 9-2)
3rd Place Match
Matthew Stevenson (Liberty) 42-5, Jr. over Justin Prigge (Queen Creek) 43-12, Jr. (Fall 3:09)
5th Place Match
Colin Mosbarger (Chaparral) 44-11, Sr. over Connor Boyd (Perry) 30-11, Sr. (Dec 7-4)
D1-182
1st Place Match
Joe Carey (Basha) 40-4, Sr. over Liam Hoffmeyer (Cibola) 36-10, So. (Dec 10-4)
3rd Place Match
Donovan Corn (Hamilton) 44-2, Sr. over Makai Obregon (Valley Vista) 36-5, Jr. (MD 13-0)
5th Place Match
Thomas Derr (Brophy Prep) 42-14, Jr. over Wayne Dunn (Mountain View Mesa) 45-13, Jr. (Dec 8-1)
D1-195
1st Place Match
Jermiah Hollen (Mountain View Mesa) 48-0, Sr. over Travis Calloway (Perry) 39-2, Sr. (Fall 0:53)
3rd Place Match
Elijah Sobas (Chandler) 19-6, So. over Eric Orozco (Cesar Chavez) 23-6, Sr. (Dec 7-1)
5th Place Match
Armando Delgado (Desert Vista) 35-10, Sr. over Luke Pauga (Liberty) 21-14, Sr. (Fall 2:19)
D1-220
1st Place Match
Nathaniel Deasey (Chandler) 42-4, So. over Luke Padwe (Pinnacle) 44-3, Jr. (Dec 5-3)
3rd Place Match
David Palosika (Mountain Pointe) 54-2, Jr. over Alex Neiderhaus (Sandra Day O`Connor) 40-13, Sr. (MD 13-1)
5th Place Match
Marcos Meza (Cibola) 30-14, Jr. over Bobby Brookins (Red Mountain) 27-26, Jr. (Dec 7-3)
D1-285
1st Place Match
Brett Johnson (Desert Vista) 44-1, Sr. over Mathew Eager (Westwood) 38-3, Sr. (Inj. 2:33)
3rd Place Match
Jeremiah Katt (Mountain View Mesa) 51-3, Sr. over Justin Clatterbuck (Perry) 38-5, Sr. (Dec 2-1)
5th Place Match
Noah Barta (Skyline) 26-10, Sr. over Jacob Moore (Boulder Creek) 52-8, So. (Fall 2:59)
D-II Team Scores
1 Sunnyside 241.0
2 Mountain View Marana 127.0
3 Cienega 116.5
4 Ironwood Ridge 111.5
5 Campo Verde 101.5
6 Ironwood 95.0
7 Horizon 86.0
8 Raymond Kellis 84.0
9 Casteel 73.0
10 Williams Field 72.0
11 Apollo 59.0
11 Sunrise Mountain 59.0
13 Willow Canyon 53.0
14 Millennium 47.5
15 Higley 45.0
16 Centennial 38.0
17 Desert View 37.0
18 Buena 36.0
19 Notre Dame Prep 33.0
19 Paradise Valley 33.0
21 Cactus Shadows 30.0
22 Sierra Linda 26.0
23 Barry Goldwater 24.0
24 Maricopa 20.5
25 Independence 18.5
26 Camelback 18.0
27 Desert Mountain 12.0
28 Central 11.0
29 Carl Hayden 10.0
30 North Canyon 7.0
30 Verrado 7.0
32 Flowing Wells 5.0
33 Gilbert 4.0
34 Agua Fria 3.0
34 Empire 3.0
34 Nogales 3.0
37 Betty Fairfax 0.0
37 South Mountain 0.0
37 Sunnyslope 0.0
DIVISION II INDIVIDUAL RESULTS
D2-106
1st Place Match
Luis Pastoriza (Sierra Linda) 49-4, So. over Eathon Rider (Millennium) 57-4, Jr. (Fall 6:44)
3rd Place Match
Victor Lopez (Sunnyside) 39-11, So. over Will Effinger (Casteel) 31-14, Fr. (Dec 7-5)
5th Place Match
Joey Lopez (Paradise Valley) 24-11, Jr. over Parker Cirone (Horizon) 21-15, Fr. (Inj. 0:00)
D2-113
1st Place Match
James Brown (Sunnyside) 43-1, So. over Daunte Cartwright (Camelback) 34-2, Sr. (Fall 3:15)
3rd Place Match
Troy Ramirez (Sunrise Mountain) 39-4, Jr. over Brandon Paredes (Mountain View Marana) 52-8, So. (Dec 4-0)
5th Place Match
Jovan Garcia (Independence) 9-4, Sr. over Conner Wren (Millennium) 38-11, Jr. (MD 16-4)
D2-120
1st Place Match
Jaime Rivera (Sunnyside) 37-5, Fr. over Chris Lopez (Mountain View Marana) 34-5, So. (Dec 10-8)
3rd Place Match
Jake Dunham (Campo Verde) 30-14, So. over Kyle Ramirez (Sunrise Mountain) 34-9, Jr. (SV-1 4-2)
5th Place Match
Cole Hickey (Cienega) 32-13, So. over Sergio Ochotorena (Desert View) 43-19, Sr. (Dec 9-3)
D2-126
1st Place Match
Bobby Tellez (Cienega) 49-3, Sr. over Jesse Ybarra (Sunnyside) 40-3, Jr. (Dec 9-3)
3rd Place Match
Seth Legros (Mountain View Marana) 21-8, So. over Antonio Lopez (Desert View) 50-13, So. (Dec 4-1)
5th Place Match
Jonathan Childers (Maricopa) 35-8, Sr. over Omar Arteaga (Centennial) 25-9, Jr. (MD 8-0)
D2-132
1st Place Match
Marcus Castillo (Mountain View Marana) 58-0, Sr. over Tyler Rokop (Ironwood Ridge) 37-9, Jr. (Fall 4:31)
3rd Place Match
Nathan Smith (Williams Field) 47-6, Sr. over George Galaz (Ironwood) 37-4, Sr. (Dec 8-3)
5th Place Match
Benny Madrid (Desert Mountain) 36-9, So. over Alex Maxson (Horizon) 26-10, Sr. (Dec 9-3)
D2-138
1st Place Match
Rico Robles (Sunnyside) 23-6, Sr. over Anthony Garcia (Raymond Kellis) 37-11, Sr. (Dec 3-2)
3rd Place Match
Jared LeBaron (Ironwood) 52-5, Sr. over Tristan Danis (Willow Canyon) 46-9, Jr. (Dec 6-2)
5th Place Match
Alec Delafield (Paradise Valley) 32-12, Sr. over Jason Hill (Cienega) 40-14, Jr. (Fall 1:38)
D2-145
1st Place Match
Josh Cruz (Raymond Kellis) 46-6, Sr. over Carlo Castagnaro (Cienega) 36-5, Jr. (Dec 7-5)
3rd Place Match
Shamar Hawkins (Williams Field) 48-8, Sr. over Jacob Muniz (Cactus Shadows) 28-8, Jr. (Dec 7-5)
5th Place Match
Timothy Mayhew (Casteel) 33-13, Sr. over Harrison Easby (Mountain View Marana) 48-13, Sr. (Dec 9-5)
D2-152
1st Place Match
Anthony Echemendia (Sunnyside) 22-0, Sr. over Payton Billings (Ironwood Ridge) 41-4, Sr. (Dec 7-4)
3rd Place Match
DILLON GREENE (Sunrise Mountain) 22-11, Sr. over Phoenix Pough (Willow Canyon) 54-8, Sr. (Dec 1-0)
5th Place Match
Cole Nelson (Ironwood) 34-8, Sr. over Andrew (AJ) Valle (Casteel) 33-9, Fr. (Dec 1-0)
D2-160
1st Place Match
Scott Kellenberger (Horizon) 42-2, Sr. over Fernando Villaescusa (Sunnyside) 37-14, Fr. (Fall 3:14)
3rd Place Match
Gabe Levy (Cienega) 45-15, So. over Avery Parker (Ironwood Ridge) 34-7, Jr. (Dec 5-3)
5th Place Match
Jesse Kovacs (Apollo) 40-13, Jr. over Todd Prince (Williams Field) 39-15, So. (Fall 2:00)
D2-170
1st Place Match
Ty Ryan (Raymond Kellis) 51-4, Jr. over Jose Beltran (Ironwood Ridge) 40-3, Jr. (Dec 8-7)
3rd Place Match
Dominique Johnson (Cienega) 33-4, Sr. over Steel Jobe (Campo Verde) 26-4, Sr. (Dec 9-4)
5th Place Match
Noah Sweilem (Barry Goldwater) 37-7, Sr. over Allyn Tuey (Williams Field) 42-14, So. (Inj. 0:00)
D2-182
1st Place Match
Elijah Wyatt (Sunnyside) 42-3, Sr. over Chance Sasser (Ironwood Ridge) 38-5, Sr. (Fall 5:35)
3rd Place Match
Mason Hulme (Higley) 45-7, So. over Jeremiah Voliva (Apollo) 43-11, Sr. (Dec 13-8)
5th Place Match
Jayden Fletcher (Campo Verde) 36-9, Jr. over Abel Guillen (Central) 17-7, Sr. (Fall 4:59)
D2-195
1st Place Match
Stone Aguirre (Ironwood) 57-2, Sr. over Brock Locnikar (Notre Dame Prep) 19-1, Jr. (UTB 6-5)
3rd Place Match
Eric Purvin (Mountain View Marana) 48-8, Sr. over Diego Torres (Casteel) 41-9, Sr. (Fall 2:50)
5th Place Match
James Soto (Sunnyside) 38-8, Sr. over Dev`yon Johnson (Buena) 27-17, Sr. (Dec 10-3)
D2-220
1st Place Match
Tarik Sutkovic (Ironwood) 52-1, Sr. over James Thompson (Apollo) 48-7, Sr. (MD 11-2)
3rd Place Match
Rafael Masella (Horizon) 33-6, Jr. over Spencer Roy (Notre Dame Prep) 26-6, Jr. (Dec 6-0)
5th Place Match
Mario Lopez (Buena) 23-10, Fr. over Christopher Gomez (Ironwood Ridge) 29-14, Jr. (Fall 1:51)
D2-285
1st Place Match
Trevor Kauer (Campo Verde) 37-1, Sr. over Adrian Monveal (Sunnyside) 35-5, Sr. (TB-1 5-1)
3rd Place Match
George Roeder (Centennial) 28-9, Jr. over Jackson Solomon (Higley) 39-8, Jr. (Fall 1:36)
5th Place Match
Matthew McClure (Willow Canyon) 39-7, Sr. over Ervyn Rivuis (Desert View) 43-10, Sr. (Fall 1:20)
---