Corona game plan unravels in playoff loss to Desert Vista
February 12, 2019 by Jason Krell, Arizona State University
---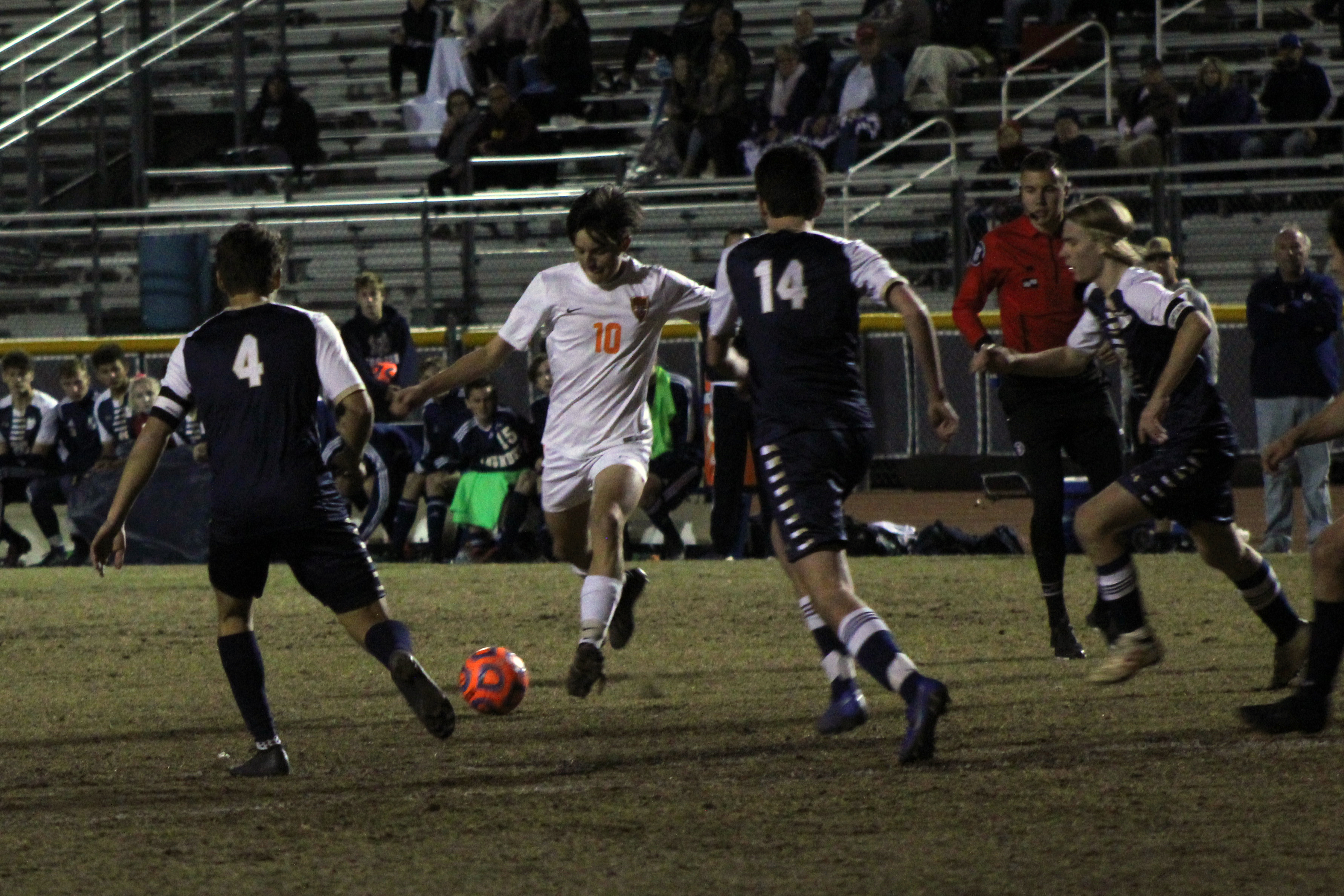 When a midfield free kick placed Corona del Sol's best defenders against a lone Desert Vista player, it didn't look like the game-defining moment. But when Jack Johnson slipped past Jacob Helm and poked in a goal in the 23rd minute, Corona was in trouble.
Corona head coach Dan Salas said allowing such a soft goal was an "inexcusable" moment that ultimately resulted in his team's 3-0 loss and cost them the chance to move onto the semifinals of the 6A boys soccer state championships.
"We had a great game plan going into it, and I felt we were on top of it," Salas said. "But you give up a goal and all of a sudden that game plan gets a little looser. We got punched in the teeth. Like [Mike] Tyson says, 'everyone has a game plan until you get punched in the mouth.'"
If the first goal was a jab in the mouth, Johnson's second goal in the 62nd minute was an uppercut square on the chin. He danced around multiple Corona players and drove the ball in at a point when the Aztecs were still keeping the pressure on.
After the game, Johnson said it was hard to decide which goal mattered more.
"The first one is obviously the more important one because it was the winning one, but the second one was a little bit special," Johnson said. "I dribbled past three players. It was probably my best goal, ever, for DV soccer."
Jakob Pongratz added Desert Vista's third goal with less than a minute remaining, but by then victory was well out of Corona's hands. Despite the score-line, DV head coach Trent Elliott said the game was much closer than it looked on paper.
"I give Corona credit," Elliott said. "If anyone watched that game, if you look at the score, that is not how the game was played. Us finishing allowed it to be a little more open than it was."
Ultimately, the ability to finish was the distinguishing quality between both teams. While Corona controlled the ball so well that players spent most of the game in Desert Vista territory, they failed, repeatedly, to convert their many attempts into actual points.
One blown moment in particular that stood out for Salas came early in the first half before Desert Vista scored. The Aztecs had maneuvered themselves into a familiar position that had earned them many goals in the past.
"There's a certain set play that we run, and we've scored probably six or seven times on it this year," Salas said. "And I don't know if it was in the moment or if the kid just didn't understand it, but he inexcusably just ran to the wrong spot and got the timing mixed up."
That play, as well as others, harkened back to a brief lapse of concentration that Salas previously described as something that often harms Corona. Despite those problems ending the team's season, Salas added that he wanted his team to walk away with a specific perspective.
"I hope the returning players reflect on this and say, "We didn't do anything wrong, we just didn't do enough right tonight,'" he said.
Salas said Corona will only lose three starters heading into the next season. One is their goalkeeper Isaiah Garay, and another is captain Danny Lopez, whom Salas described as a calming voice for the team.
Meanwhile, Desert Vista's hopes of claiming back-to-back championships are still alive. They will face off against Hamilton (18-3) at 1 p.m. Saturday at Campo Verde High School.
---