6A boys basketball quarters, girls hoops semis preview
February 19, 2019 by Les Willsey, AZPreps365
---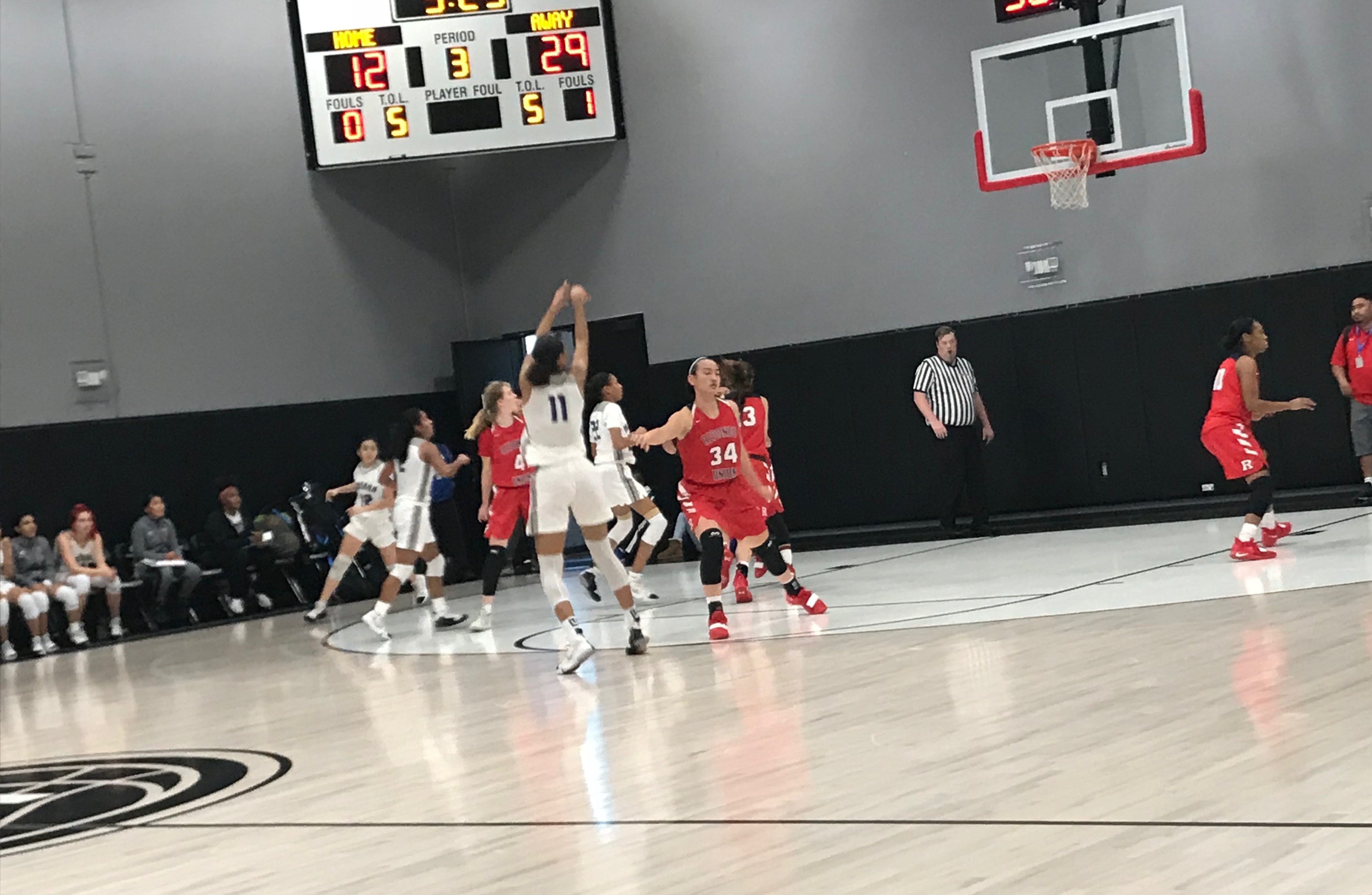 Pinnacle's boys have offered no reason why its championship desires have waned. No doubt a few will give their best shot at denying the Pioneers a repeat.
As for the girls, any of the four remaining -- Hamilton, Xavier Prep, Pinnacle and Valley Vista could emerge as champion.
Here's a capsule look at each matchup remaining in the 6A battle for hoops supremacy:
6A BOYS QUARTERFINALS (Tuesday Feb. 19)
#8 Brophy Prep (14-12) at #1 Pinnacle (24-3): Pinnacle is the defending champ and rolls with Nico Mannion (29.5 ppg) and Trent Brown (19.5 ppg). After early injuries and the transition of getting Tosh Baker in the fold from football the Pioneers are the undisputed favorite. Coach Charlie Wilde lauds Marcus Libman's defense and shooting ability and Baker becoming a force with his tough inside presence and ability to face and shoot. Pinnacle put the clamps on Mountain View in the first round leading handily throughout. Brophy got off to slow start against Desert Vista in its first round game, but finished strong with a double-digit win. Developing chemistry as the season progressed has been a key for the Broncos, who lost all starters save one. Confidence to play in close games has been a byproduct. All five starters -- Marques White, Ryan Gilburne, Joe Feeney, Arnold Dates and Basil Ribakare average between 6 and 11 points a game led by White and Gilburne (11 each). A competent bench also has helped the Broncos.
#5 Mountain Pointe (22-6) at #4 Perry: (18-9): Perry suffered through a funk in late December to mid-January lsing five of six games, but has rebounded down the stretch to win six in a row, albeit mostly tight games. The Pumas survived upset-minded Skyline in the first round. Seniors Jalen Williams and Kyle Patterson began the playoffs combining for 61 points. Williams is averaging 24 per game and can score from anywhere. Patterson averages 12 and usually does his best work inside. Mountain Pointe owns the only win by an Arizona team over Pinnacle, achieved in December. Mountain Pointe was runner-up to Pinnacle in last year's title game. The Pride have played well since the calendar turned to 2019 winning 10 of their last 11 games. Most of that record was recorded without Jalen Graham, who missed all of January. Graham has returned the last couple of games. In Graham's absence Khalid Price excelled and has been proven his ability as a leader. Four starters average in double figures (between 12 and 15 ppg) for the Pride - Graham, Price, J'Saan Strover and DeAndre Henry.
#6 Hamilton (16-8) at #3 Chandler (19-7): Meeting No. 3 for these Premier Region squads and they split -- Chandler by three in the first and Hamilton by one in the second. Both have achieved more than preseason takes supposed. Chandler is balanced team led in scoring by sophomore Carson Kelly and four seniors -- Vean Simon, Isaiah Somers, Adrian Chandler and Carl Wilson. Simon distributes and defends at high level. Somers scores from everywhere. Chandler is the vocal leader and Wilson opts to defend the opposition's top threat. Chandler drew attention when it knocked off Mountain Pointe in December and has gained recognition ever since. Hamilton has done a nice job regrouping this season. A senior-heavy lineup last year gave way to juniors with some playing time or newcomers to varsity manning the top five spots. The Huskies split Premier Region games with the other four members of the region and three (Brophy, Perry, Chandler) are still in the tournament. They've faced a tough schedule that also includes Mountain Pointe and Cesar Chavez.
#7 Cesar Chavez (24-4) at #2 Chaparral (20-7): Chaparral has been steady all season. The Firebirds haven't encountered a losing streak - no back-to-back losses. A pair of seniors and two juniors lead the way. Senior point guard Blaise Threatt has produced a strong season in his Firebird finale after missing a few games early. An intergral par of the Firebirds final four team two years ago. Senior wing Alec Bryan is long and athletic, a fine shooter and veteran of the playoff run Threatt was part of. Juniors Alem Huseinovic is a great shooter with plenty of range and leads in scoring at 15 ppg. Wing Jorden Josephs is the most athletic Firebird. Plays above the rim and finishes inside. Has 12 double-doubles. Chaparral's losses are of the quality variety (Pinnacle twice, Mountain Pointe, and Brophy Prep and an out-state-loss to New York power Jefferson. Cesar Chavez continued its run of 20-win seasons under coach Gary Lee. This year makes seven of nine this decade with 20 or more and it has won its last 12 games in a row. The Champions dominated the Metro Region as usual. Their only losses are to Mountain Pointe, Chandler, 5A top-seed Gilbert and Westview. They have victories over Mountain Pointe, Hamilton and Mesa. Cesar Chavez is led by sophomore guard TyTy Washington, who is averaging 25 ppg. Another sophomore Ricardo Sarmiento checks in at 11 ppg.
6A GIRLS SEMIFINALS (Thursday Feb. 21 at Wells Fargo Arena)
#4 Pinnacle (26-3) vs. No. 1 Hamilton (24-5) at 6 p.m.: Hamilton was pushed hard in the quarterfinals by No. 8 Mountain Pointe, escaping with a two-point win. The Huskies locked up with Pinnacle in the season opener in the Miner Webster Jamboree. Pinnacle prevailed, 66-57. Hamilton bowed out in the quarters last year, but with a deep, core of returning players from last year has proven it has the wherewithal to win it all. The Huskies are led by senior point guard Raelin Denning, a four-year varsity player. Junior shooting guard Victoria Davis leads the team in scoring with a modest 11 ppg and has been in the varsity wars for three seasons. Hamilton's depth is its greatest asset. The Huskies have wins over the other two semifinalists and eight of the top 11 teams in the final 6A power-rankings. Pinnacle has won its last nine games and its lone losses are to Xavier Prep, Chaparral and in the final of a Nike TOC bracket. The Pioneers are led by senior wing Shaila Mays, the team's assist leader and third in scoring, senior point guard-wing Bryn Parker (8 ppg, 8 rpg) sophomore point guard-wing Ally Stedman, the leading scorer (14.5 ppg) and freshman post Kennedy Basham, who is scoring and rebounding with double-digit averages, 13.3 and 10.2, respectively.
#6 Valley Vista (26-4) vs. No. 2 Xavier Prep (25-4) at 3 p.m.: Xavier Prep endured some difficulty disposing of No. 10 Chandler in the quarterfinals. The Gators would love to avenge last year's title-game loss to Valley Vista. The Gators are led by senior guard Lelani McIntosh, headed to Pepperdine next fall. McIntosh is second on the team in scoring 14.5 ppg and leads in assists. Addie Putnam (16 ppg) leads in scoring and at or near double figures in scoring are Paris Rasheed-Moore (10.5 ppg) and Elysia Fleetwood (9 ppg). All four played extensively for last year's runner-up squad. Valley Vista broke away from #3 Perry in the final minutes of the final quarter in a quarterfinal matchup. Coach Rachel Matakas has brought along a vastly young team nicely to be a contender. Four of this year's starters are new or played small roles last season. The Monsoon start no seniors. The holdover of note from last year is sophomore forward Marisa Davis averaging 16 ppg. Freshman guard Jennah Isai has emerged despite missing a big chunk in December and January due to injury. Isai averages 18 ppg. Sophomore Alanis Delgado (10 ppg) and freshman Saniyah Neverson (8 ppg) are eager to help secure a third consecutive 6A crown.
---