6A soccer semis: Three 1-goal matches, 1 shootout rule the day
February 16, 2019 by Les Willsey, AZPreps365
---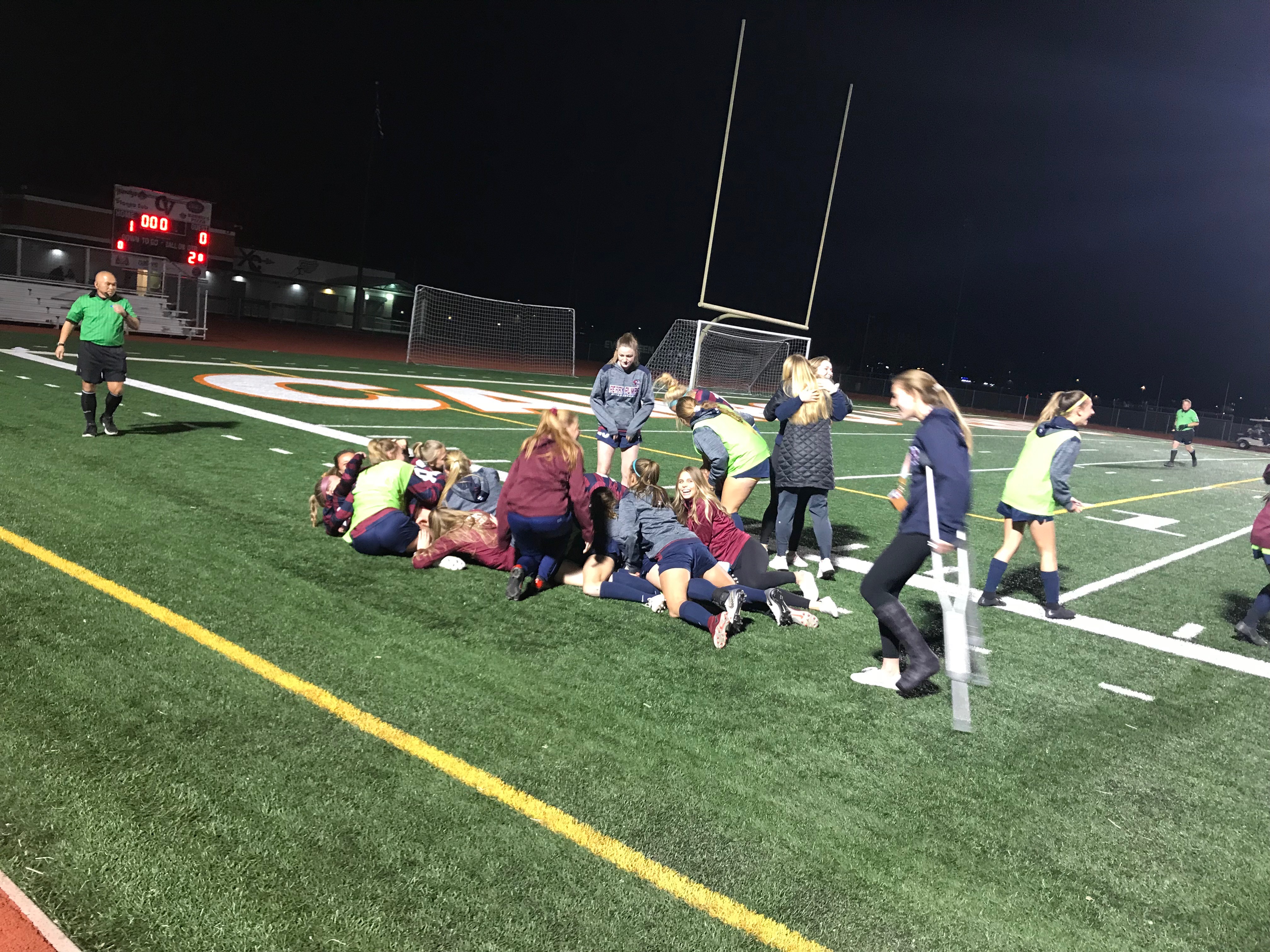 Good Golly, Miss Molly. A song recorded some 60 years ago by Little Richard was apropos for Perry's girls soccer team Saturday night.
Senior midfielder Molly Hedger deposited the only goal in the 74th minute to give No. 2 seed Perry a 1-0 victory oer No. 3 Desert Vista in the last of four boys and girls 6A semifinals at Campo Verde High School.
Perry remained unbeaten for the season at 22-0-3. The Pumas will play in their third title game in school history seeking their first victory in such games on Thursday Feb. 21 at 7:30 p.m. against No. 1 Chaparral, which edged No. 4 Hamilton in PKs earlier. Chaparral and Hamilton played to a 1-1 tie after regulation and two overtimes. The Firebirds won the shootout, 4-2. Desert Vista, which perennially makes a deep run at state, closed out the seaon 17-4-1.
Hedger, who plays off the bench, nailed the opportunity neither team could muster earlier in the contest.
Hedger dribbled one-on one with her defender from about 20 yards out until she got within 10 yards and fired a shot that nestled inside the far post. Teammates hugged her briefly after the goal, but buried her as the final horn sounded in front of their bench.
"Molly usually gets between 20 and 40 minutes a game for us," Perry coach John Roberts said. "It was the game winner. We've been a team by committee with a bunch of injuries. It shows how how a lot of people have stepped up for us."
Hedger said she didn't hesitate and was confident about her game-winning run.
"I was under high pressure, but I had to go for it," Hedger said. "I let it go left foot for the far post."
Chaparral (20-2-2), a two-time defending champion the last two years in 5A, had to battle back from a 1-0 halftime deficit in its win. Hamilton (13-6-2) scored in the 26th minute on a corner sent by Mia Zubiate and knocked home by Maddy Reuter. The Firebirds tied it in the 60th minute with Chloe Steinhilber assisting a goal by Paige Farquhar.
In the shootout, Chaparral got conversions by Sydney Merkow, Keeley Bond, Isabella Struckman and Emma Carlson. Carlson's finished the shootout. Chaparral keeper Taylor Rowe, with a knee bloodied and treated prior to the shootout, came up with one save in the shootout.
BOYS SEMIFINALS
Hamilton didn't let a red card in the final 10 minutes deter its route to the 6A boys soccer final.
Channing Chasten drilled the game-winner in the 75th minute to give the No. 3 seeded Huskies a 2-1 victory over defending champion and No. 2 Desert Vista (14-5-2) in the second semifinal of the day at Campo Verde.
Chasten raced down the right side line beating his defender and finding the far post giving Desert Vista keeper Aleks Herrmann no chance.
Hamilton (19-3) protected a 1-0 lead from midway through the first half until the 68th minute. That's when Desert Vista's Johnathan Munoz found the back of the net to tie the match.
Two minutes later Hamilton's Jonas Votaw was rissued a red card for what was ruled a tackle outside the pitch. If it fazed Hamilton it was only momentary as Chasten and his teammates remained aggressive despite being a man down.
"It goes back to roles and responsibilities no matter the situation," Hamilton coach Lance Thompson said. "I've told Chasten all year he's going to score some big goals when we need it most. He did today."
BROPHY 1, CHAPARRAL 0: The top-seeded Broncos (18-3-2) will make a return trip to the 6A final with a goal in the game's ninth minute determining the outcome over the No. 4 Firebirds (12-3-2) in the semifinal opener at Campo Verde.
Brophy's Charlie Cobb came got behind three defenders on a quiclk throw-in and softly flipped a shot over the top of Chaparral keeper Jacob Mandelbaum from 10 yards out.
---