Quick extra time strike secures Northwest Christian's first girls soccer title
February 17, 2019 by Seth Polansky, AZPreps365
---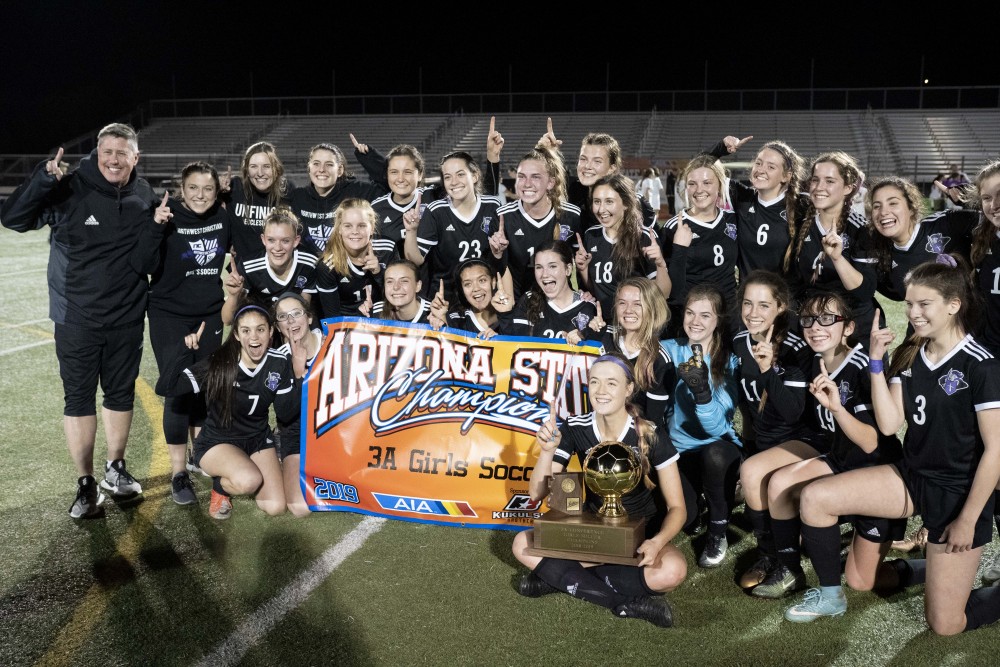 By Richard Smith, Special to AZPreps365.com
Smith is the publisher of West Valley Preps and is a regular contributor to the AIA's Friday night football coverage.
GILBERT - Following 80 uneven minutes of regulation, Northwest Christian needed to try something different in extra time.
Surprisingly, though it was the players - not the coaching staff - that called this audible. In a mere 11 seconds of overtime in the 3A girls soccer title game their play worked.
Freshman midfielder Makenzi Wisely took the kick off and hit a through ball to sprinting senior defender Logan Maszton who blasted a low shot into the net for a 1-0 lead against Anthem Prep.
"They said, 'Logan, you're going to line up on the right and Makenzi, you're going to trap it and send it and Logan you're just going to run like the devil.' We tried it one time before and it didn't end up working," Maszton said. "It was like a dream. We came up with it last second and just went with it."
From there, No. 2 Northwest Christian (14-4) had to hold on for 20 minutes against the potent Eagles offense on Feb. 15 at Williams Field High School in Gilbert.
No. 5 Anthem Prep (13-3-1) produced a couple scares in the final six minutes of the second overtime. But the Crusaders clung to their 1-0 lead and claimed the first state title in program history.
"I am excited for them and the program. It is our first girls soccer state championship ... ever. We've been to the finals three times," Northwest Christian coach Jeff Penzone said.
Anthem Prep had a few more chances in the opening 30 minutes but neither team could really get untracked.
In the 37th minute Maszton nearly set up a goal with one of her trademark flipping throws but sophomore goalkeeper Ellie Colvig made a diving save of a rebound.
Thirteen seconds before half, an almost exact replica of that sequence happened.
"We had been doing this all year. We have a dynamic offense," Anthem Prep Scott Gibbons. "We had our chances. Somebody's got to lose right."
Sporadic scoring chances broke up a cautious second half. A bobble from Crusaders sophomore goalkeeper Bethany Heater led to a nervous moment.
Northwest Christian nearly scored on a header in the 66th minute.
But the Crusaders rarely employed the high press that overwhelmed Fountain Hills in the Feb. 13 semifinal. Penzone said the offensive firepower of junior forward Olivia Friedman and senior flanks Brenna Pillsbury and Georgia Vallery led to more conservative tactics.
Friedman, in particular, required the attention of multiple defenders. In the final minute of regulation she created enough space for a near game-winner.
Pillsbury let fly from dead center of the box with 43 seconds left, only to see her shot fly inches over the crossbar
"It was pretty tense and we were all kind of stressed out. Once we got that goal, we relaxed and packed it in on defense," Mastzon said.
During the five minute break before extra time Penzone talked mostly about effort.
He did not mention anything about trying a breakaway with his ace defender.
"The creativity in the first overtime when the goal was scored? I had no idea, Penzone said. "It was designed as a play. I just didn't know they were running it. It was a lot of fun to watch."
But the coach cannot imagine a more fitting player to score the title-winning goal.
Maszton is one of two Northwest Christian girls soccer seniors - along with forward Ana O'Neill. And she's a mother hen of sorts to the team's wave of young talent, which includes younger sister Lauren - a freshman.
"She's the 3A player of the year. There is nobody that has come close to what she has done," Penzone said. "She controls everything."
Before they could celebrate, though, the Crusaders needed a savior. Anthem Prep built up for one more shot midway through the second 10 minutes of extra time.
Vallery aimed for the left side of the net but Heater leaped and knocked the shot down before smothering it on the turf.
"I said to myself, 'You've got to stop this.' I give all the glory to God because I had to make that save and I was in the right spot. After I saved that I thought, 'Oh my gosh, we probably just won this,'" Heater said.
The Eagles claimed a Division IV state title in 2016, but were facing a higher level of competition here. One of the smallest schools in 3A soccer, Anthem Prep maxed out in knocking off top seed Yuma Catholic 1-0 Feb. 13 and pushing Northwest Christian to the brink.
And they had a blast along the way.
"We've got a lot of girls that play competitive club soccer so we decided we were going to make this fun. I'll be honest with you, I've been coaching for about 15 years and I've never seen a team dynamic like this. It's really special. Nobody thought we would be playing in this game. This was a big longshot," Gibbons said.
Anthem Prep made one frenzied rush in the last 30 seconds but could not produce a shot. Northwest Christian celebrated a trophy presentation decades in the making.
Penzone took over the program in the winter of 2014 after leading the Crusaders boys team to titles in 2010 and 2011 and a runner up finish to Scottsdale Coronado in 2014.
Before he was their coach, and during his tenure, the girls have always been a contender. But this was their first time in a state final since 2010.
"When the boys won their first I was head coach, so I'm fortunate to be first state title for the boys and first for the girls. We're going to enjoy this for a bit," Penzone said. "Getting back here and finishing it was a huge blessing for them. But they out in the work."
---