Beach Volleyball: Xavier over Ironwood Ridge 4-1
February 27, 2019 by Andy Morales, AZPreps365
---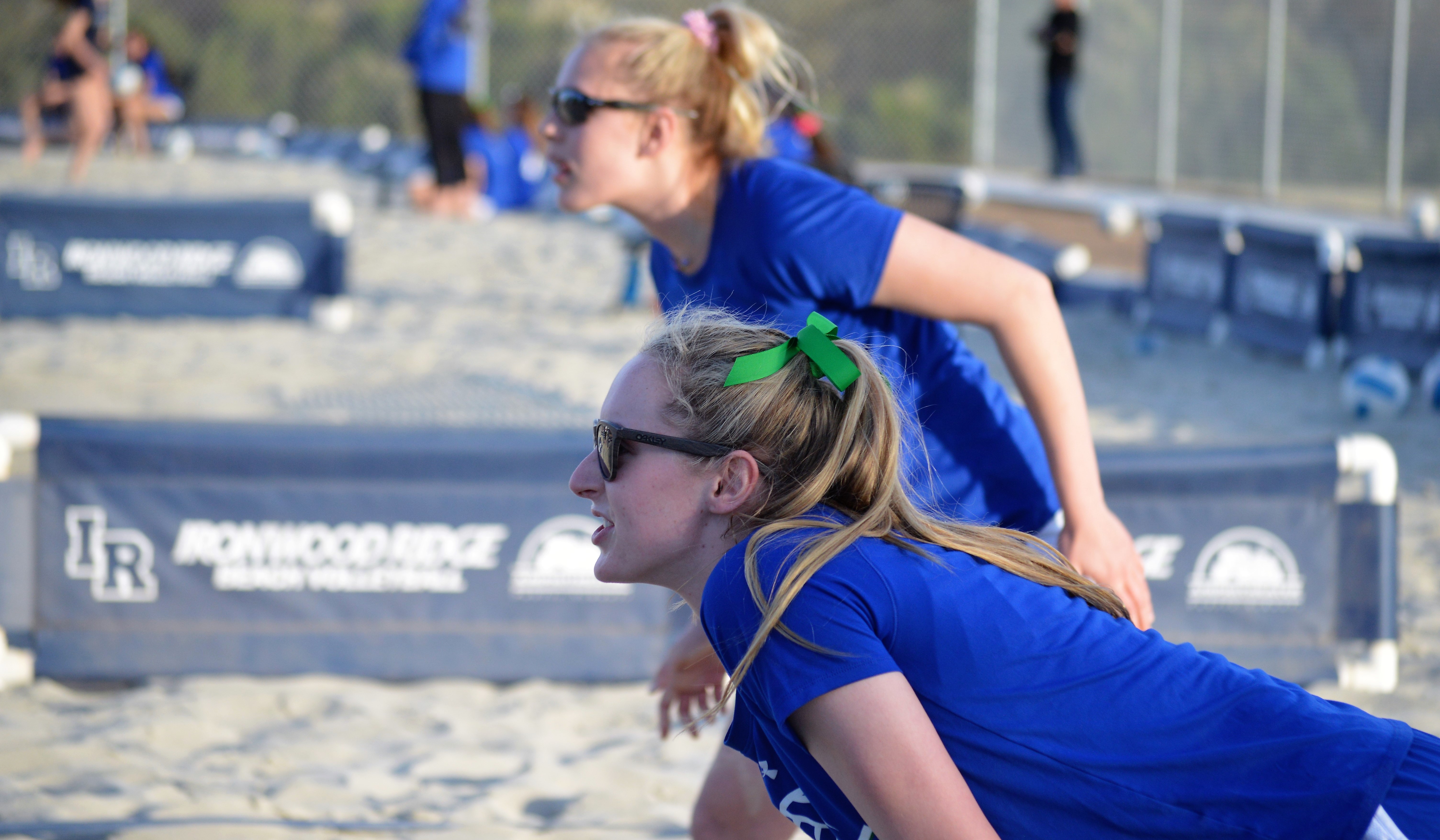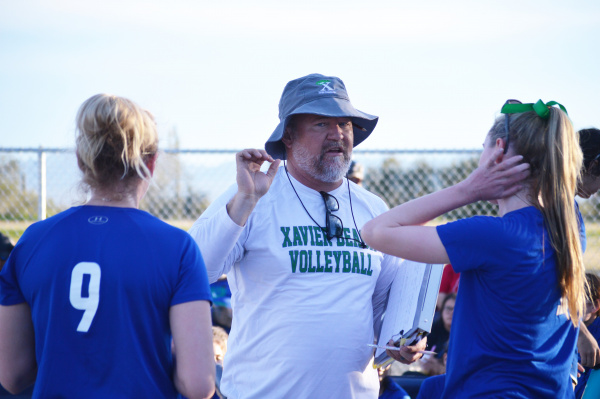 (Xavier head coach Tim McHale goes over strategy with his top pair/Andy Morales/AZPreps365.com)
It was the spring of 2012 and the Arizona Interscholastic Association (AIA) was the first organization in the country to offer high school beach volleyball. About a dozen teams stepped forward to compete that first year and there were no programs located in Southern Arizona. Only five teams made up the first official playoff bracket. Further, the sport was called "Sand Volleyball" due to the obvious absence of a true "beach."
Then the tide started to come in.
Xavier was the first power program in Arizona and the Gators brought home the first six state Division I championships in state history with an incredible 71-1 record, with the only loss coming to Scottsdale Prep in 2015. Still, the sport started to grow and teams such as Ironwood Ridge and Salpointe started competitive programs in the south.
By 2016, there were enough teams to form two divisions and the University of Arizona became the first college in the country to host a high school beach volleyball tournament - the CatBox Classic - played on high-grade sand and in a facility beyond the means of many high school programs.
The Amphitheater School District used the facility at Arizona as a template and the district built three college-level facilities at Ironwood Ridge, Canyon del Oro and Amphitheater and the three schools used those facilities for competition last spring.
Oh, and the sport switched over to "Beach Volleyball."
Marana became the fifth school from Southern Arizona to compete this spring and there are now five sections and 33 teams in Division I and five sections and 31 teams in Division II. The sport might overtake boys volleyball in as little as five years.
"We realize there are now more and more competitive programs in the state and we have to adjust to that level," explained Xavier senior Trinity Cavanaugh. "It was a shock to some that we didn't win it all last year but teams win and lose. We will hopefully be back in there again."
The Gators lost to eventual D-I state champion Perry in the semifinal round last year, ending that previously mentioned six state championships in a row. The sport may never see that kind of streak again. The AIA also introduced a championship for pairs competition last year and Corona del Sol standouts Brooke Nuneviller and Mady Noble earned the first D-I pairs championship in state history and Valley Christian's Courtney Dyer and Audrey Brown brought home the D-II title.
Cavanaugh will be playing for TCU next year but there is still one last high school season ahead and the Gators got off to a fast start thanks to a 4-1 win at Ironwood Ridge on Wednesday.
"It was the first time playing for our fives and I think we got off to a good start," Cavanaugh added. "Everyone battled and we came back after losing our first set so I think we can learn from that."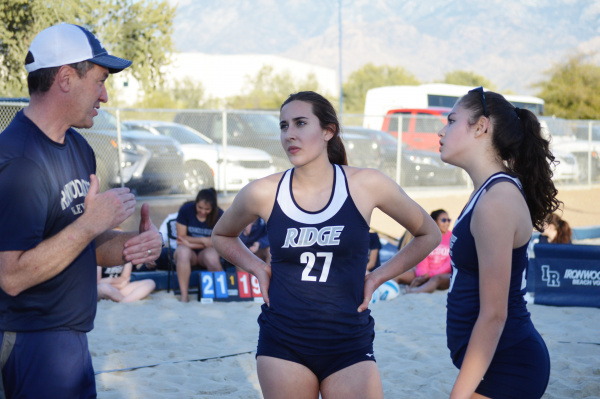 (Ironwood Ridge head coach Bill Lang talsk to Alyssa Feltman and Sophia Gomez/Andy Morales/AZPreps365.com)
The Gators took a 1-0 lead after the fourth pair (Ziara Reyes/Shea Sciarappo) came in with a 21-12, 21-12 win over Ironwood Ridge (Gabrielle Suarez/Hannah Tarpley) but the fifth pair from Ironwood Ridge (Sydney Baumgardner/Hannah Ford) tied things up with a 21-15, 21-15 win over Xavier (Tiffany Tellez/Katelen Tellez).
Xavier went up 2-1 after the second pair (Abby Converse/Serena Turner) beat Ironwood Ridge (Lauren Barberii/Andrea Vigil) 21-17, 21-11 and the match was won with a 21-19, 21-15 win from the third pair (Tori Burton/Lydia Rush) over Ironwood Ridge (Jacqueline Gomez/Morgan Smith).
@xcpgatorsports pair Cavanaugh and Shields come back to defeat Ironwood Ridge 1s 2-1 #AZPreps365 pic.twitter.com/WwwOb5De1g

— Andy Morales (@AZPreps365Andy) February 28, 2019
Cavanaugh teamed up with fellow senior Shannon Shields to defeat the top pair from Ironwood Ridge (Alyssa Feltman/Sophia Gomez) 19-21, 21-8 and 15-1 for the 4-1 final. Feltman and Gomez earned the top spot for the Nighthawks as sophomores and their win in the first set shows why.
Feltman made the complete switch over to beach and is no longer competing indoors, and for good reason. The standout committed to play for the University of Arizona last October and she has three years of high school and club to perfect her craft.
Xavier (1-0) will host Corona del Sol (1-1) on Friday and Ironwood Ridge (0-1) will travel to Canyon del Oro (1-0) on the same day.
The first rankings for beach volleyball will be released on March 26 and the playoffs start on April 23.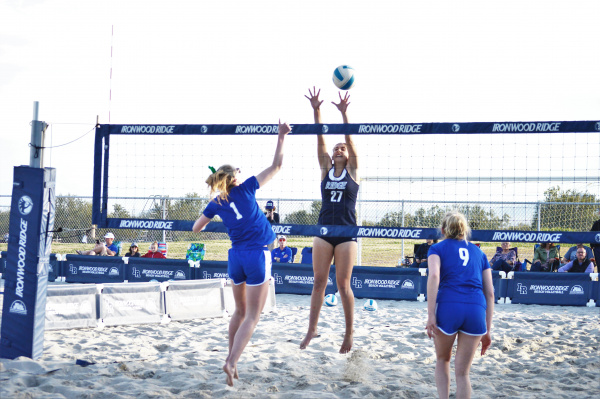 (Alyssa Feltman goes up for the block on Trinity Cavanaugh/Andy Morales/AZPreps365.com)
---