Boys Volleyball: Sahuaro moves to 8-2 with win over Catalina Foothills
March 13, 2019 by Andy Morales, AZPreps365
---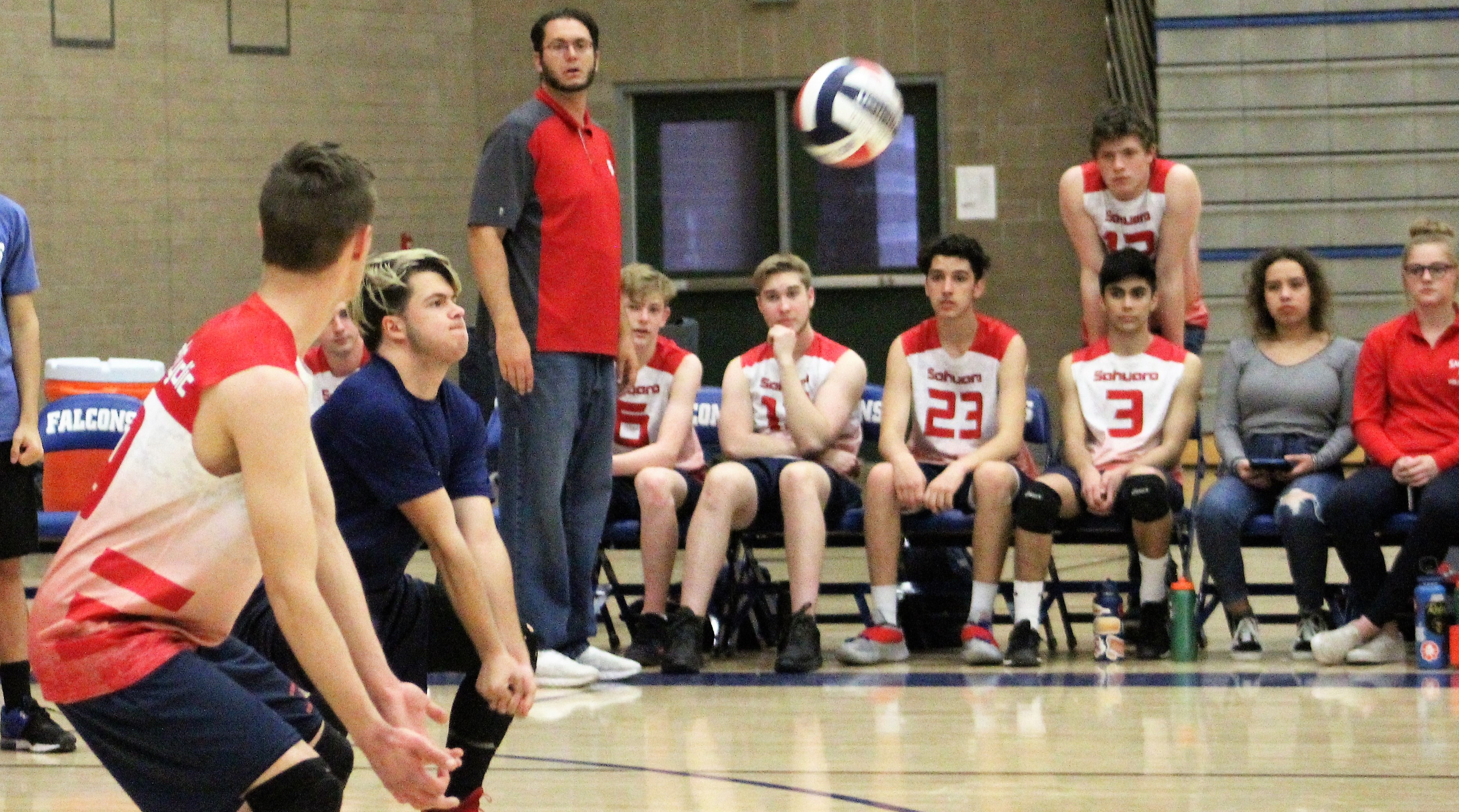 Sahuaro moved to 8-2 overall and 5-0 in power-ranking matches thanks to a 3-1 win at Catalina Foothills Wednesday night. The loss dropped the Falcons to 3-3 on the year with plenty of time left in the season to gain ground.
The Falcons are 2-0 in the 5A Southern Region and Sahuaro is 1-0 in 5A Sonoran Region but region finish does not guarantee a post-season berth under the rules of the conference. Instead, all 64 teams are battling it our for a top-24 finish based on ranking and the initial AIA rankings will not be released until March 26. Teams ranked 9-24 at the end of the season will take part in the 5A Conference Play-In Tournament slated for May 2.
The eight winners from the Play-In Tournament will join the top eight teams in the state playoffs scheduled to start on May 4 to form a 16-team bracket. At this moment Sahuaro is one of nine undefeated teams in power-ranking matches including 5A Sonoran foes Marana Mountain View (5-0) and Rincon/University (4-0).
The 3-1 margin of victory does not adequately represent the competitive nature of the match with Sahuaro pulling out a 26-24 win in the first match despite being down 15-9. The Cougars went on an 8-2 run to even the first set up and the set went back and forth from there until a service error and a block at the net closed out the win for the Cougars.
The Falcons were missing a couple of key components from the front row, including 6-foot-8 Will Menaugh, but the team was able to regroup to take the second set 25-19. The lack of a letdown in the second set is indicative of a team starting to put things together.
"We have two starters returning from last year and we are just starting to gain some sort of chemistry," said junior outside Brad Greer. "It's almost a whole new team but we are seeing some chemistry. Our service return and passing really hurt us today. That was our biggest problem."
Greer and junior setter Joseph Robinson are the only returners from a team that lost five seniors to graduation.
The Cougars also showed some inconsistency of their own and that was displayed in the third set with an 18-13 lead evaporating to a 21-20 lead for Catalina Foothills. A kill from Jack Belobraydic and back-to-back aces from junior Michael Stewart helped save a 25-21 victory to put Sahuaro up 2-1.
"We have a lot of seniors on our team so I see huge potential in what we can accomplish," Belobraydic said. "We can tell we are playing well and clicking when we can play without saying something and just know what we need to do."
A junior outside hitter, Belobraydic is the nephew of former University of Arizona basketball player John Belobraydic. John Belobraydic helped usher in the Pac-10 era under Fred Snowden.
Fighting to build a 2-1 lead on Catalina Foothills, the Cougars found their groove in the deciding set, turning a 13-13 tie into a 23-13 lead. The Falcons made one final push but Sahuaro held on for the 25-18 win.
Catalina Foothills travels to Amphitheater (1-3) Thursday night and Sahuaro will visit Mountain View (5-0).
---