Fountain Hills takes home first girls basketball title
March 1, 2014 by Jose Garcia, AZPreps365
---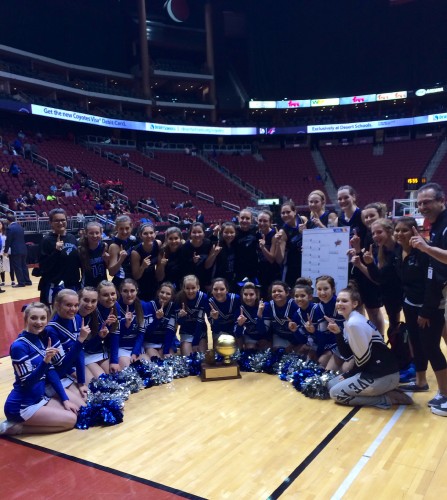 (Fountain Hills celebrates after winning the D-III title. Photo by Jose Garcia/aia365.com)
A near flawless performance was needed to take down the heavy favorite and undefeated Valley Christian.
Fountain Hills was unable to perform the task during two regular season meetings. So when the two teams met again, this time for the D-III state girls championship crown, picking No. 1 seed Valley Christian to win didn't seem farfetched.
But Fountain Hills swatted away conventional wisdom with authority Saturday. After the early nerves and adrenaline settled, Fountain Hills, surprisingly, drubbed Valley Christian 51-36 at Jobing.com Arena to take home Fountain Hills first girls basketball championship.
And it didn't take long for Fountain Hills to pull away either. By the second quarter, it was already leading 30-12.
Fountain Hills' formula for success was strictly playing man-to-man and discontinuing its full-court pressure against a quick Valley Christian team that is difficult to contain and likes to score. This season, Valley Christian only scored fewer than 53 points in a game twice, including Saturday.
"Everything came together today," Fountain Hills coach Mandy Baca said. "We played a near flawless game."
The tall and defensive minded Natalie Stilwell and composed Brooke Yost were once again directing their team to another playoff victory.
After a 25-point, 13-rebound effort in the state semifinals, Stillwell followed that with 15 point, 12 rebound performance Saturday. Yost, a guard, scored 18 points.
"We stuck with what we new and won a championship," Stillwell said.
Don't be surprised if Valley Christian says the same thing next year.
Valley Christian finished 33-1 this season despite not having any seniors on the roster this season. But the 2013-14 season belongs to Fountain Hills (25-3), and expect Baca to have her team ready to defend its title.
"When I interviewed her (Baca) six years ago she said she wanted to be like (University of Tennessee legend) Pat Summitt," said Fountain Hills athletic director Mike Briguglio after Saturday's game at Jobing.com Arena. "She's got that intensity in her eyes and is driven just like any of the football coaches I see."
---