VB: Salpointe wins Lions Den Invite in dramatic one-set match
October 11, 2015 by Andy Morales, AZPreps365
---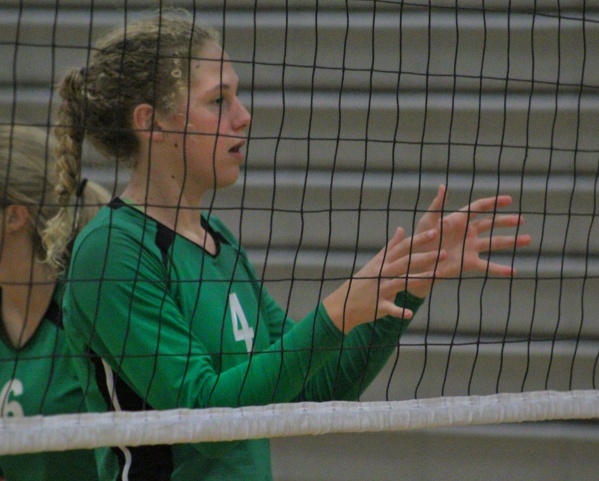 MVHS Lions Den Invitational
Oct. 9-10
The Lions Den Invitational proved to be a mixture of some of the best talent Southern Arizona has to offer regardless of school size. Besides the usual "Big School" powers such as Salpointe, Sahuaro, Tucson and Cienega, Marana Mountain View was able to attract Division IV and V powers Pima, Thatcher and St. David.
While most of the excitement came from the "smaller" program, Salpointe was able to make it through the 88-match maze almost untouched to capture the championship over Sahuaro in a one-set-take-all final.
The invite was run under a double-elimination format and both Salpointe and Sahuaro made it to the final of the winner's bracket where the Lancers were able to outlast the Cougars 2-1.
The loss moved Sahuaro to the elimination bracket where the Cougars were able to get past a surging Tucson squad to set up a rematch with Salpointe. Sahuaro won the championship match 2-0 (25-20, 25-21) but that was the first loss for the Lancers so both teams met once more for one final set to 25 where Salpointe prevailed 25-19.
Salpointe senior standout Carly Lowry has seen plenty of action in her time with the Lancers and she has a good idea of what just might set this team apart form the others, "I think the chemistry is there and we are all working for the same thing this year," she explained.
"We have surprised ourselves with how well we have done," she added. "We play together and never overlook an opponent. Our coach always tells us we haven't won till the ref crosses his arms."
Some of the teams that may have been overlooked were returning Division IV state champion Thatcher and 2013 D-V state champion St. David along with the top-ranked Pima Roughriders of D-IV.
St. David had a difficult day on Friday during pool play but the Tigers came up with wins against higher division teams Sunnyside, Cesar Chavez, Nogales and Benson on Saturday to capture the championship of the Silver Bracket.
Pima is the top-ranked tam in D-IV mainly due to the presence of legendary coach Gerald Hekekia and his style of a team approach rather than a couple of stars leading the team. Hekekia led Pima to a state championship in 1971. He went on to coach Eastern Arizona to a national title and then took Deming, New Mexico to two state championships. The National Hall of Fame and Coach of the Year legend is 75 years old.
Senior captain Jessica Taylor fits right in with Hekekia's style of play. "Our whole team is one superstar," she said.
"We are a full-returning team from last year and everyone works hard at what they are asked to do. Not one single player plays above the team. Playing as a team is what we do."
The results of the Roughrider's chemistry were plain to see during bracket play. Pima defeated Buena, Cienega and Catalina Foothills before losing to Tucson and finishing in fourth place.
Thatcher also made some noise on Saturday with big wins over Tucson and Cienega before losing to Sahuaro and then Tucson in a rematch in the elimination bracket. Thatcher junior middle Ashtyn Lunt was named MVP of the invitational.
The Eagles lost five seniors from their championship team from a year ago but Lunt feels that is also a blessing for the current squad.
"We are learning to play together and better as a team," Lunt said. "We lost five starters but playing in tournaments like this will help us prepare for state again."
Salpointe is the top-ranked team in D-II and the Lancers are officially unbeaten in games that count towards seeding but No. 4 Sahuaro has had the greatest success against them. Both teams are slated to take part in the Catalina Foothills Falcon Invitational this week.
MVHS Lions Den Invitational
MVP
Ashtyn Lunt, Thatcher

All-Tournament
Carly Lowry, Salpointe
Alanna Duarte, Salpointe
Peyton Lewis, Salpointe
Brielle Sterns, Sahuaro
Abi Nash, Sahuaro
Morgan Nash, Sahuaro
Mia Sokolowski, Tucson
Bailey Gin, Tucson
Kaillee Kay, Pima
Lyrica Tavesi, Pima
Trasea Brown, Mountain View

Honorable mention
Danica Rowan, Thatcher
Ciara Walden, Cienega
Samantha Stinnett, Catalina Foothills
Kelsi Elinski, Gilbert Classical
Jazzmyn Hughes, Mountain View
---